Wanted - One used jib sail.
By an old, half-dead cat sailor currently on the hard (on "ODSP", Ontario Disability Support Program", after the misfortune of suffering multiple brain injuries about one year ago, then waking up in a hospital bed after one week in a coma, when I opened my eyes...).
And no, I have never owned a Hobie Cat catamaran, though I have raced against them for many years under handicap, on an old "Phoenix" (18 foot cat, once made by Skene Boats Ltd.,of Ottawa as I recall, one of these):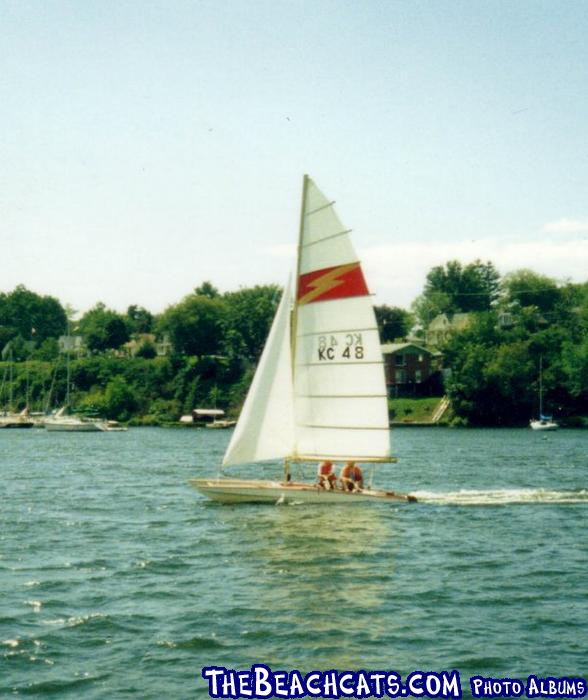 ... though with yellow decks, KC123 was one of the last cats that Skene built, I believe.
Then "graduated" to a 20 foot Tornado cat (now sadly missed too, and at one time an Olympic class), KC234.
Anyway... When my two daughters were young (well, the two that I know of... hehe... please excuse my little joke) my little family liked to camp (my former "other half" (wife) also enjoyed "boat camping" for some years all over Big and Upper Rideau Lakes on the Phoenix), and one of the things we used to pack for road trips/camping was a jib sail, to hang as an awning on our camp site.
Which brings me to my current request...
Would someone hear kindly want to assist an old sailor (and catamaran sailor)? By giving me their old, maybe "baft" jib sail, sorta "shredded" maybe after a last season of hard sailing/racing? (Yeah, I am/was a racer too... having disguarded/given away too many trophies, won when I was a kid, racing my first boat, and yes, I named her the "Phoenix" too (a "Flying Junior", what some cat sailors might disparage as a "monomaran"... hehe...). I have recently moved again, and my current "abode" (a room off Coxwell Ave) seems to have a wooden picnic table sorta abandoned on the back parking lot that seems to be lacking an awning.
I would gladly pick up this sail anywhere in the "GTA" (the closer to the lake the better), and I myself am a little too "baft" to try "dumpster diving" around some area clubs (`cause I suspect this is the "time of the year" aka the "season" for sailors to "bury" their old, blown out sails...)
Anyway... Fair Winds and Following Seas to you all
Regards
Laughlin ("Lock") Hughes
Past Treasurer, Toronto Catamaran Club