No springs today at Pedder Bay but 1 nice ling cod (released as season is closed). Calm wind sunshine and 8 degrees. I'll post some pics tomorrow.
T2
First light heading out to the mouth of the bay.
Fishing at the mouth of the bay--you can see the Olympic Mountains south across Juan de Fuca Strait in the background.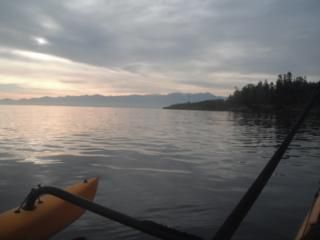 I trolled for spring salmon across the mouth of the bay using a 7 lb ball on the downrigger down as far as 150 feet on the rigger to reach the bottom. I was targeting spring salmon feeding on needlefish right on the sandy bottom--sometimes it can be really hot but the fish were not there yesterday. The rule for fishing winter spring salmon is if you don't get hits--move. These fish are hungry most of the time so if you are not getting bites, it means they are simply not there and you need to go look for them. I moved over to the south side of the bay, close to the rocks and tried a home made jig that my dad made back in the '80's and caught this ling.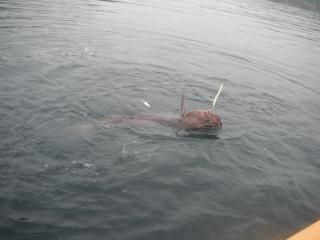 I will try a different spot before my xmas holidays are over. Happy New Year kayak fishers!
T2