While everyone should know by now how great the Evolve motor is to use on you Hobie kayak there is no reason to limit it to just a Hobie.
Sure The Evolve will fit in any mirage drive slot or in some instances on the rudder. Well, here it is on a canoe.
As seen in the closeup the Evolve motor is in the configuration to mount on the Twist and Stow Hobie rudder.
That is a 3/4" PVC "T" with rounded end cap on one side and a flush cap on the other. The 3/4" PVC pipe has a "T" in the middle and an elbow at the end, both threaded to allow you to add a PVC tiller handle in a high or low position or remove it entirely.
The trick is to find an old beat up Minn Kota electric motor to salvage the transom mount. Garage sale $20 item. With this you can clamp it to the hull, change depth and angle. Great because one can run the motor very shallow just below the waterline. I can also lock the motor centered and use a low throttle and not even use the tiller, instead I can paddle just a bit here and there to steer and ride at a nice 2.5 - 3mph pace all day long.
The PVC tube has an aluminum pipe running thru the center to add strength and is held in place with SS bolt at the elbow on top and the "T" at the bottom. 3 SS bolts with nylock nuts attache the "T" to the Evolve rudder blade. All snug & strong.
I put the battery and controller in the stern on a ledge built into the canoe, so no cable is needed.
Takes about 15min to go from rudder mount to mirage mount, or vice-versa. Plus you get to clean out any salt scale that might be lurking in the mirage mount.
Performance. Wow! It will push this old 15' fiberglass Mohawk backpacking canoe up to 7mph and leave a wake
I have even towed a tired kayaker for a few miles with the rig.
Pictured below is the "Red Party Barge" all loaded with gear, 2 people, and the Elvolve motor for 3 day Suwannee trip.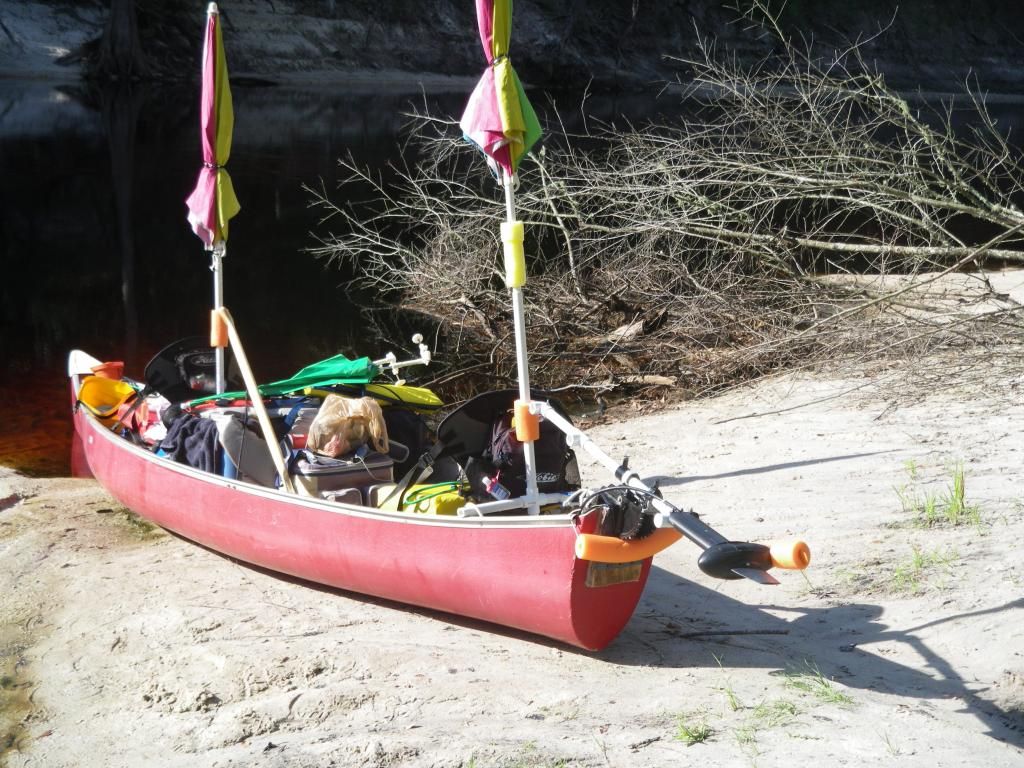 Notice I have even used the Hobie kayak seats and mounted in the canoe using the twist-n-lock seat holders.