I've posted a couple of items concerning do-it-yourself port-side handles for the Sport and Outback. Here's one about using a piece of broomstick for a handle:
http://www.hobiecat.com/community/viewt ... add+handle
And here is another showing the Hangalls handle from Lowe's that might work also, but is a bit bulky.
http://www.hobiecat.com/community/viewtopic.php?t=2185
However, I think the best solution is this new handle that is almost identical to the production handles that Hobie is now putting on their yaks. My new Sport had this type on the bow and stern, replacing the older foam-covered handles that were on my OB. I came across this handle at kayakfishinggear.com that is made for the Ocean Kayak, but aside from the lack of the Hobie logo, it appears to be almost identical to the new Hobie handles-and the cost was only $3.00. This shows my new SS port eyestrap that I used to replace the stock Hobie nylon model that came with the yak originally. These SS eyestraps that exactly fit the Hobie stock version seem to be hard to find. Mine came from K-Mart, but I have been unable to find them there recently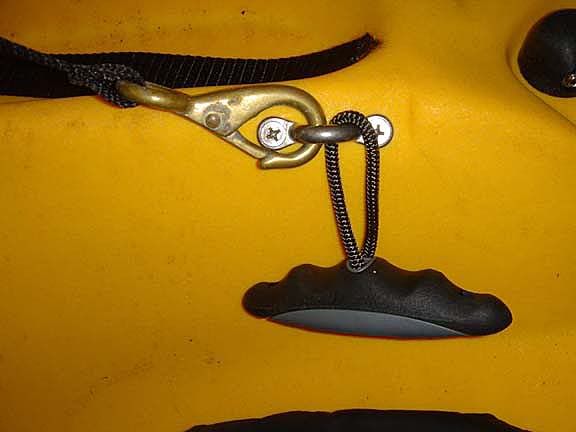 When I originally installed a port-side handle on my OB, I discovered that Hobie had used only half-inch long self-tapping screws that were prone to pulling out when over-stressed. Several folks had theirs pull out simply by leaning back hard in the seat. Although mine had not pulled out as yet, I decided to strengthen my seat attachment points where the seat hooks attach to the SS eyestraps. In order to do this, I used thru-bolted machine screws with nuts and lock washers to secure the seat eyestraps.
Kudos to Hobie for correcting this problem. On my new Sport, Hobie uses thru-bolted machine screws and Nylock self-locking nuts to secure the seat eyestraps. Although the eyestraps are still nylon, at least the bolts and nuts cannot pull out now. And that was important, since I was planned to attach my handle to the port seat eyestrap. Heaving a yak around with a handle requires a pretty solid attachment point, so it looks like Hobie solved this problem nicely.
Here is the URL for the handle (called a toggle handle) in the KFG catalog.
http://www.kayakfishinggear.com/catalog ... 154469.htm
Here is the URL for the SS eyestraps (called deck loops) in the KFS catalog.
http://kayakfishingstuff.com/Merchant2/ ... _Code=fstn