OK, for all you other OB fans out there, here is the skinny about the re-design of the new OB. First off, I should say, that based on my limited eyeballing, there seem to be no changes to the underwater configuration of the hull-same cross-section--so speed, handling, stability, etc. should be about the same as the previous versions, especially since the hull length at the water line seems to be identical. Also, the demo model I photographed did not have the new "twist and stow" rudder system that is on the new Adventure. Looks like the same rudder system as before, at least at this point in time.
But, and this is a big but, there have been major design changes to the above-water configuration of the hull. So much so that when I came upon SE Hobie rep Rob Abbott's 2006 Outback sitting on the bank, I thought to myself, "Wow, that's an interesting looking boat-I wonder which new model that is?" Then it hit me. Duh, dude, that's the new OB! So, let's take a look at this baby.
1.First pic is of the overall boat. First off, note the bow handle. On this demo handle at least, Hobie has retained the older foam-covered, thick OB handle. After having experienced the new "slim-line" all-plastic, handle on my new Sport, I have to say that I like the older model handle that you see here much better. This one does not dig into my hands like the newer, thinner handle does, and makes for a more comfortable carry. Proceeding aft, let's look at all the new features.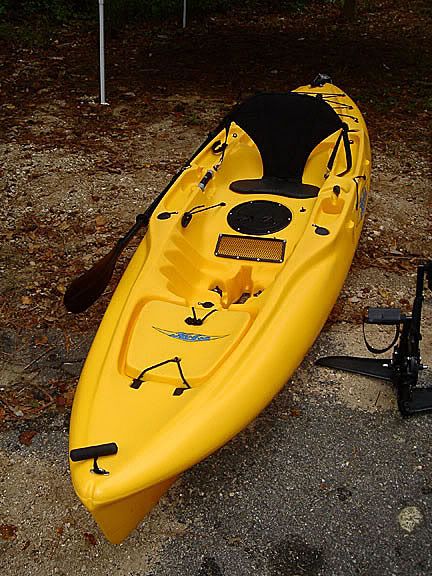 2. First stop is at the radically new hatch. This large, hinged hatch finally allows all the SoCal (and other) surfer dudes to actually get their rods and gear below decks when doing a surf transit. This will be a really welcome new change for the OB, IMHO. As we have all come to know and love, Hobie does listen to its customer base. Note also the new Hobie hinge and bungee fittings on the hatch. I can't say yet if these will be better than the older "tried and true" plasticware, but time will tell.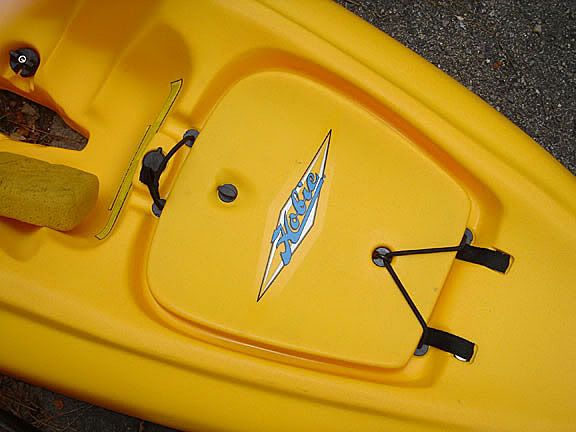 3. Here we have the hatch open, revealing in all its glory the cavernous "mouth" of the new OB. Note also the nice deep and wide rain gutter around the hatch with its own built-in drain system into the cockpit where it belongs, rather than inside the hull, where it most definitely does not belong. Note also the rubber/plastic gasket around the hatch lip. Now this is not an O-ring, completely sealed, hatch by any means, but it comes close. Although I did not play with this directly, the hinge straps on this new hatch (like the other new Hobie hatches on the Adventure, etc.) can be unsnapped for easy removal. This may allow an extra inch or so of leverage to get that over-sized (at least for yak storage), single-piece rod into the hull. Should be no problem at all to get the average 2-piece, 7 to 7.5 foot jobs in here, whereas in the earlier OBs, it might have required a hammer to get them in, and a crowbar to get them back out.
Note also that the mast opening has its own individual cap now, and the step is clearly visible and accessible, so that if you should have any water leakage issues (doubtful with the new cap), they can be quickly determined, and much more easily corrected.
4. OK, moving right along aft into the OB cockpit that we all know and love. No changes in the seat design, size and shape, so far as I could see. Still has the detachable seat compartment and straps so when you decide to hike inland along a "Forgotten Coast" somewhere (like my local area), you will have your fanny pack ready to roll. Hobie has gotten rid of the more or less useless small hatch beneath the seat cushion. I have seen several reports of this old, tiny hatch breaking under the weight of some folks, so this will eliminate another potential problem area. Instead, as in the Sport model, we now have the large round hatch just in front of the seat.
Now this is definitely an improvement in some ways, but a step backwards in others. Having a large circular hatch here is great for keeping important items at hand like small tackle boxes, and also for accessing the hull interior for doing the thru-bolting number for eye straps, cleats, and RAM ball mounts. However, IMHO, it is a step backwards in getting rid of the tackle box bungee here for securing one or more larger tackle boxes on deck right in front of you. However, I have already purchased the necessary length of bungee cord and plastic fittings to make my own tackle box holder in my new Sport, similar to the stock model in the older OBs, Seems like the bungee (and clip) would still permit you to carry a larger tackle box right on top of the large, round hatch, should you so desire (stay tuned re this one-may need some Velcro or other non-skid stuff here also).
5. However, here is what I came up with to store my smaller tackle boxes inside this new hatch. I purchased a medium drawstring mesh bag from Sports Authority. This bag measures 15" x 18" and is plenty big enough to hold 2-3 small tackle boxes that will easily fit thru the hatch, yet remain readily accessible. The friction of the mesh bag with the hull keeps things from sliding around, as well as making the tackle boxes easy to find when needed. Here are two sizes that will fit this hatch. On the left is the Plano 3640 waterproof box (blue). It is 7 1/4 x 10 3/4 x 1 1/2 inches deep. The box on the right is the Plano waterproof 3543 box (yellow) that is 7 1/4 x 5 1/2 x 4 1/4 inches deep. Or you could carry two 3640s plus a 3543, or several other combos as desired.
6. While we are still in the cockpit above, note also the new jazzy looking, Hobie starboard handle.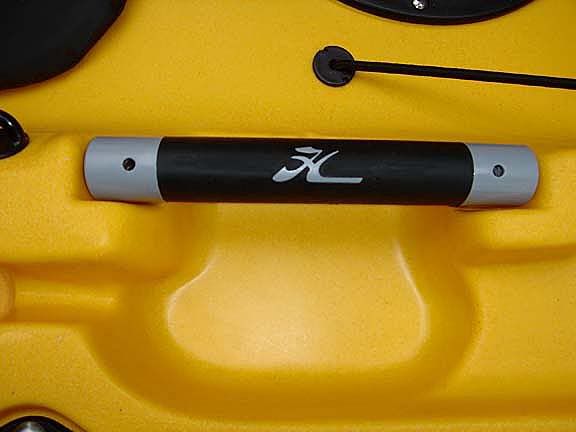 7. But, more importantly, note also the cool, new mesh-covered pocket just forward of the new hatch. Now, if it is deep enough, you might be able to add a little ice and stow your next beer or Gatorade here temporarily. But, I'm certain that there will be lots of other creative uses for this pocket by different folks. Here is a closer view of the pocket that also shows the new Hobie-designed (I assume) plastic fittings in the cockpit for attaching the Mirage drive hook on the starboard side, and the new type of Hobie "eye strap" on the port side, at upper right in the pic.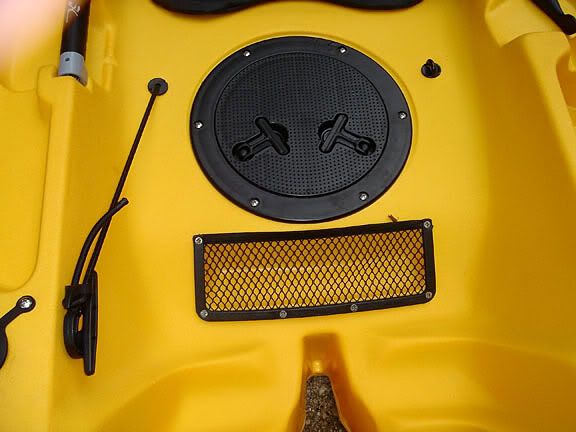 8. Moving right along, you might have noticed in an earlier pic that all four of the built-in rod-holders now have their own individual rain covers. At first, I thought that was a nice touch, but after thinking about it for a bit, it seemed that this might complicate things. I know when I am trying to turn around in my seat to get at the built-in rod-holder behind the seat, it isn't easy for us flexibility-challenged folks to drop the rod butt cleanly into place. Now if I have to swing completely around to use two hands, one to lift the cover and the second to insert the rod, it ain't gonna hoppen, and there may be some lost rods. However, if you already have inserted the PVC rod-holder extenders that I routinely use now, that will keep the cap open while on the water-so problem solved. Plus the caps will keep rain/water out during storage, surf transit, or maybe even while car-topping or trailering if you carry cockpit up.
9. OK-now how about that new Mirage drive we've been hearing about with the larger flipper (i.e., "sail") surface area? Well, don't hold your breath. It is still being worked on, and won't be available on at least the early 2006 models, as I understand it. However, Hobie is planning on making available an upgrade kit (for a slight additional cost, I assume), for all past and present Mirage drives, in case you are so inclined.
10. Finally (whew-this took a lot longer than I expected), here is a close-up of the starboard seat attachment point showing the new Hobie "eye straps". I didn't go poking around inside the hull of these demo models, so I don't know if these new jobs are thru-bolted, or screw-in, as yet. But several of the above pics show a totally new design approach to yak fittings and attachment points. Grey object at right is the end of the new handle.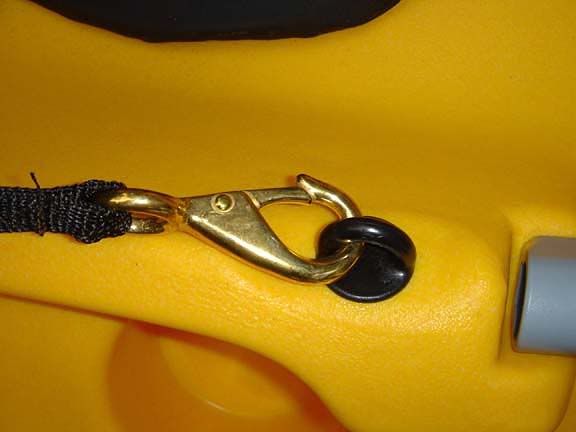 P.S. Disclaimer: The above pics, and of the Adventure in the earlier post, were all of demo models, and in some cases very early demo models. So don't be too surprised if the final production models are somewhat different--probably not a lot different--but there will undoubtedly be some further changes.