First off, let me say that for a number of the Mirage drive yaks, there is an entirely separate Fisherman Line that is not directly accessible from the basic model kayak page. You have to go to the top of the Hobie Web site, click on "Products", and if you are lucky, and the links work correctly, you may see "Hobie Fishing". Clicking on this (again, if you are lucky) takes you to their various Fisherman models, including the Mirage drive models.
However, for the Adventure, at least, the pic they show is for the basic Adventure model. About the only differences anyway between the Fisherman model kayaks and the basic models is a different array of colors, plus the Sportsman's Kit is included in the purchase price, plus there is a built-in Scotty flush-mount rod-holder forward (usually), but there is no info exactly where it is on the new Adventure. I imagine Hobie has been so busy getting the basic Adventures out the door, that they have not yet had much time to work on the Adventure Fisherman. In any event, the Hobie Web site needs a lot of work to get (and keep) it updated, and to get the links to work correctly. They also need to have a direct link from the basic model kayak page to the various Fisherman models page so that folks can easily get info on this separate line. Right now it is a challenge to not only find the info, but to get the links to work correctly.
OK, now for some additional Adventure info that I neglected to include in my first post (# I).
1. Handles-where are they?
The handles are located port and starboard, but they are molded into the hull itself. Here is a pic of the Hobie rep, Rob, getting one of the first BigA demos underway. Note the position of the woman's fingers right over the built-in starboard handle. I did not try to lift the boat by these handles, but I have to question just how useful they will be. Seems like it would be easy for wet hands to slide out of these finger-holds, plus they might be hard to grab as one reaches across the boat to pull it on its side towards you, as I often do.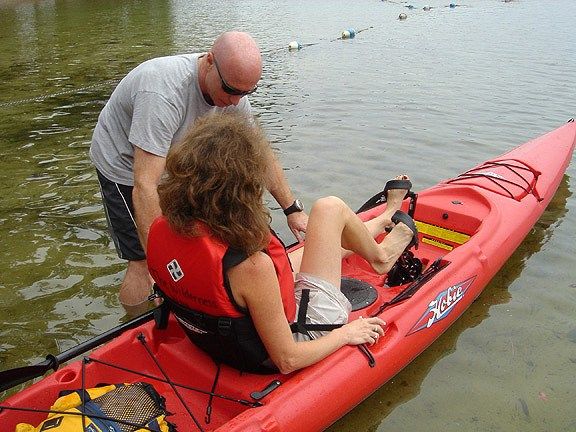 2. Built-in rod-holders-where are they?
There are only two built-in rod-holders, both aft of the seat, as you can see here. Now, in the Adventure Fisherman, there is supposedly an additional rod-holder (probably forward, as on the Sport Fisherman) that is a Scotty flush-mount. However, there is not a lot of flat gunwale space forward on the BigA, so if you need to mount electronics, or your own rod-holders, you would probably do better NOT getting the Fisherman model, but instead go with the basic model shown here. However, there is a nice flat spot for electronics around the mast mount, but it is quite a distance forward, and might provide some viewing problems for certain folks (those with bifocals, for example-see the next pic for this layout).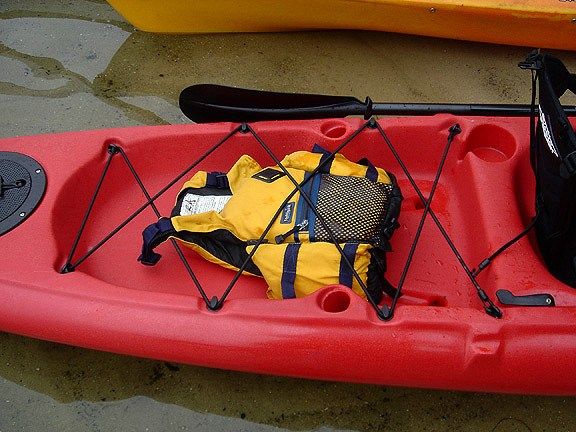 3. Built-in cup-holders-where are they?
Ahhh, the cup-holders, an essential item for those of us who like to have beverages close at hand while on the water, such as water or Gatorade (you mean there is something else?). Well, this could pose somewhat of a problem on the BigA, since there is only one built-in cup-holder forward, on the starboard side, just ahead of the seat strap attachment point.
But, as you may have noticed from the second pic above, there is a second built-in cup-holder on the port side, just aft of the seat. But this cup-holder is not exactly close at hand if you are facing forward. You would have to twist around to reach it with, say, your right hand, and it might also be a bit difficult to reach with your left, unless you are able to reach all the way over the seat back to grab it. If you have long arms, and are not otherwise flexibility-challenged, you might be OK on this one.
4. Finally-what about sailing the BigA?
Good question-wish I could have had the opportunity, but Hobie sailing does not seem to be a normal part of demo days (for good reason, I would imagine!). But, there are a couple of pretty good pics of the BigA under sail on Hobie's Web site (though not easy to find). It seems to be using the standard Hobie sailing kit, so far as I can determine. Pretty sweet though! Have a look-see.