While at the kayak demo day organized by my local Hobie dealer, Wilderness Way here in Tallahassee, I was struck by the differences in a part of the kayak that most of us (at least me) never pay much attention to. That part was the bottom of the hull, or underside, that is usually out of sight, out of mind. I mean, how many of you actually turned your yak upside down and looked closely at the hull itself before you made your purchase? And even if you did, how much did that influence the brand or type of yak you purchased? I know what my answers would be to both of those questions: not and nada. Once again, I would like to thank my local Hobie rep, Rob Abbott, for his knowledge about his products, and his patience in dealing with my many questions and comments, as well as my continually getting in his way while trying to get pics of all his boats!
Anyway there was one pic that I happened to get, more or less by accident that really opened my eyes. This was the one below that clearly showed how much the cross-sectional design of a kayak can differ, even within a single manufacturer's line. This relates, of course, to what the designer's intent and goal is for that particular model. Is it designed primarily as a fishing yak? Is it designed with speed in mind? Is it designed with stability in mind? Is it designed primarily for family fun? Or is it designed to combine two or more of each of these features? However one does it, there will always be trade-offs between each of these goals.
This comparison pic shows all of Rob's kayaks lined up side by side in his trailer, stern facing the camera, so you can see at a glance how each model compares. Actually, it was pretty surprising to me how much some of them differed in both beam and hull below-water characteristics. Rob carried and demonstrated seven models of the newest Hobie yaks.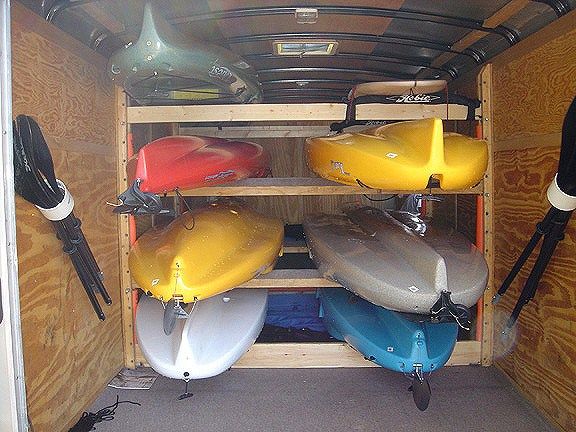 Here we have from top to bottom, and from left to right the following:
1. Upper left is the green Quest Fisherman paddle
2. Just below that is the red Adventure Mirage
3. Below that is the yellow Outback Mirage
4. On the bottom left is the white Lanai paddle
5. Upper right is the yellow Kona tandem paddle
6. Just below that is the gray Outfitter tandem Mirage
7. And finally on the bottom right is the blue Sport Mirage
I will leave it to all you folks out there to come up with an analysis of each model's hull design in comparison to the others. But I'm fairly certain that some instructive comparisons can be made with regard to speed and stability just by looking at the pic.
Let me also direct your attention to two recent threads on the KFS Board that I have found particularly helpful in understanding, or at least trying to make sense out of, kayak hull design in relation to speed. You will have to excuse all the goof-off posts (mine included!), or chaff among the wheat, but I think you can get the idea.
1. ronbo613's Thread:
http://kfs.infopop.cc/groupee/forums/a/ ... 092661/p/1
2. Scott's Thread:
http://kfs.infopop.cc/groupee/forums/a/ ... 9821067661
ADDENDUM:
Finally, although I have never met either of these gentlemen, let me acknowledge two of my personal favorites when it comes to kayak and small boat design. I consider both of these guys to be true geniuses in every sense of the word. The first is, of course, Hobie Alter who revolutionized surfboard design back when I was growing up in Southern California, not far from his digs. Since we were both in high school about the same time in SoCal, I think we are both probably around the same age. Before Hobie came along, we surfing types were mainly body surfers, since there were no true ?surf? boards, nor any boogie boards, nor any boards of any type that were commercially made at that time. Now you might have seen one of the massive, hollow plywood paddleboards, or one of the true Hawaiian solid wood long boards from time to time off the SoCal Coast, but that was about it. The closest most folks could get to a ?board? back then was a large wet pillowcase inflated with wind, upon which you could get a pretty good ride (if you were lucky). But, we body surfers who disdained the pillowcase types, were ?allowed? to use a single swim fin to catch a wave by the surf culture at the time. If you had to use two fins, you were considered a wimp! Besides, when you lost your fins in the surf, it was much easier to find a single one, rather than both anyway!
Anyway, Hobie changed all that with his inventions and innovations, and coastal watercraft around the world have never been the same! The Hobie Cat catamaran is another good example of that. You can easily see today how Hobie revolutionized the surfing and sailing sports, just by going to almost any beach anywhere in the world where the fetch and weather conditions are sufficient to generate some surf and wind.
The second genius on my list is Greg Ketterman, Hobie's chief nautical architect and designer. Among his many accomplishments were the invention of the Mirage drive and the invention of the Hobie Tri-Foiler (a hydrofoil trimaran) that was a direct offshoot of the sailboat that he and Dan Ketterman designed that set the world speed record for sailboats (that still stands today) of 43.55 knots or 50.13 mph back in 1993! Check it out.
http://www.hobiecat.com/sailing/models_trifoiler.html
It was always amazing to me that Hobie could manufacture, and even produce a ?civilian? model of this boat for the consumer to buy. But it was extremely expensive, and I am sorry to report that Hobie finally had to cease production during the past year of this incredible sailboat. So everyone who had the bucks, and the foresight, and the place to store and race this rig, you had better hang on to it, since they are sure to become collector's items for years to come! Wish I could have taken a ride in one!
I guess you might have figured out by now that I happen to be a huge fan of the Hobie Company and Hobie products. But I make no apologies for that. Quality and genius are both characteristics that I admire greatly, so sue me! Thanks for the time and space to rant, and thanks Hobie and Greg!