For those of you in North Florida (and elsewhere!) who might be interested, author/naturalist Doug Alderson will be giving a slide show and talk about the new Big Bend Saltwater Paddling Trail this coming Sunday 11 Dec. from 5-7 pm. This trail is a real marvel and allows one to see a section of the Southeastern United States that has remained largely untouched by development, and is essentially as it was when various Native American societies inhabited these shores.
The talk will be at my local Hobie dealer, the Wilderness Way in Tallahassee, on the Woodville Highway just south of the Truck Route (look for the gorilla holding a kayak on the left going south).
Doug will also be holding a book signing for his new book on the Big Bend Paddling Trail, entitled the "Way Less Traveled". The Trail itself runs for 105 miles and takes about 9 days to complete. There are six primitive camp sites spaced about every 10-14 miles apart. I can tell you that there are not many places like this left anywhere along the coastal U.S., and especially in the State of Florida and the Gulf Coast.
Here is a link to the Web site about his book and info on the Trail.
http://myfwc.com/recreation/big_bend/paddling_trail.asp
Here is a pic from the book of a typical scene on the Trail-Fishbone Creek.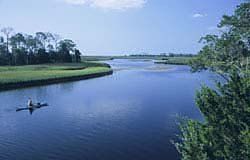 And here is a chart of the Trail.