Old timers will remember all the discussions on KFS. where the Revolution was born both idea, and even name wise. Ancient ones may have been around when Hobie was sold on it's predecessor the Adventure. truly a magnificent yak, but currently pushed close to it's limits even with the addition of the Island concept..
The development direction from the Adventure to the Revolution to the Angler, and modifications to the Outback have been market driven by fresh water. (Ok I'll concede inshore coastal waters also.)
But what about the guys down under doing all the long distance exploring. Or the Florida types like Chekika, hard nut sailor's like Kayaking Bob, and Pupule (crazy) Kelly Harrison sailing from the Big Island to Maui?
And fishing. again down under, Texas oil well trips and Hawaii types are going after Pelagics. Big fish on long trips. They are thus defining a new market direction for the Adventure/Adventure Island which is long overdue for a major upgrade. Indeed a new model for those going in new directions.
Some may remember my letter to Doug Skidmore about a better Adventure. A yak I call the
Pelagic

. :
viewtopic.php?f=11&t=5074&p=22934&hilit=

pelagic

#p22934
Well it's been a few years . Given the posts on explorations and ocean fishing pushing the AI limits I believe it's time to reopen this subject. But please like my last post in Doug's letter thread, comment on the ocean aspects of fishing and hold the bass stuff. You already have new yaks for your market.
I started with the idea of using the Adventure and bumping it a bit length wise to 16''6''. Probably should have tried for 17' to get a tad more capacity as I also narrowed it an inch to 26' beam to try for more speed. Intent was to also use AI sailing fittings to avoid protype design and mfg costs.
Here are some overview shots of my S&G effort.: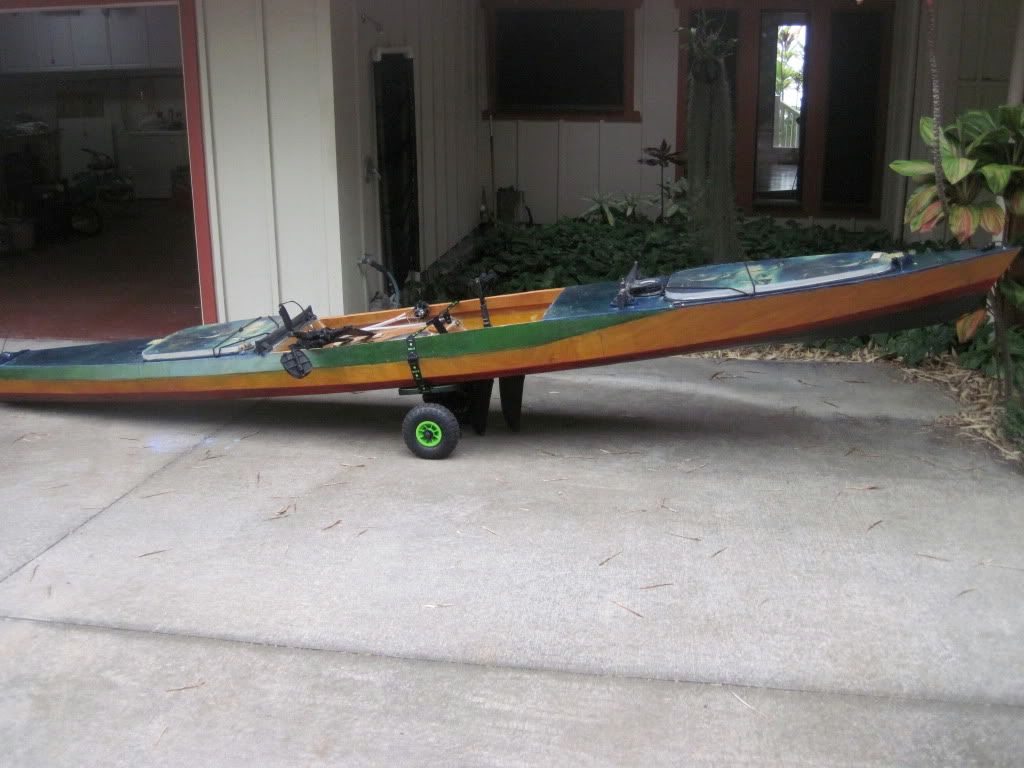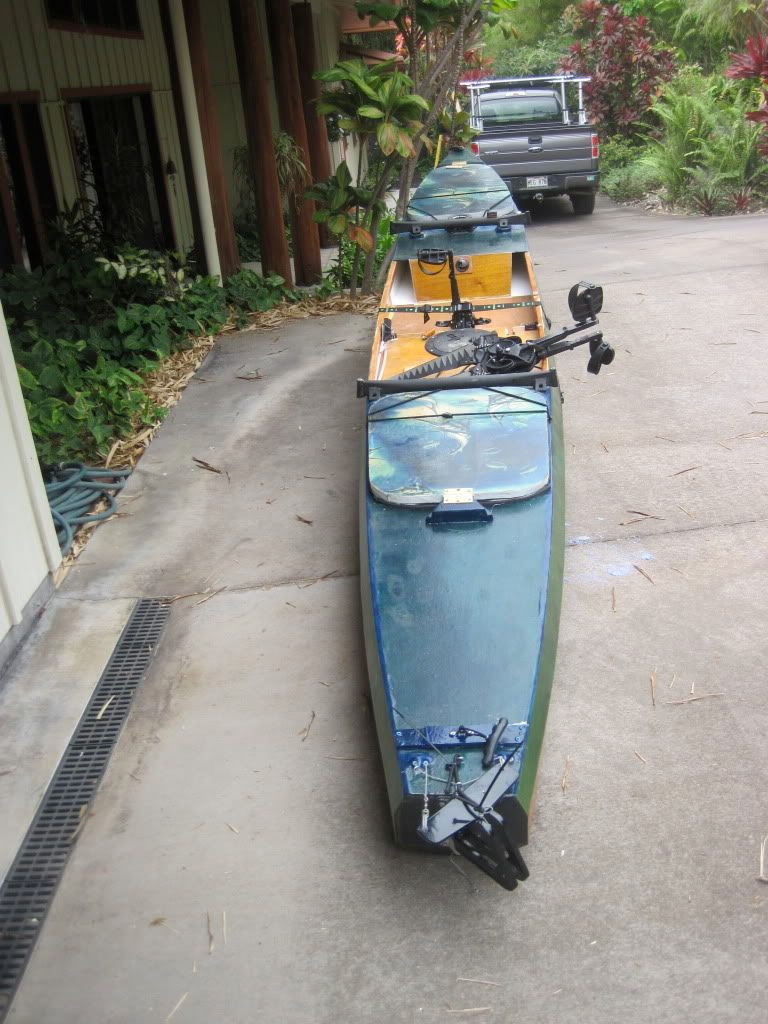 I'll start by showing what I have built incorporating some of the ideas such as no tankwell, bigger hatches, etc.
1. I start out with no tankwell, but internal storage for fish and expedition supplies aft. By so doing the CG is lowered enhancing stability. Aft scuppers are eliminated. Chopped up small spaces in the current AI are eliminated. An internal fish bag enables fish to be kept with out the meat getting fried. When your doing an open ocean trip of 14-24 + miles you need a cooling space. A big space .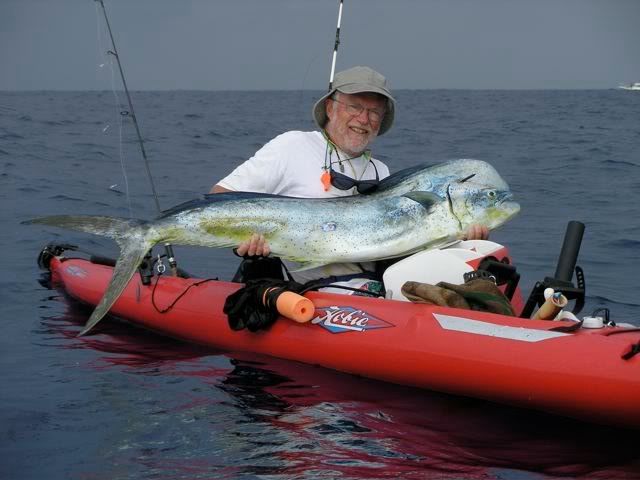 At least six feet for ahi, ono (wahoo), and wide enough to accommodate the head of a large bull mahi.
It could be made even longer and accommodate a built in bait tank with a removable rear wall that makes the fish storage longer when needed. The bag BTW can easily handle a small internal net pocket for frozen bait.
Here's what I have for the moment.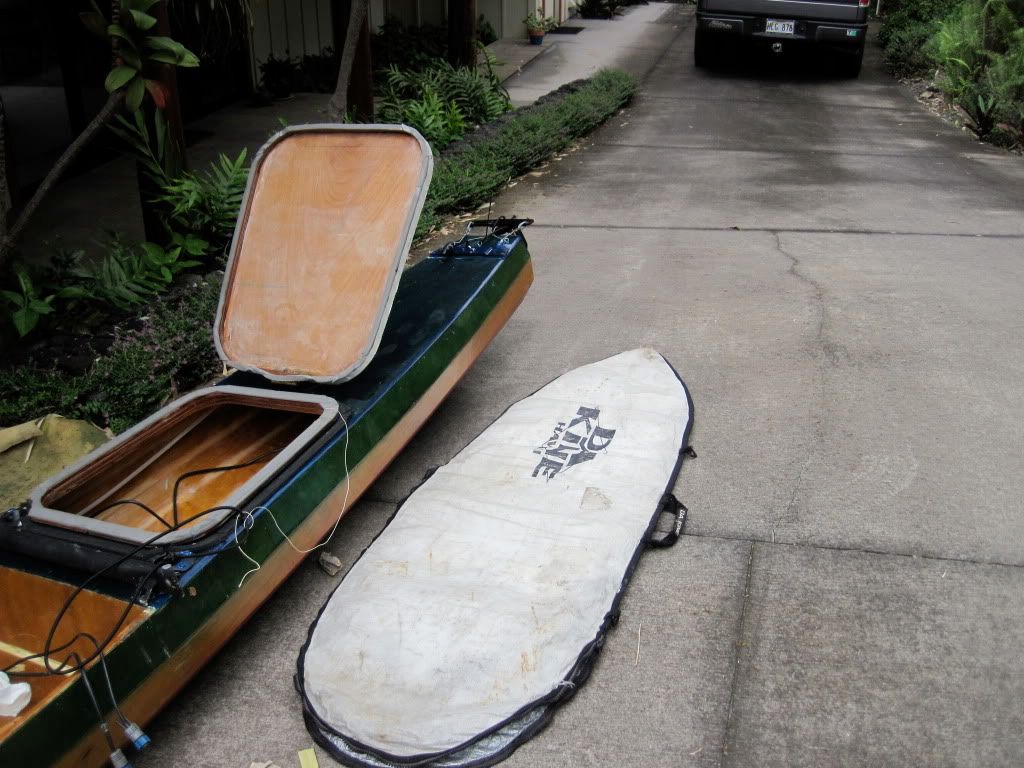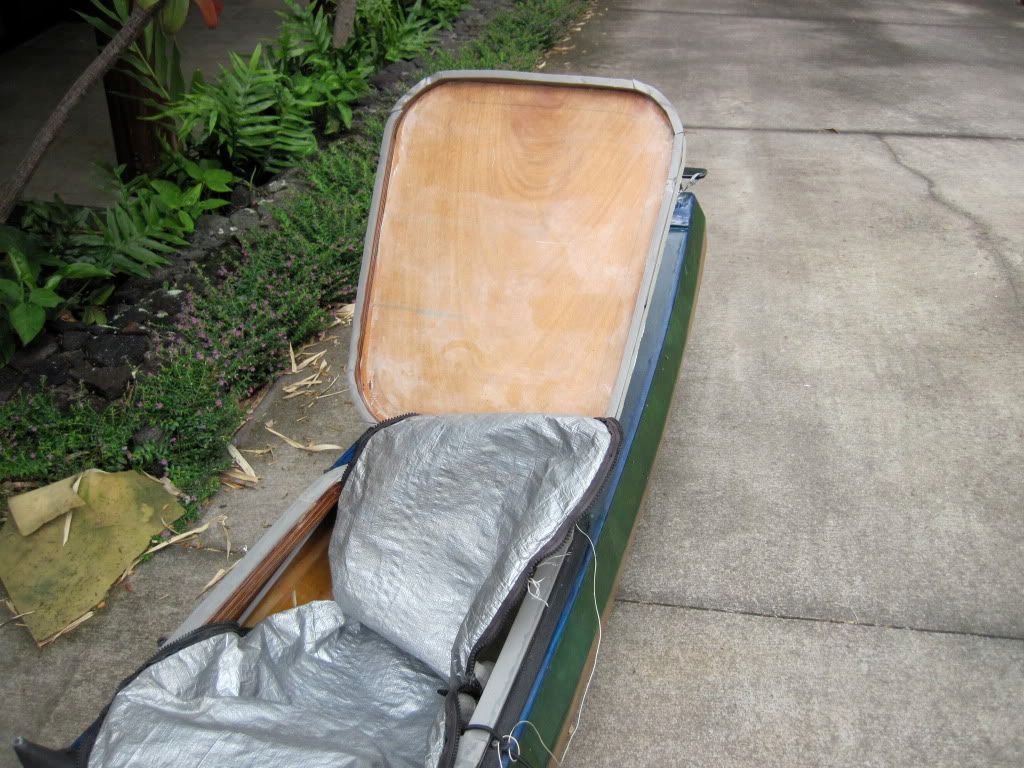 Note also for exploration the existing flat hatch could be replaced with one that has a "bubble" to accommodate a taller load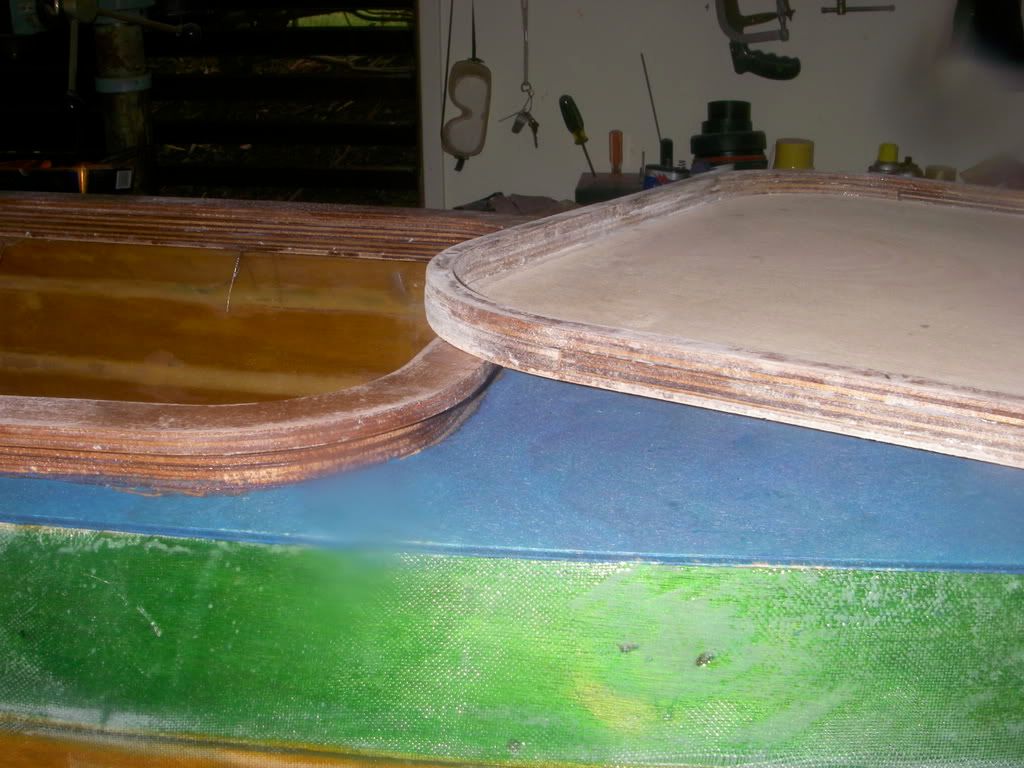 2. Bigger fwd hatch. I have a tendency to go in harm's way. I've given up trying to repair the Mirage drive at sea unless it's absolutely flat and no current or wind. So I currently keep a spare regular drive in the front AI hatch. Yet even then one pedal has to be removed. It takes me 120 seconds to reattach this pedal in my garage. My first attempt at sea was 5+ minutes trying to get the nut on the bolt. Anyway you can see me wanting a space long enough to accommodate a complete assembled spare Turbo drive. There are other guys that carry one also, like KayakBob when he has a group of 3-4 boats or is sailing alone.
And you need a hatch so no gyrations are required to insert the drive.
Wahla (maybe too big?- but I didn't want to be short on a prototype.):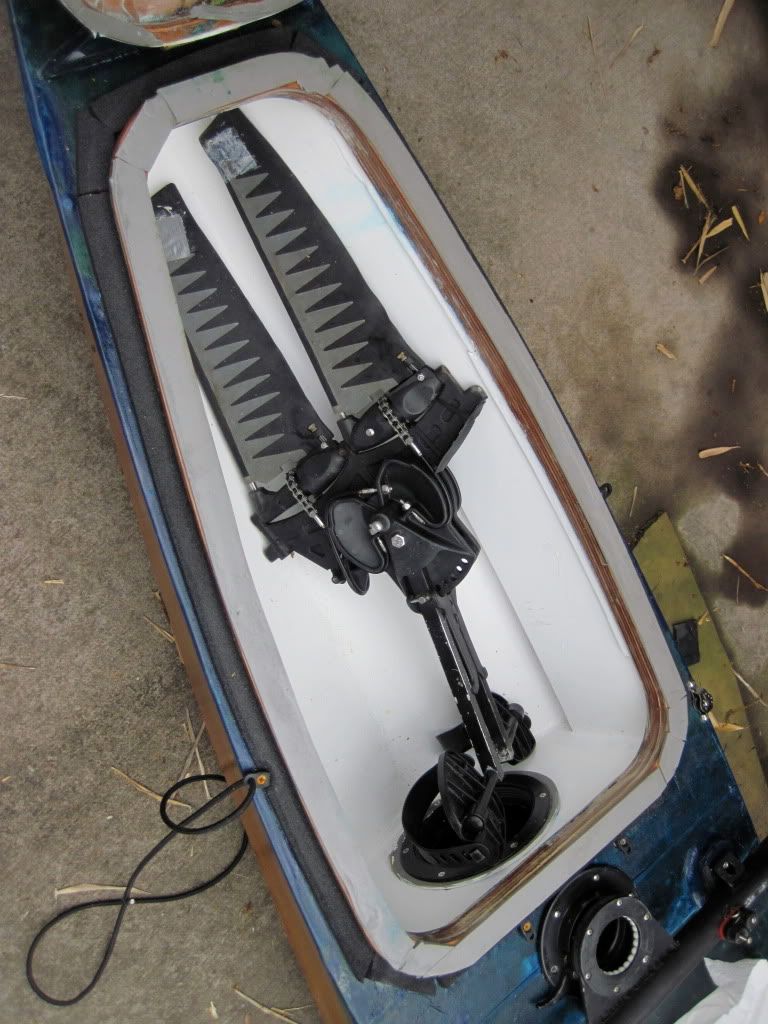 Here I just tossed in a cart, hammock,summer sleeping bag and a bottle of H20 just to show what can be done. Note I'm not using the bow section which was walled off to provide floatation.
Again I've used a hinge on one end. I think something better could be done here. Removable hinge? Rough water strap to assist bungee cord?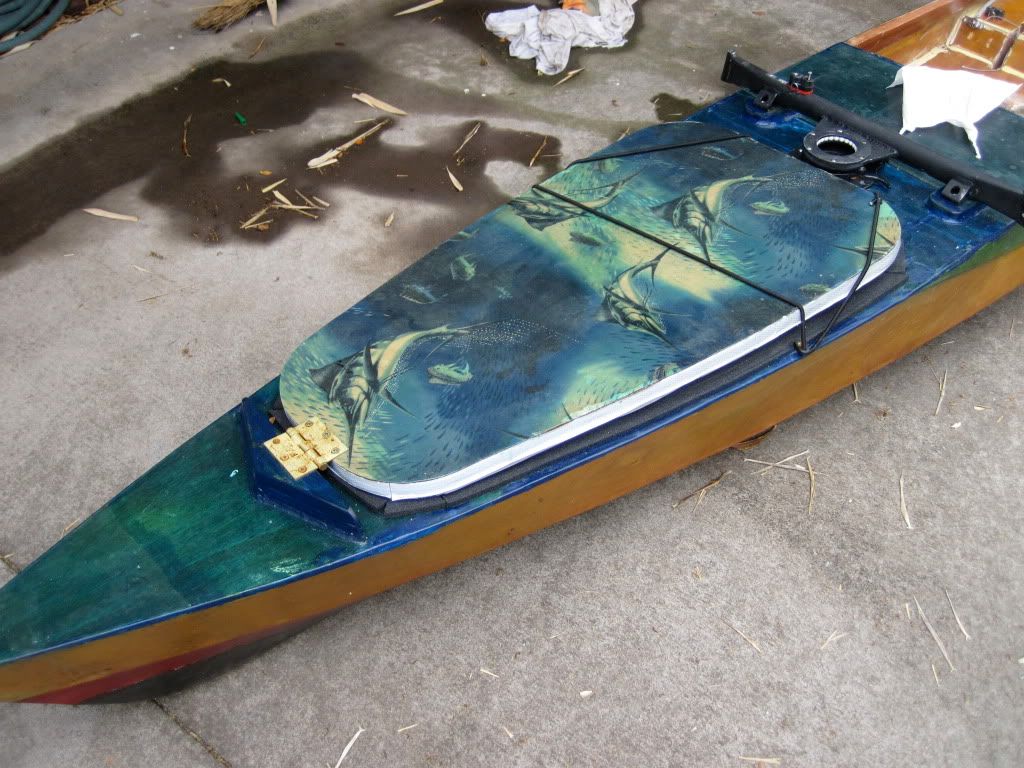 3. Torpedo Tube rod storage. On KFS the idea of torpedo tubes was raised for rod storage, kage (short kill spear), gaff, etc. This was before the Angler concept BION. Anyway here's what I ended up with. Square ones that accommodate two-three rods each. Not pictured are holders on the underside of the top deck of the tubes for knife, pliers, etc.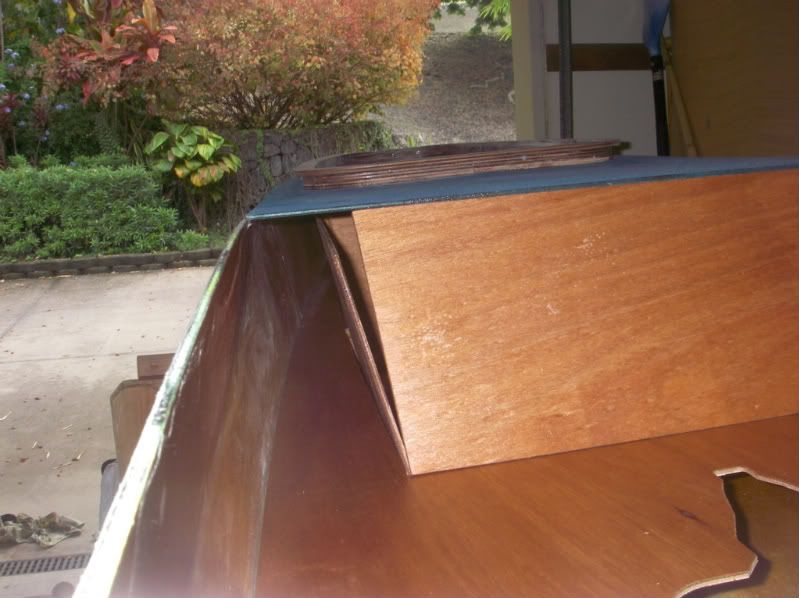 I'd like to see the Angler concept carried forward to the
Pelagic
as a means of safeguarding gear going through surf, and experiencing heavy weather.
When fighting big fish the tubes also let you store your extra rods down so they don't interfere with the fish if it does a speed circle routine.
4. Bailer access port. Should be built in so you don't have to use the center hatch.. Guys that have pumped in heavy seas will know what I mean. Here's an addition to my AI.
5. More flexible seating.
I wanted a seat that could be lowered or raised. Here's one that does that mounted on a removable bracket. Without it your in straight yak mode for a lower body CG and increased stability.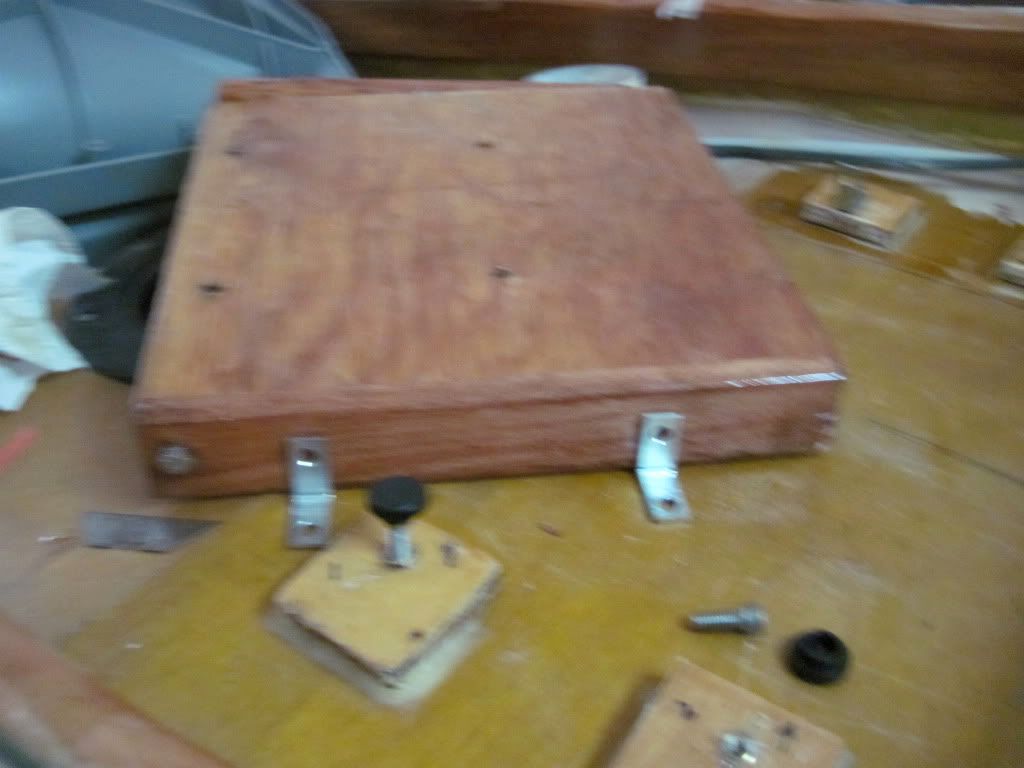 With sailing ama stability add the bracket in with a seat that in this case also adds 3" and I have a very comfy sailing seat. Folding the back down even raises me a couple of more inches for sailing. Seat back up position it acts as a big fish fighting chair. It rotates 360! Got get a gimbal on it!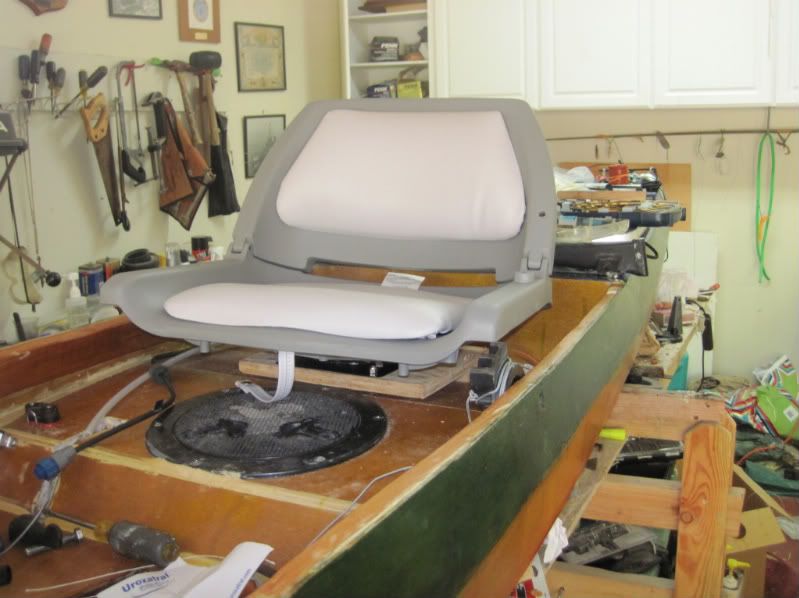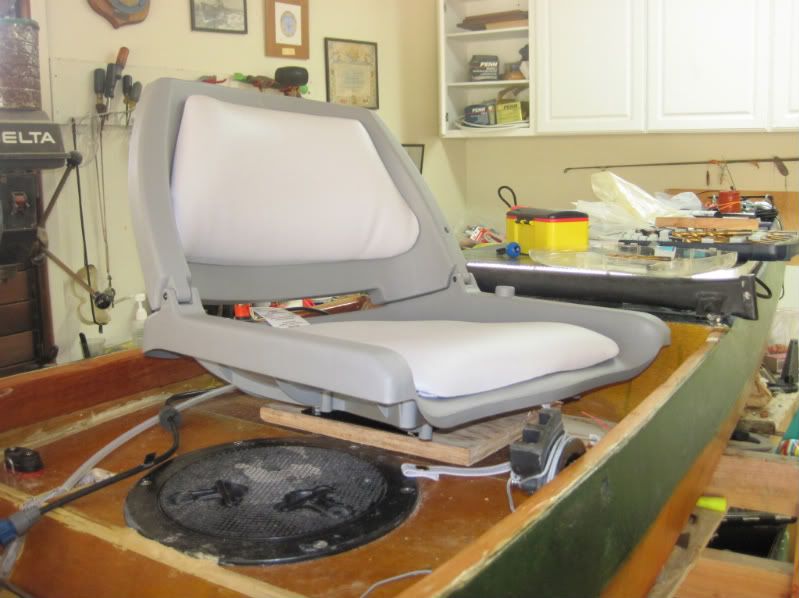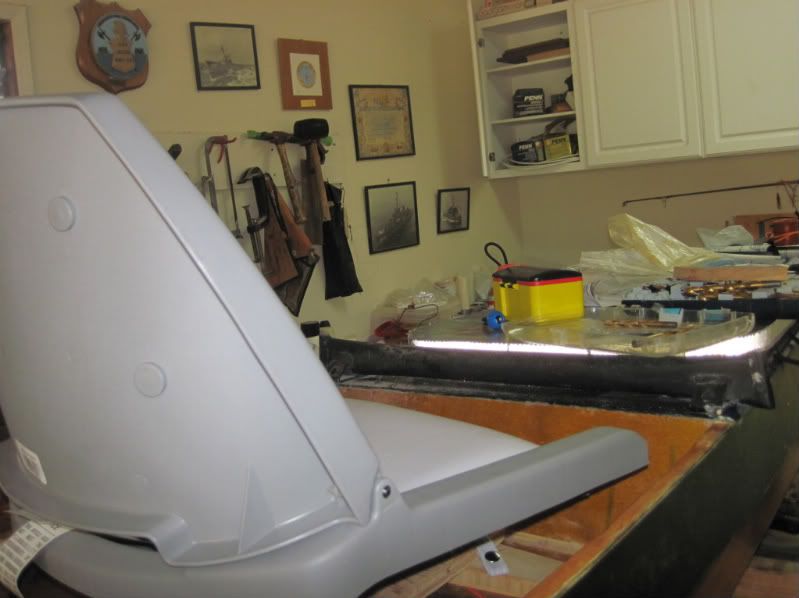 Only problem is I have to do it on the beach, committing to an Island mode prior to launch. I'm sure Hobie engineers can come up with something better, yet keeps the functions of the prototype seat design.
6. The quick viewer will note the use of the old style hatch. It was a freebie from a condemned leaker. Would rather have used the Angler square one.
More later on rudder size, no more leaking rudder lines, and several other features guys have asked for. Add yours to the list.