Rnykster :
Now you are just getting annoying making a statement like that. Myself and others gave you many very good suggestions on how to get more out of your mirage drives from a design standpoint (for racing purposes). We didn't have to do that, we did it because we are trying to help you here. As with the shafts it's the physics of the metal, you can only get so much stress out of a 303 alloy (17-4) before it fails. I suggested that you go to a 414/420 heat treated alloy for racing, which should hold up better to the extreme bending moment that you are putting onto the drive. However this material would not be suitable for general use because if someone were to hit the bottom while pedaling the rod would break and not bend. In addition because of the high iron/carbon content the rods would have to be PVD coated (which is expensive) in order to prevent corrosion. Think about it with the force you are putting on those shafts I would expect the ends to be flexing 2-3 inches on each and every cycle, there is no 300 series stainless out there that will not fatigue out in a few thousand cycles under that much stress. Hobies selected materials are the best fit here because of corrosion resistance, crash forgiveness, and cost for general use by 99.8 percent of us. When you have your heat treated shafts custom made I would expect them to cost a couple hundred each. For competitive racing thats very reasonable.
I once had the pleasure of spending a week with Lance Armstrong (before he was super famous) we were working a design engineering show where a couple of his racing bikes were on display and he was doing demonstrations, signing autographs and stuff. The 3D CAD system I helped write was used to design his bikes. The point is those bikes cost a quarter million each to design and build. I doubt if they were ever made available on the Walmart bike racks.
This is all high school level engineering. Below is the FEA analysis results of your problem.
This first chart is the current shaft with 15 lbs side force applied to the side of the shaft. The shaft flex's a around 2 inches (you can duplicate my results by putting the shaft in a vice and pulling on the end with a fish scale, or hang a bowling ball on the end.)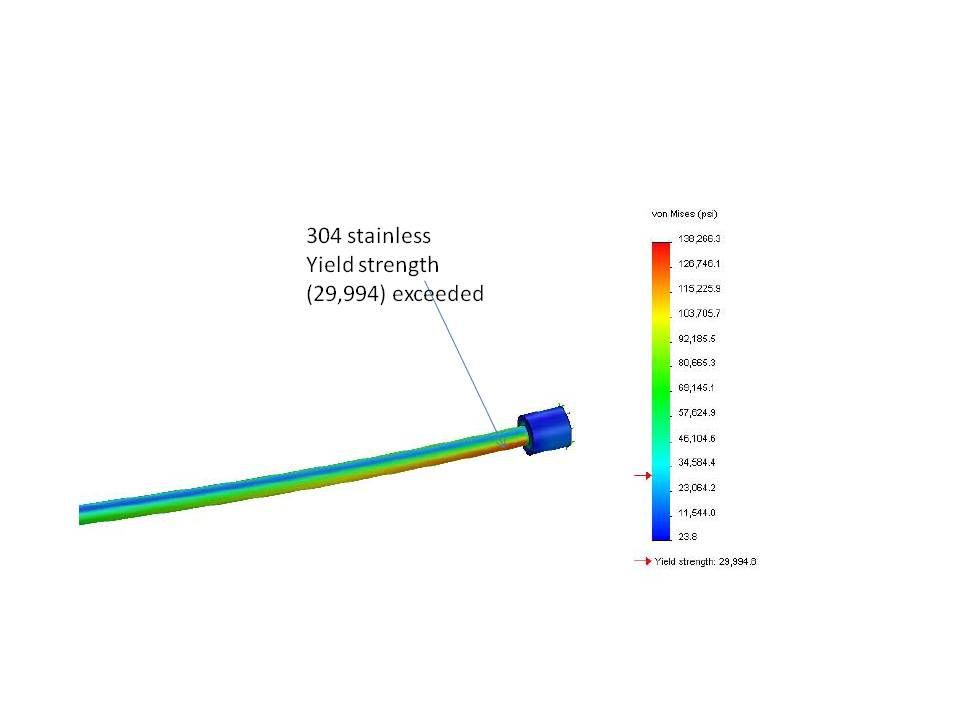 This slide shows a 414 stainless hardened shaft, the yield strength is still exceeded but not by as much
The next slide shows a titanium alloy shaft with a much higher yield strength (155k), and the FOS (factor of safety) is over 1, but will likely cost you a thousand bucks to have made. (part of the reason why jet engines costs $12 million is the materials)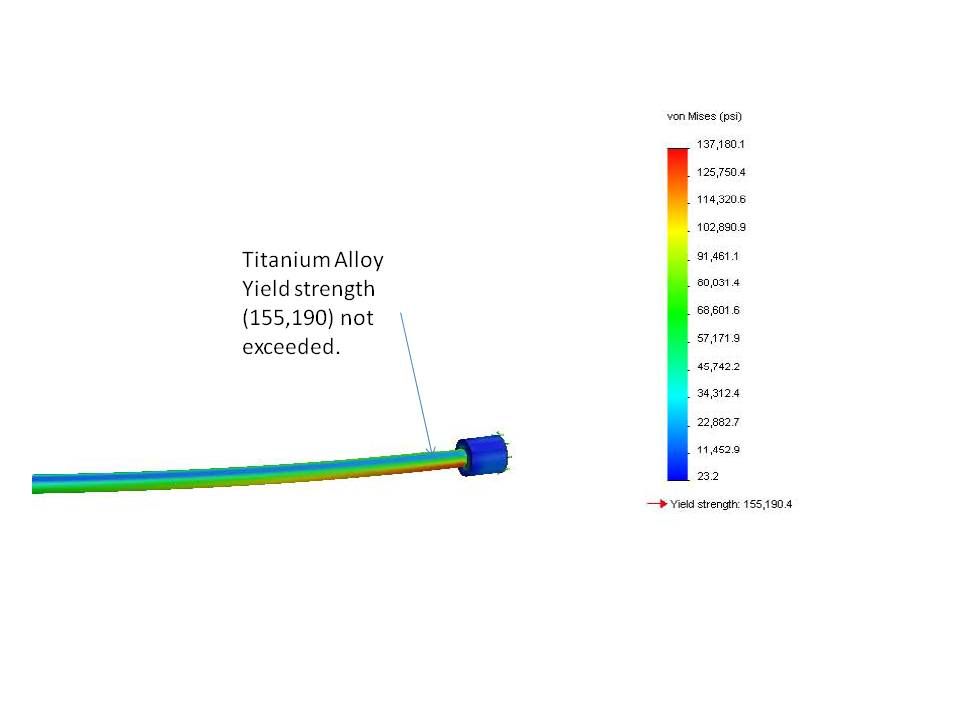 We should put it to a vote. Should Hobie add $3,000 dollars to the cost of a Tandem island (4 shafts) so Rnykster can further his racing career. I vote no.
My opinion is your statements are unfair to Hobie who goes out of their way to design a very well engineered and good product for general use, and I personally take offense ( I have no affiliation with Hobie Cat company, I'm just a happy user).
Who wants to see Rnykster continue racing Hobies, I'm a big fan and vote yes.
Bob