Tom welcome to the forum. You're older style rudder is not convertable to the Twist N Stow, but there have been a couple of mods that seem to do a great job. Check this mod out by kepnutz:
kepnutz wrote:
Hi Ya Roadie-Ohr
That sure looks like fun. Nice to see you both enjoy using your new Tandem Oasis. I thought you would be trying to wear out that new A.I. all the time
Yeah I have canned that hatch in the back idea and have been putting the finishing touches on my larger Tandem sailing rudder instead.
I went out with a friend on Saturday for a trial run and my new rudder worked much better than the original stock design.
For the first time ever I was able to take my hand off the rudder control to put on sunscreen for a couple minutes while the boat mostly kept its course without immediately wibble-wabble wobbling all over the place. I was quite pleased because prior to that I was always making constant adjustments to keep the boat on any course and could never let go of the handle. I did not expect to have this result so that was a very nice suprise.
As for sailing in our light breeze that day, 6 to 9 mph, the rudder performed quite well and I was able to milk speed out of the gusts like never before. The boat was moving under sail power alone even up river against a fairly strong current as well as back and forth which was also a suprise.
Im no expert Kayak builder by any means, however it is now my humble opinion, based soley on my own limited experience, that the Tandem Oasis and perhaps maybe even the Outfitter too ought to come stock with a larger sail and a larger rudder. As long as Im dreaming I would also add a slightly stiffer mast and a removable boombat in order to improve overall sailing and handling performance given the added weight of boat and two adult passengers . The cost of these changes is minimal and enhances performance significantly..just my .02 cents (actually about $16.95 plus labor)
Have fun down there..
..................Kepnutz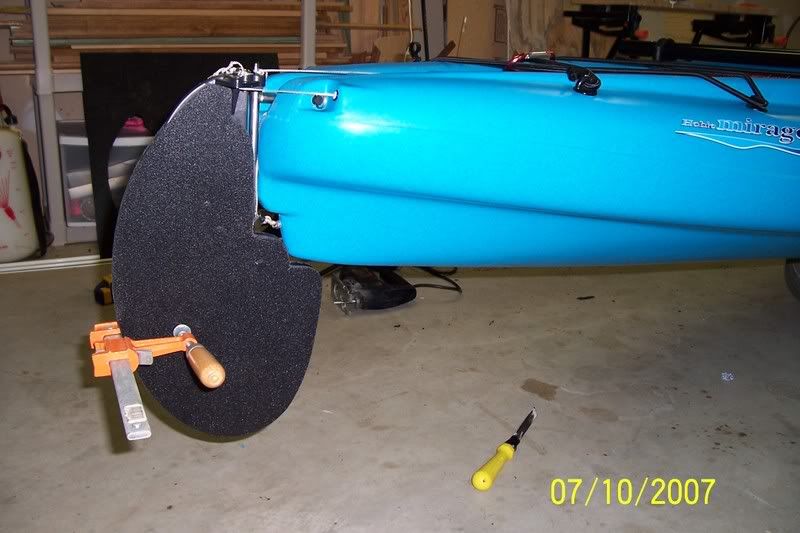 Stringy did a brilliant custom conversion of sorts and if you have the ability, you could try this. Unfortunately his "how to" pictures seem to have disappeared, but this shows what it looks like. You could contact him for more info:
stringy wrote:
I don't have an AI but I have just completed fitting a twist-n-stow assembly to my older tandem with the pull up rudder. I was able to run extra control lines (2mm spectra) alongside the existing lines inside the hull giving me control from the cockpit.
I have them exiting through a cleat which I use to lock the older pull up assembly down.
I'm wondering if you may be able to do something similar to lock your rudder down from the cockpit when needed? Maybe something like this:
You may be able to work out a way to attach the line end to the rudder that keeps tension on it and still allows it to turn.
As to what to use for line replacement, the current product, Spectra is hard to beat. It is shown in stringy's pics above. I think you can order an upgrade kit and adapt it to your Mirage Classic (?). This was offered as a universal conversion when Hobie first switched over to the pull handles and should adapt to any rudder style on any of the kayaks. It comes with rudder tubes and pull handles that you would install, or you could probably adapt it to your up/down lever. I'll see if I can find a part # from an old catalog.