fishwhisperer619:
I wasn't talking about replacing the whole shaft with a tungsten carbide mirage shaft, adding tungsten carbide shafts to you mirage drive would add at least ten lbs weight to each drive, the force required to break that shaft would be well over 10,000 lbs of force (might be overkill for some), and the cost would be prohibitive (around $5000).
The difference in weight between HS steel drill blanks (.0049 lbs ea) vs tungsten carbide blanks (.0119 lbs ea) is minimal, and the carbide blanks only cost a little more (I'm guessing around the $2 bucks ea).
Here is a chart showing roughly how much weight would be added for each style of repair option (just a really rough estimate (+/-.01 lbs)), Personally I'd go for the solid carbide shafts ( joking).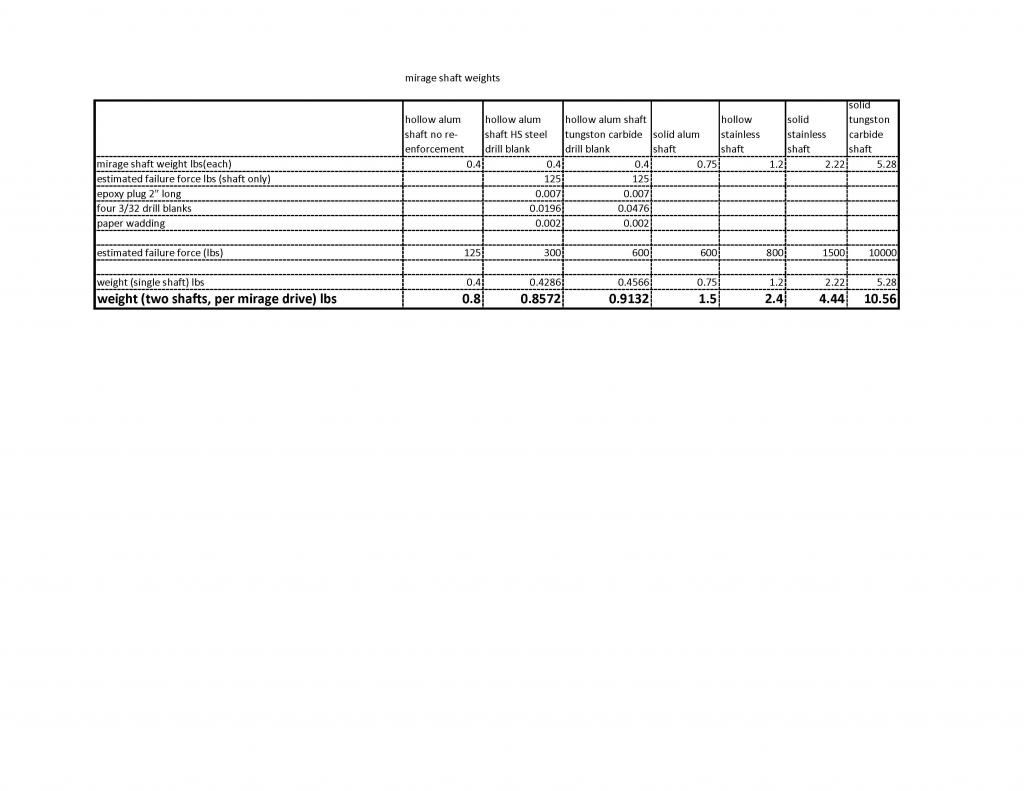 It's suprising how heavy the solid stainless steel shafts are, they add 4.4 lbs to the weight of the mirage so instead of 6 lbs (ea mirage drive) they would now be ten lbs ea.
My little fix with eight 3/32 dia carbide vs eight HS steel drill blanks adds .76 lbs to the weight of the entire unit over the HS steel fix, but doubles the break failure force. Realistically you probably only need 2 drill blanks in there to make the shaft virtually indestructible.
A stock mirage drive weighs 6 lbs, if you add my little mod with HS steel blanks the mirage drive the new entire mirage drive weight would be 6.457 lbs, with the carbide blanks the entire mirage drive weight would be 6.513 lbs
Bob