Max,
I'm assuming your questions on 4 May were addressed to me, so I will try to answer them. If anyone else would like to comment, feel free.
1. Mounting hardware: as RR says, always use SS thru-mounted machine screws with Nylock nuts or standard nuts and washers, IF (big IF) you have inside-the-hull access. If not, I use #10 oval or flat head or sheet metal self-tapping screws. But I try to always use thru-bolted machine bolts whenever possible for increased strength, even on fairly stress-free eyepads (or padeyes, or pad eyes, or deck loops, etc.).
2. No shackle on the stern eyepad—just a carabiner for easy removal of the Harken block and for a clean fair lead and better angle to the forward block. I did use a shackle on the forward Harken block, however, for similar reasons.
3. I have gone over most of the stock Hobie internal hardware and replaced it with the thru-bolted stuff to eliminate the inward-projecting, very sharp self-tappers installed by Hobie, which can give some nasty injuries to either your appendages or your dry bags/flotation inside the hull. Here are a couple of examples inside the Sport:
BEFORE: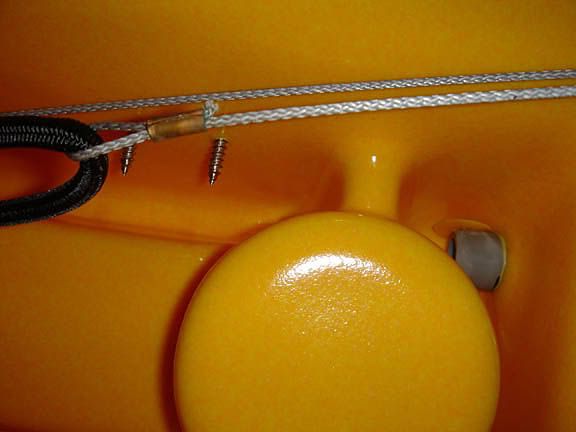 AFTER: