I am going to swap out the "old style" lower rudder castings on a 1981 H18 with a set of the redesigned-post-1987 rudder castings and tiller arms.
I have a few questions about the conversion. I know this has been covered piecemeal before, but I couldn't find a comprehensive post about the procedure.
This is the current "old style casting" (click on any photo for a full size version)

As seen below, the issue is that the post-1987 rudder casting conflicts with the "old style" lower gudgeon placement, and the lower gudgeon has to be moved up.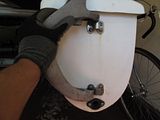 Also, it seems that the post-1987 rudder castings use two hole gudgeons, not the four hole that earlier lower casings used.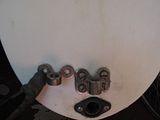 My main source of confusion is where to place the new gudgeons, and if they need a backing plate. As you can see below, if you try to line up the gudgeons with the old holes they will not fit. You could drill new holes for the two hole gudgeon there, but because they are so close to the old holes I am afraid it will weaken the fiberglass.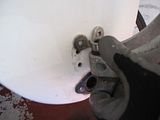 Where should the replacement gudgeons be located? If you move them up I think they will be too high, leaving play in the bottom of the lower casting.
MAIN QUESTIONS:
Where should the gudgeons be located?
Should four hole gudgeons be used, or two hole gudgeons?
Is a backing plate necessary, or can the gudgeons be tapped into the fiberglass?
what is the best way to seal the old holes?
In my opinion the best placement would be like this: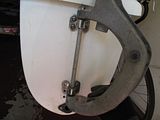 To use only four hole gudgeons, seal the old holes (somehow), and use a backing plate, which will necessitate adding two inspection ports on top of the hulls.
Kindly let me know what you guys think.