I used to raise & lower the sails in 10' of water all the time. The trick is to sit on or near the front starboard casting to help feed the sail with one hand and pull the halyard with the other. Once the main is up I walked out on the starboard bow to lock it in place. Raising the jib is a bit easier.
I didn't "moor" the boat so much as attach it to the dock using a line and a spring clip (like below) and I'd just clip onto one of the bridle wires for the 2-3 minutes it'd take me to raise & lower the sails.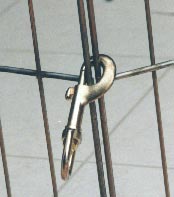 Any more specific questions don't hesitate to ask.