PurdueZach wrote:
srm wrote:
The rolleez cradles had weights in the bottom. A molded part of the cradle hung below the axle and filled with weight was used to hold them upright. It's a good idea since flipping the cradles upright is a PITA, especially if you only have one or two people. The cattrax are more popular, but they never had weighted cradles. I'm sure they could be modified to have weights, but its not really a big enough deal for most people to worry about.

If you have a 16, I don't really see any need for cradles in the first place however. The shape of the hull really doesn't need to be supported by a cradle, they're strong enough to sit on a straight roller just fine.

sm
I'm wanting cradles more for advantage of the boat staying put on the cat trax. I solo sail a considerable amount and thought that cradles would make things easier to load the boat onto the cat trax.
Will cradles allow you to load, unload and maneuver your H16 easier ??? Absolutely !!! I had sailed mostly solo ever since I had purchased my boat and I eventually graduated into cradles. Two of the reasons are stability and balance. I had two marks inside both hulls indicating the center of balance which, by the way, is about 20 inches aft the shrouds which is typically where you would tie off your Cat Trax without cradles. With the Trax at the shrouds, the balance is stern heavy. Twenty inches aft the shrouds you will find a perfectly balanced boat. This means that you don't have to use your weight to hold the bows down while moving it. You can just pull it along with one hand if you want. It's that easy.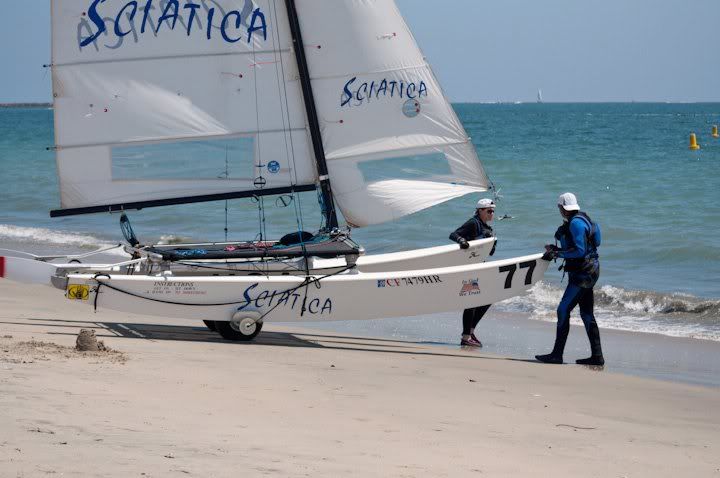 And, when when the boat sitting, you can allow the it to sit bows down or stern down making it easier to access different parts of your boat while rigging. You will NOT be sorry. See pic below.