DavidBell47 wrote:
seaweed88 wrote:
I have a set of low profile main blocks and I am going to either find a newer set of adjustable rudder castings or re drill the rudders.
Just acquiring a newer set of adjustable rudder castings may not be enough, but if you do, you may not have to re-drill the holes if you grind down (a little at a time) the stern of the radius on the upper casting. It took about 3 trips to the water before discovering that I had enough rudder rake to give me the helm I wanted after raking my mast.
When it comes to painting the boat, I only painted the mast and boom and they both have held up very well. Just clean them well, making sure that the surface contains no residue. If you can, paint them on a warm sunny day so that they dry evenly. The finish is smoooooooth. Doesn't look painted at all. Occasionally, I'll get a scratch where hardware on the main halyard will reciprocate (over time) when the main is lowered and cause a scratch (to the metal) in a specific location but I haven't had to touch-up one of those in more than a year.
The sides, I covered with Surefoot Eva Grip. They've been covered (without replacement) for about 4 years.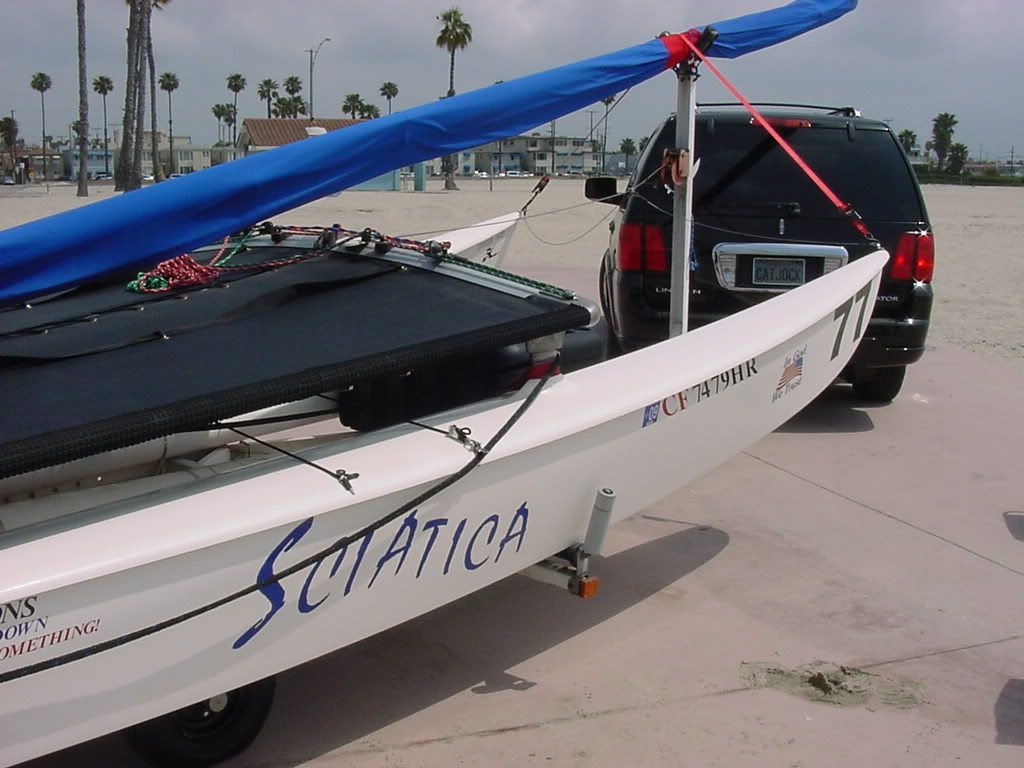 My therory is, if you want something to last, take care of it. I'm just talkin about me.
Hi Dave - I'm a neewbie here and like a lot of the things you have done to your boat, it looks great.
Here is a little background and introduction since this is one of my first posts. I started sailing my dad's Tequila Sunrise in the late '70's on Lake Champlain when I was 12. I raced quite a few other peoples boats from the fleet (184? - defunct pretty sure) at Sand Bar when they crewed for someone else in the races. I had either a in-experienced
wife or girlfriend for crew and we must have been way under legal race weight. I didn't know how good I had it at the time
. Took up wind surfing in the 80's and haven't been on a Hobie (besides an underwhelming Wave at a resort) in years. Rescued my '81 Carumba last August and did the necessary clean-up, re-rig and new lines to get it on the water. Hulls are great, sails are fair to good. I'm going to repaint my aluminum soon based on your recommendations.
I have a few questions for you:
1. Is that a 1 piece tarp or 2 tarps in the trailer pic? What size(s)?
2. Any recommendation on what product to use to buff out the hulls?
3. What kind of footstraps do you have on the stern?
4. What is the black piece for below the footstrap on the hull?
Lot's of little things left to do on the boat but it sails great and having a ton of fun.
_________________
Peter
'Ay Caramba!!'
1978 H16
Tequila Sunrise
#25894 (Dad's boat when I was a kid....)
1981 H16
Carumba
#62713 (rescued in 2011)
Lake Champlain