Well, today looked like a nice day for a sail. The forecast said 15 knots around the area with a chance of rain, but either way it was gonna be warm enough. The rain didn't come, but the wind did. And a lot more than we expected.
The forecast: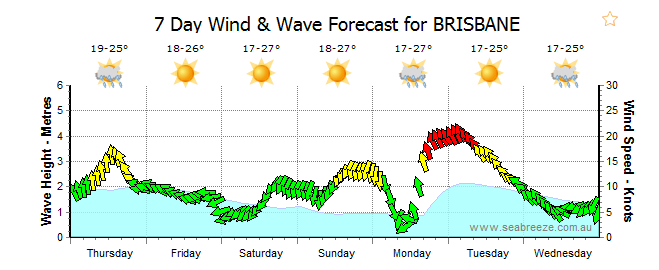 What we got hit with once we were in the middle of the bay...
...the coloured arrows are the average wind speed/direction and the grey ones are gusts.
These are the four weather stations that surround the are where I sail, mostly.
Needless to say, on an outgoing tide we were in 1 to 2 metre swells and battling to stay upright. This really was quite a ride. I nearly got thrown off about 4 times but just managed to grab the hiking strap or a handful of tramp lacing.
Couple this with little to no steering due to the rudders continually being kicked up by the jellyfish and it made for one hell of an adventure!
All told we were out for about 3 hours all up.
Half hour having a blast, then the rest of the time trying to safely get back in without going over or getting thrown off.
We got to the shore, but then had to get the sails down before we even attempted to put it on the beach wheels. Even once we got the sails down (and then got them out of the water - don't ask!) the boat was still being blown sideways along the beach as we pulled it forward and up the ramp.
I even had to turn the car and trailer around to be able to lower the mast in a semi-controlled manner.
Over all, a great day!!
It will definitely take a lot more to scare me in the future.