hobie1616 wrote:
Note to self: Do not ever fall on sail if the boat goes over.
In the future, couldn't agree more. I don't wan't this to happen again.
jmecky wrote:
Sorry to hear about your sail getting torn. It must of been tough getting back, how did you get back?
Thanks, it was very tough getting her uprighted as the wind would not fill the sail from underneath, needed some help from a passing boater willing to jump in and add some weight. Luckily, it was downwind back to the beach, and the top halve of the sail would flow out and stop against the sidestays and we rode that and the jib back to the beach.
56kz2slow wrote:
2nd note to self. Cut the sheet if you are going to let go of it.
Couldn't agree more. I've spent a lot of time reading these forums learning as much as I can from lessons already learned from others. Hope some one learns from my lesson and saves their mainsail. LET THE SHEET OUT BEFORE PUTTING IT DOWN FOR A DRINK.
rattle 'n hum wrote:
Good news is it should be a pretty easy fix for a sail loft. While it should be avoided, I'm sure a new Hobie sail would have taken the hit. The more you flip, you'll get to know when you're past the point of no return and slide down easier/earlier. Hanging on too long makes you fall farther out.
I agree that it should be fixable, and i am hoping that a new sail would be stronger. I guess we need to also practice more on dumping it, i guess there is a right way and a wrong way.
srm wrote:
It might be an easy fix for a loft, but likely the sail will not shape up the same. The problem is that much of the sail's shaping is achieved by the curvature cut along the seams/ batten pockets.
When you blow out an entire seam, you destroy that curve and the repair loft has to do their best to recreate it as closely as possible from the tattered remains.
If they know what they're doing, it might be Ok. If they don't, the shape will be distorted. For fun sailing, this may not be an issue. Tears in the center of a panel are easier to fix well because they don't affect the sail shape.
I agree once again. The good news is that I was able to GET NEW SAILS, and oh boy are they a different shape. Old sails just are not competitive. here is how much the rope in the luff of the mainsail has shrank in 17 years. Its no wonder i could never downhaul the sail to get her flat. This old sail was always shaped full, and now i know why.
This is the new sail on top of the old sail, and the heads of both are pulled even. So, you can see how much the old sail's luff rope shrank.
The jib was just as bad, look at how blown out it was.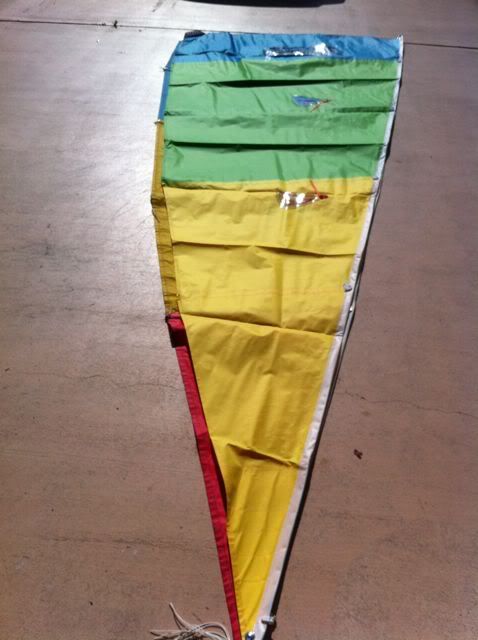 Here is the bottom of the jib, i think it shows how the new Jib is cut differently from the old jib, allowing for the increased mast rake.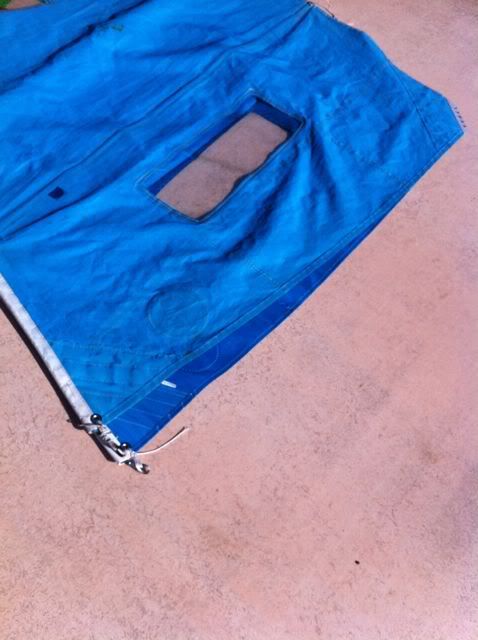 Check these bad boys out!!!