PurdueZach wrote:
jtbros wrote:
How did the beach wheels do that? Just the type or is there a way to prevent that?
Maybe someone stored the boat for a long time on the cat trax? I could see that causing an issue maybe.
my boat lives on the beach wheels i dont own a trailer i dont think that will damage it. but if you find wheels that look like this
dont use them!!! it will twist and and and push your hulls with alot of force, and i got a soft spot from it that i never fixed and it spread.
_________________
http://youtube.com/optikid16030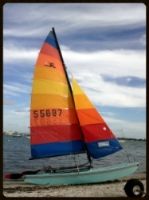 1983 Hobie 16 Cat fever #55697
2008 Laser Radial/4.7 #190471
S.S.S.
S.Y.S.P