I took off to the great white north again for the MBTKFD on Vacouver Island, Canada and while it wasn't the insane wall to wall action of last year, it was Moutcha Bay... and that's amazing at that.
Headed out Thurs. morning and had a pretty snagless trip. 5 minutes waiting at the border, 10 at the ferry, good traffic on the island, kick ass A&W root beer, burger, and fries, and smooth drive to the campsite. We set up camp in some steady Vancouver Island rain but the forecasts said it was to clear up. Fished that afternoon and blanked. I was pretty shocked since the '07 was so insane but so as fishing. There were a lot more PB'rs out this year, sometimes up to 20 was noticing that it seemed to be putting the fish off the bite. It's a relatively shallow, 15'-60' and you could watch the schools go deep when the PB's went by. It also spread the schools out so it was hard to get into the thick of it all.
Fished Friday for a only a few hookups while some other NWKA regulars did pretty well. It was very evident this wasn't the Moutcha that we knew of last year so we had our work cut out for us.
Saturday the weather got really nice and I had my first hookup pretty early on but lost it soon after. I then got a hammering hit that took the rod into serious bendo. A few jumps and realized it was a nice fish. Played it for about 30 minutes and finally got it into the net. I wasn't sure how it'd measure out but was pretty sure it was bigger than my last year's fish. Got it to the weigh boat and measured in at 26.5 pounds. Not the shiniest 'Nook but still pretty decent IMO. It was nice orange fillet. No other fish were mouth hooked for the day so I was alone on the leader board.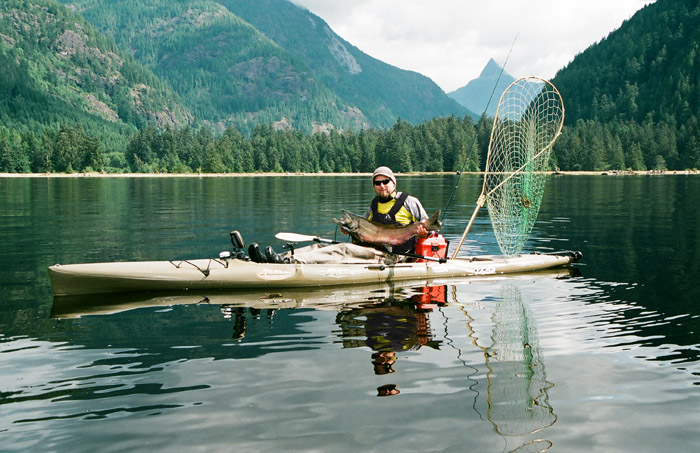 Sunday we had even more incredible weather with fully sunny skies and almost no clouds. Vancouver Island is really amazing when the clouds clear out of there!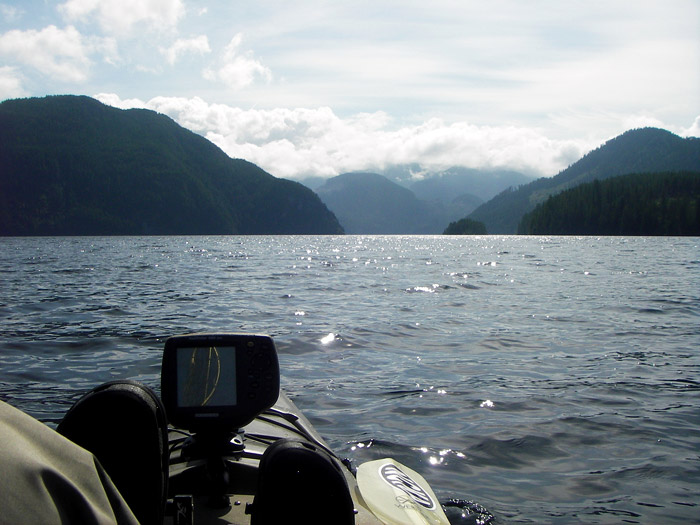 First big hookup that I witnessed came from newbie yak angler Brian (no handle as of yet). He caught his first fish the day before that came out to a 8 pound jack. This one was no jack though as he was in full on bendo mode. He fought it for about 15 minutes or so and landed it. I thought it might be mid-size since he landed it so fast.. then I heard him say it was a big fish. He paddled to the weigh in boat and event organizer Jim Davis mentioned it was a big fish... I knew I might be in trouble. They weighed it and it came out to 27 pounds! It beat my fish by 8 ounces!!!
I got back to fishing and immediately my jig got hammered. Took to the air at least four times and took some amazingly speedy runs. By the jumps it took it looked to be pretty nice size and maybe even bigger than my first. I was really putting it to the fish hoping to tire it and dragged it to leader a few times. I really wanted to land this fish and regain the top spot so tried to keep it cool. It was coming to leader again so tried to push and tire her some more when the hook ripped out of her mouth.... No bueno...
Unfortunately that was my last fish of the day and Brian left at first place with me in second. Cool to finally be so close to the top but hurt being that close w/o closing the deal.
It was a really nice week of vacation and as usual the food and people were amazing. Great to see all the good people from last year and meet some new ones too. Just wanted to thank Pole & Jim Davis for getting this all together and all the sponsors that made it happen. Also can't forget LA who did an insane job of getting all the details of the tourney taken care of and taking some great pics. Insane work!
I'm really looking forward to next year... already!
Z
The spoils: