I made the trip to Cali for Elk 2008 and it was an incredible kayak fishing experience.
I left late w/ a good yakfishing buddy bSteves and ended up at the Albion campground (10 miles north of Elk) at 1AM, set up the tents and went to sleep. Took about 14 hours, with stops, to get there so we were plenty tired. Woke up the next morning to fish just outside the campground. Some yakfishers on the way in had said that it was slow so we knew we had to get smart to make anything happen. There were a lot of nice rocks surrounded with kelp that looked really fishy so made a few drifts. Nothing hit for the first 30 min. or so when B hooked up with a nice vermillion. He proceeded to hook up with a few more when I finally got my first, a gopher...
Did a few more drifts w/o the best results so moved around a bit. I dropped my jig on a new spot and whammo! Fish ON! It took a few nice runs so knew it was a ling. Pulled it to the surface to find it wasn't the biggest but a cute 20 sumthin' ling. Sent him back to fatten up.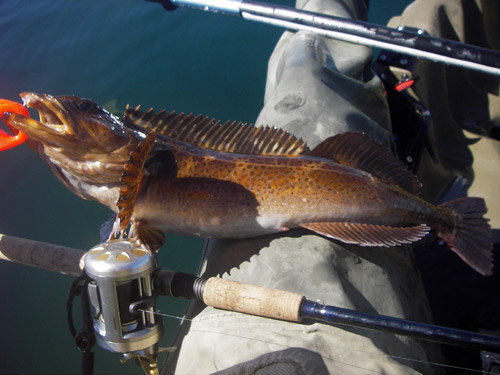 Got into some fast n' furious black and blues and filled up the stringer.
Elk fishing grounds

Later we made out way to the Elk campground and were greeted by 70 other contestants!
It was crazy how many people had showed up to the event. It was my first time to Elk so was blown away at how big it really was. There was a community center w/ mini theater showing some yakfishing vids, showers outside, large campground w/ wood burning oven, cleaning station for fish and gear, and random groups of people cooking up some of the most insane grub.
The next day we headed out to fish the tourney. 9AM on the water and B leads me to the spot where he landed the monster ling of years past. On B's first drop he goes bendo and pulls up a 22" cabezon. A few drops later he pulls up a china.
Bsteves w/ a nice Cabby on.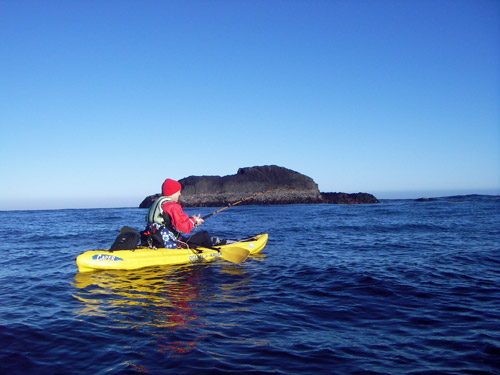 Same as yesterday, I was next and sure I'd just snagged. As the rod loaded up the head shakes came and rod went flexo-bendo. A few good short runs and finally got a look at the bugger. Just about freaked when I saw the size and went straight to the gaff. No playin w/ this girl on the line and gaffed on the first try for a 22.5" 7#11oz. Vermillion.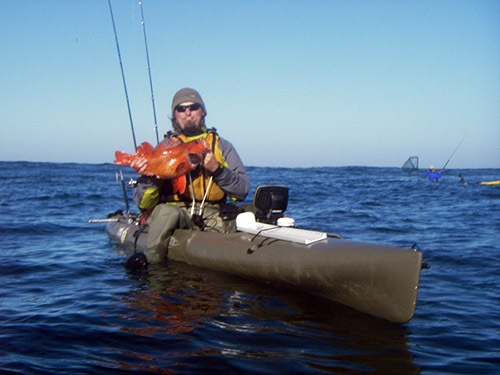 This verm made the Hawg Trough look silly!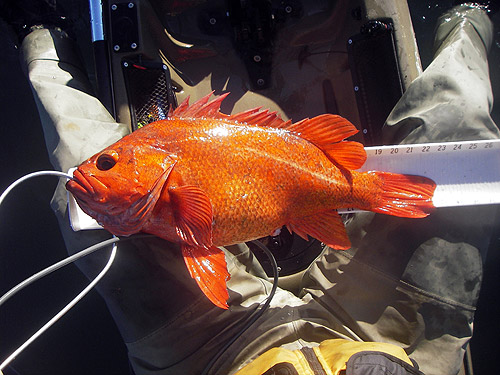 That made my trip right there. The swell came up as well as the wind and stuck out some more drifts for for 5 lings. Kept one and headed in.
Ended up coming in 9th place with the verm @ weigh in with some amazing lings. There's some talented yakfishermen and they really brought it. I was kinda bummed not pulling a huge ling but finishing 9th out of about 70 was pretty cool.
That night the food really came on. Everyone got their cooking game on and brought the most insane food to a massive potluck. There was three kegs of quality beer, wine and talking story w/ good people and food was a real pleasure. The award ceremony and raffle came next and some real insane gear was given out.
If anyone has the time next year I HIGHLY recommend this tourney. The people, food, and fishing make this a tourney not to be missed in this lifetime.
Z