OK--let's try this again with a different picture hosting service. Just started rigging my wife's new Hobie Sport for fishing. After I had about got it finished, I remembered, hey, my wife doesn't fish! Dang--all that work for nothing--guess I will just have to use her Sport for fishing myself!
Compared to the Outback, we have three feet less space to work with. Thus, there is no room for both a full-size Wal-Mart type crate (with extra rod-holders attached) and an ice chest. Since I have been leaning more and more towards carrying less and less while on the water, this project gave me a good chance to try a more bare bones approach to carrying gear. Thus, the focal point for this project is the Igloo 25 quart marine cooler with SS fittings and tie-down loops on each side. A SS shackle is placed thru the tie-down loops, and short bungees with SS hooks (from West Marine) are knotted around each shackle. They are secured to the eyestraps in the gunwale trays on each side. As you can see, the Igloo 25 fits perfectly, and very snugly, in the rear tank well of the Sport. Looks to me like the Hobie engineers had this specific ice chest in mind when they drew up their plans for the Sport after deck.
This is a view of the Igloo cooler from the stern with the AFi 3 place rod-holder attached directly to it with SS machine screws. This rod-holder fits this cooler perfectly and has a number of features not usually found on a budget-priced rig. Note that the center rod-holder is a convenient spot to mount your C-light for night fishing. Although these lights have an excellent range, they must be mounted almost completely vertically for them to be visible at the maximum distance.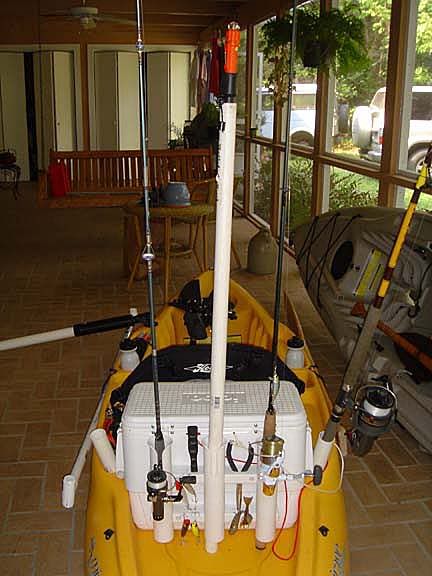 Here is a closer view of the AFi one-piece Tournament Rod Rack from West Marine (cost $15.99). It is made of polypropylene and has built-in slots for holding your pliers, knife, and assorted tackle. I thru-bolted it to the ice-chest with four #10 2-inch SS machine screws. The rod-holder came with four 1-inch #6 self-tapping screws, but I was not impressed with the potential holding power of these, and preferred to go the thru-bolt route. The arrangement of the gear in, and on, the rod-holder is strictly temporary to show how items can be placed. I will probably have the lures in my tackle box in the amidships hatch and have the knife and pliers closer to hand in the starboard gunnel tray.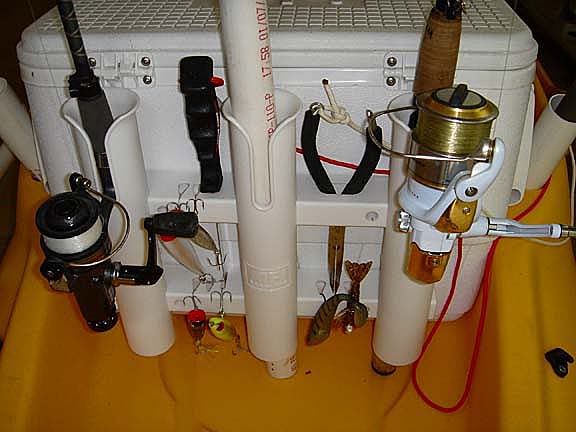 One of the "hidden" features of this Igloo cooler is that you can prop the lid open as you see it here, and it stays open on its own. This gives you time to get your food, drinks, or gear in or out without having to use an extra hand to hold the lid open-very handy.