Those of us who have purchased a new Sport, Outback, Adventure, Quest, Outfitter, or Kona in recent months enjoy the convenience of the hatch just in front of the seat. However, those of us who have an old-style Outback (i.e., pre-2006), have come to really like the built-in tackle-box ?shelf? and bungee just forward of the seat that was replaced on the old Outbacks by the new 8-inch round hatch. However, there is a fairly simple DIY solution to this problem: add your own tackle box bungee over the 8-inch hatch. To keep it from sliding off the hatch, you also use a rubberized, non-skid shelf or drawer liner between the bottom of your tackle box and the hatch. In spite of these modifications, you are still free to use your hatch normally, simply by setting the tackle box in your lap, or to one side.
Although the fittings for this tackle box bungee are somewhat hard to find (even West Marine has discontinued them), they are still available from some specialty kayak suppliers. The items that come close to the original Hobie equipment are the following: (1) about 30 inches of 1/4 inch diameter black bungee cord, (2) one set of two 1/4 inch bungee termination ends through which two SS 10-24 x 3/4 inch round head machine screws and Nylock nuts (from Lowe's) go to secure the bungee to the sidewall of the yak, and (3) one lashing hook, and two 6-32 x 3/4 inch SS pan head, slotted screws and 6-32 Nylock nuts (see pic #3 below). You can also use regular nuts and washers . Although the original Hobie equipment used self-tapping/sheet metal screws, I went with thru-bolted machine screws and nuts, since interior hull access was readily available thru the 8-inch midships round hatch. You can generally find what you need between these two sources.
http://www.kayakfishingstuff.com/Mercha ... ry_Code=kr
http://kayakfishinggear.com/hardware_and_fasteners.htm
1. Here is what the old-style Hobie OB tackle box shelf and bungee looked like, with my two Plano 3640 waterproof tackle boxes in place. Do yourself a favor and go with O-ring-sealed, waterproof tackle boxes all around. You will be glad you did.
2. Here is the Sport 8 inch hatch area just ahead of the seat. You can carry tackle boxes here without adding the bungee, but as a general rule, they need to be small enough to fit inside the hatch while underway. Before adding the bungee, I used two Plano waterproof #3640 (blue) and #3543 (yellow) tackle boxes that will each fit inside the hatch. You could use one of each, or two of each, or several other combinations. I also used a Sports Authority mesh bag to keep them from getting lost inside the hull.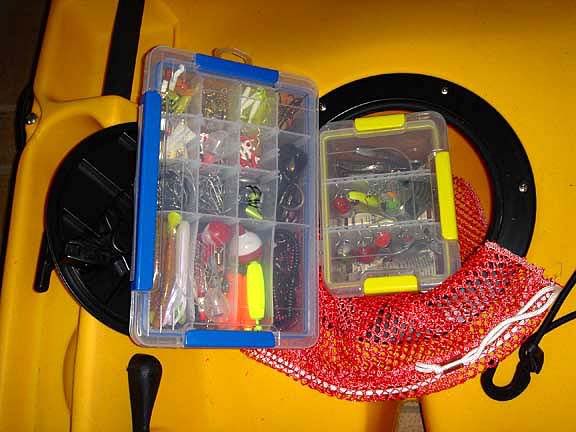 3. These are the items you will need to add the new tackle box bungee. At top are 36 inches of 1/4 inch black bungee or ?shock? cord. For my particular installation on the Sport, I needed 30.5 inches, but this will vary depending on exactly where you place the termination ends on the sidewall. At the right we have two bungee termination ends that will be attached to the interior cockpit sidewall (see later pics). These slip over the ends of the bungee cord. You will need to heat seal the outer fabric layer with a match before inserting the bungee cord into the termination ends. I used two #10-24 x 3/4 inch SS round head machine screws and 10-24 Nylock nuts to attach these ends to the sidewall (see pics #4 and 5). In between is the single lashing hook. I went with the hole size of these and used 6-32 x 3/4 pan head slotted screws and 6-32 Nylock nuts. At left is the non-adhesive, rubber-like shelf/drawer liner material (from Wal-Mart) that is placed beneath your tackle box(es) to keep them from sliding off the hatch when the bungee is removed.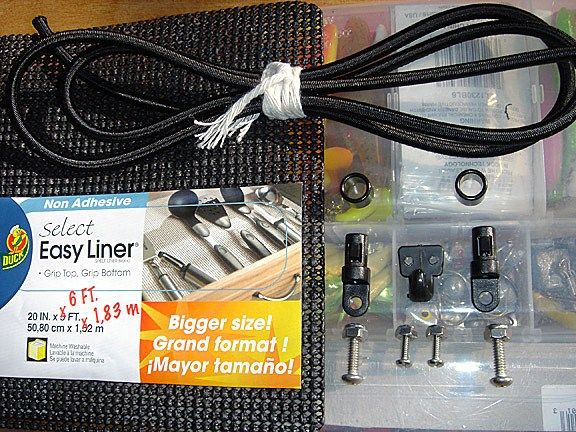 4. Here is one possible setup in my Sport. This particular pic shows two Plano waterproof #3640 tackle boxes back to back beneath the bungee. The bungee cord itself is hooked over a lashing hook that I secured to the hull using two SS pan head, slotted #6-32 x 3/4 inch screws and 6-32 Nylock nuts, as mentioned above. I would have preferred SS Phillips head machine screws, but I could not find these locally in this length.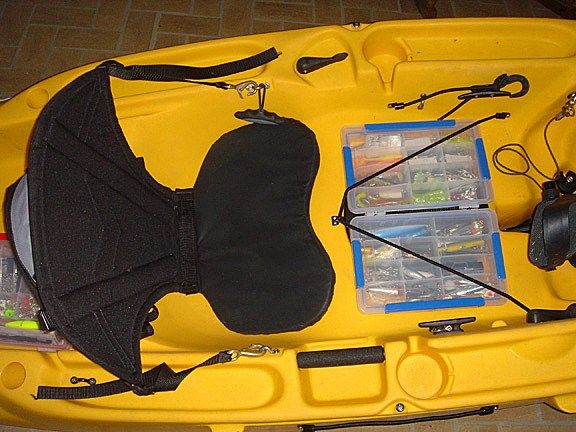 5. Here is an alternative setup using a single #3740 Plano waterproof tackle box, using the same bungee and lashing hook arrangement as in the previous pic.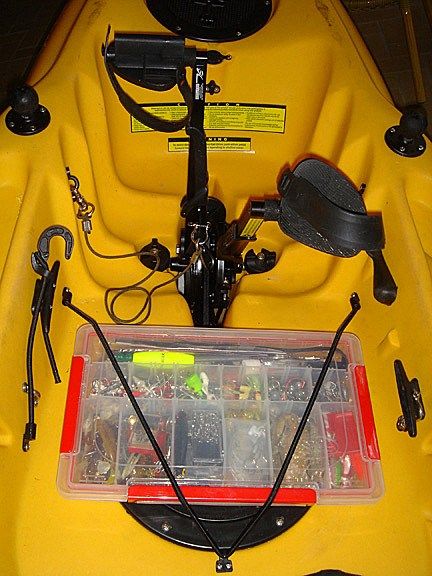 6. Finally, you can attach the rubber-like shelf liner to the bottom of your tackle boxes. Here you see it attached beneath one of my #3740 Plano boxes. This stuff is pretty much completely non-slip, and can be attached to your boxes, or just left lying free on top of the 8-inch hatch. In fact, you really don't even need the bungee, unless you get into some pretty rough water or surf that might send your tackle box airborne (or if you flip)! W-M, HD, and Lowe's all carry different brands and types of this shelf/drawer liner material. Generally the rougher or bumpier the material, the better it works, due to the increased surface area created by the bumps.
I tried all sorts of adhesives with this material (excluding Lexcel, which I did not have). It turned out that good ole Goop worked about the best. It still is not a permanent adhesive, and can be peeled/scraped off the tackle box, but it should work nicely to keep your tackle boxes and shelf liner material on the same page. I might add, that so far as I can determine, all the Goops are really the same compound, regardless of whether they are Plumber's, Carpenter's, Outdoor, Marine, or Shoe Goop. I used Marine Goop just because I happened to have a fresh tube available. Even though the packaging material says Goop ?is not recommended for use on Styrofoam, polystyrene, polyethylene, or polypropylene plastics? it seemed to work OK, and did not damage the bottom of my Plano tackle boxes.
BTW, have fun with your mods!!