A common problem is what to do when only one person has a digicam and that person caught the prize fish. I have read of too many horror stories about when the camera was being passed to the other yak, and the fish took off on another run as the other boat drew alongside. In the process, the camera got dropped overboard, and was never seen again (and maybe the fish too!). And most of these were non-waterproof cameras. But I just heard of a case where someone was rinsing off his new waterproof camera in the surf, it got dislodged in the swash, and disappeared! One solution to these kinds of problems was proposed by someone over on KFS who used a foam key float on his camera to keep it at the surface, should it fall overboard.
Seemed like a good idea, so I tested this on my new Pentax Optio WP 10. You can get these key floats at just about any bait and tackle shop or Wal-Mart. I happened to have a Boater's World float (white) and one from Wal-Mart (orange). Turned out that the W-M float was slightly longer and fatter than the BW float, so you might expect that it would provide better flotation for the camera-and it did. Here are a few pics for comparison using the Pentax. I always use a neck lanyard and carry the camera in the breast pocket of my T-shirt or fishing shirt, so that is what you see floating in the bucket.
Here is a closer view of the float. You can see that about 80% of the BW float is submerged with this camera.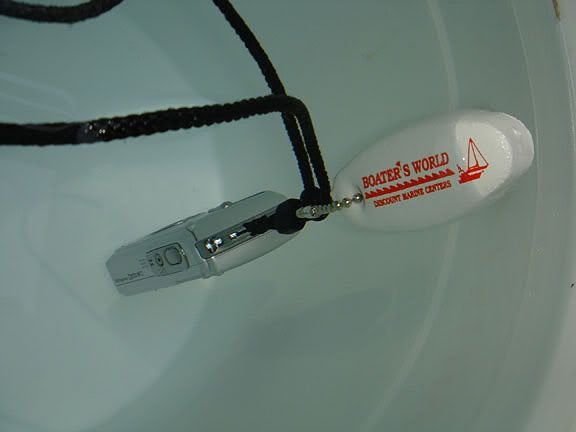 Here is the same setup with the orange W-M key float and attached lanyard.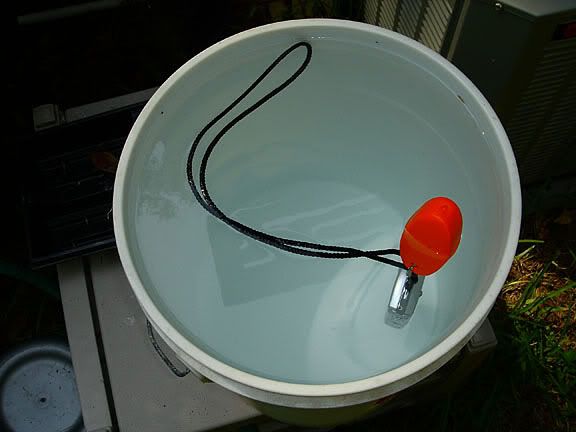 And, for comparison, here is a closeup of the W-M float and camera. You can see that only about half of this float is underwater, so obviously this one will give you the best flotation for your camera. As another advantage, the W-M float has the safety orange color, so it might be a bit more visible at the surface should it get dropped overboard.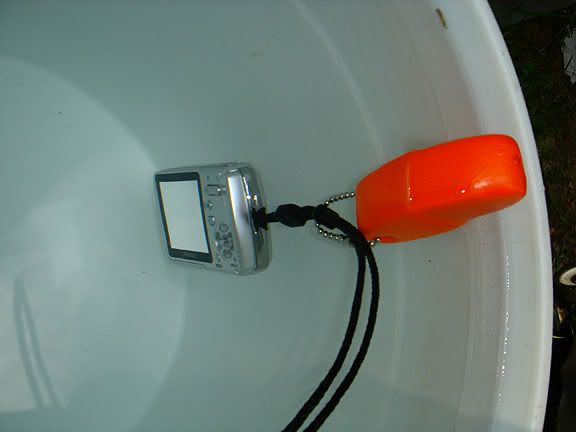 Digicams, neck lanyards, and key floats-don't leave home without them! Remember--if no pics, it nevah hoppened.