Since I had recently reviewed the Pentax WP10 waterproof camera, I thought it might be appropriate to review some of the inexpensive waterproof cases for your non-waterproof digicams. Two that I really like are the venerable Pelican series of cases that will fit almost any size of camera. Now, you can't shoot underwater, or even above water, pics with these cameras enclosed in these cases, but they are great for transporting your camera on board, and then being able to get them out quickly for a pic as needed. I used to carry my Pelican case containing my Sony DSC-T1 attached to my ice chest with a leash until a photo-op presented itself.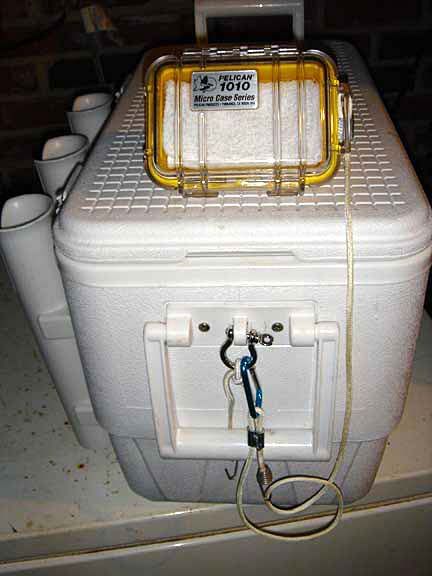 Here is the Pelican 1010 case and my Sony DSC-T1 camera-a good combo for the yak fisher, unless you have the waterproof Pentax that needs no external case. I have been using this Sony camera for everything for the past 2 years, including yak-fishing, car-tripping, and my daughter's wedding. As I recall, it was only about $12.95 or so.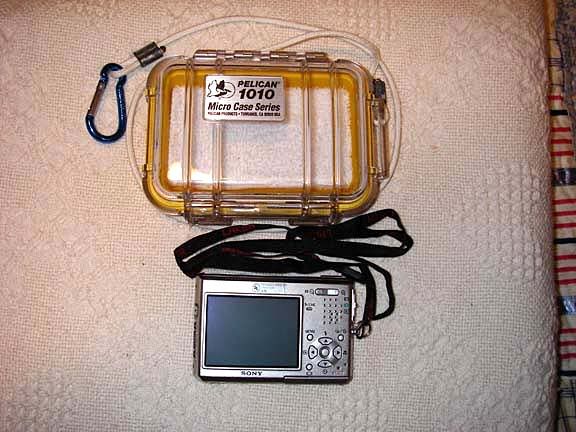 However, I just discovered a brand new waterproof, O-ring sealed case that is carried by Boater's World for the princely sum of $4.99. It is perfect for the several new slim-line digicams, such as the Sony DSC-T series.
Here is the slim-line Sony enclosed in the Boater's World case. Although this case is not designed to take a serious beating underwater, it is perfect for carrying your digi in the breast pocket of your T-shirt or fishing shirt-but don't forget to put the camera leash/lanyard around your neck before starting to shoot. This case also comes in several opaque colors such as blue, red, and yellow, in addition to the clear (pictured).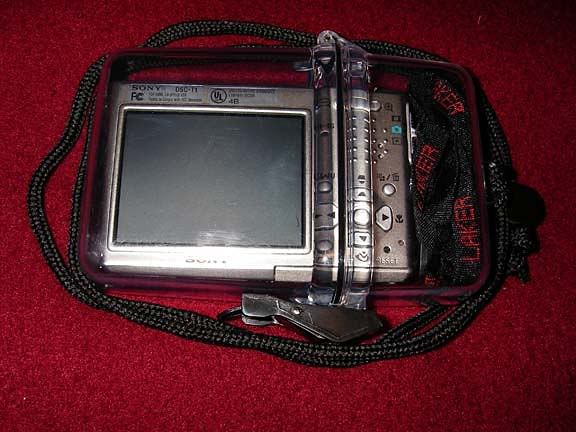 Finally, if you thiink you may want to get into some serious UW photography, then you might want to consider a dedicated UW case with full controls. Many of the manufacturers make these now. However, I need to warn you, these babies are expensive--for about 99% of your pics, one of the inexpensive cases above will be all you will need. Here's a pic of the case sold by Sony for the DSC-T1 with full operating controls for underwater use. Still a pretty small package, as these things go.