So last weekend I decided I needed to take a couple days off. I don't have a class right now to teach so my chief had no issues with me having Thursday and Friday off to make a trip North. My plan was to head up to Clear Lake for some nighttime bass fishing for a few days and then make a run to the coast on Friday afternoon to fish the Albion Open Tournament on Saturday morning. I packed all my gear to fish and camp in the Trailblazer and struck out right after work on Wednesday afternoon. It takes me about 2 hours to get to the mid lake area of Clear Lake where the State Park is located. This would be my home base for the first couple trips/days.
I started Wednesday night around 7:30pm. Launching my Hobie Pro Angler 14 into the lake I headed for the same general area that had produced for me the weekend prior. Normally the fading light of the evening sun makes for some great fishing but on this day that wasn't the case. The wind was blowing around 10mph from the North and had the water pretty choppy in the open areas. I had caught fish on the last trip by sitting in 7-10' of water and casting parallel to the submergent vegetation with a variety of lures including lipless crankbaits, colorado blade spinnerbaits, chatterbaits, jigs, and 10" Berkeley Power Worms. I figured I would start with this same technique to see if I could get any action. As the sun set the bite was pretty much nonexistant so I was hopeful that with night fall the bite would pick up.
Just like clockwork as soon as the sun had completely set and the shadows started taking over the fish activity picked up. I headed for a small island with a good drop off on the leeward edge that had some rocks for cover. My first cast was to the tip of the island and the water exploded as my bait hit the surface. I set the hook but immediately could tell this was no largemouth like I was hoping for. It was big though and towed me around the lake pretty easily as I waited for it to come to the surface. I was a pretty good distance away from the island by the time my sleigh ride was over so I turned on my headlamp and watched as a beautiful 14lb 7oz channel cat came rolling to the surface. I hadn't caught one yet this year, mainly b/c I don't target them, but needed a good one to enter in the NorCalKayakAngler.com AOTY constest. This one measured in at a little better than my 31" Hawg Trough could handle. I guestimated her at 31.5" just to be safe, took a pic, and released her back into the dark water.
I continued working this area and a few submerged offshore humps for the rest of the night. The fish were hit or miss and no specific lure seemed to attract more attention than another. I managed a couple of nice bass at 22" and 21.5" and a bunch of other solid but smaller fish with none going less than 17".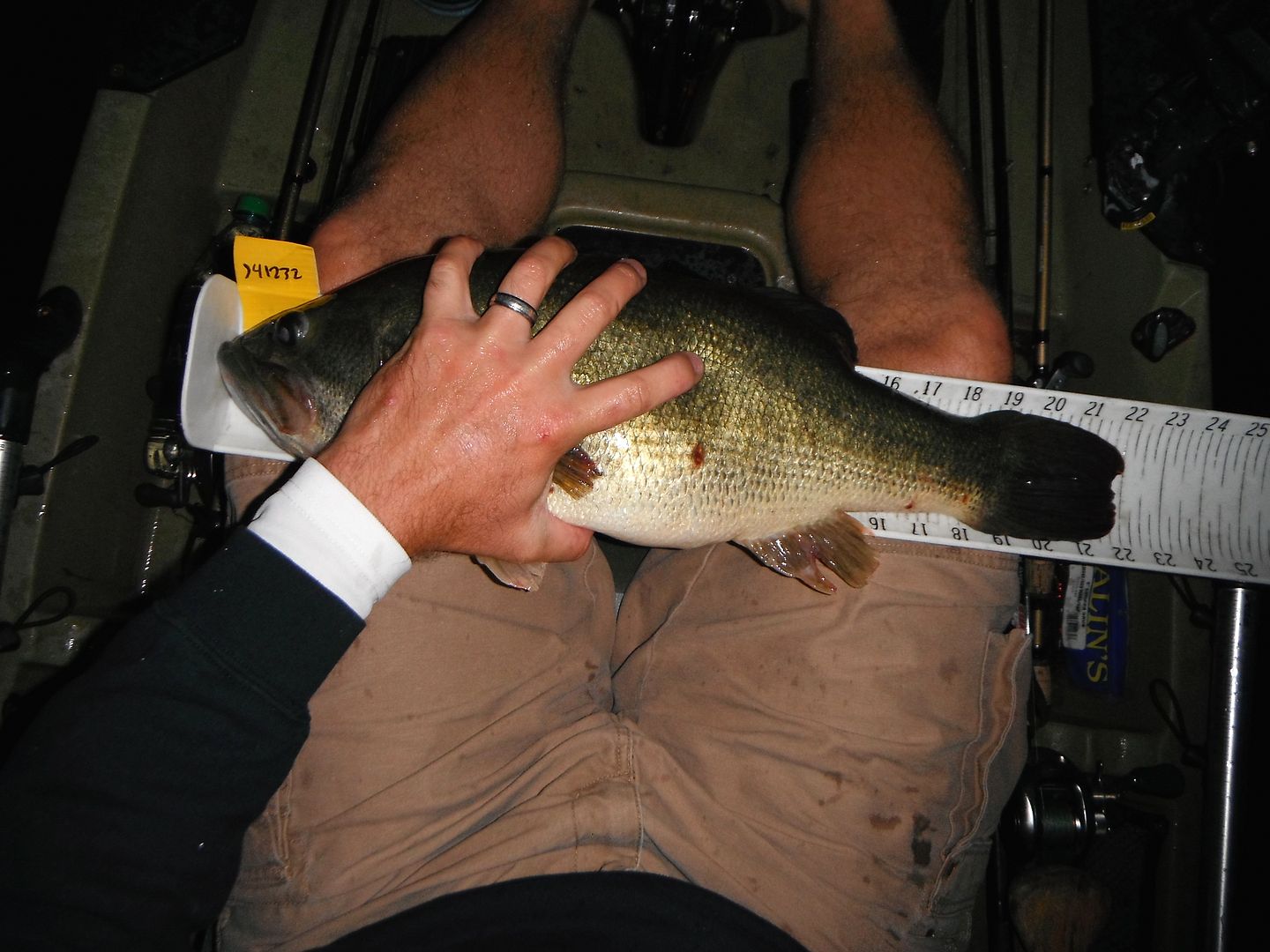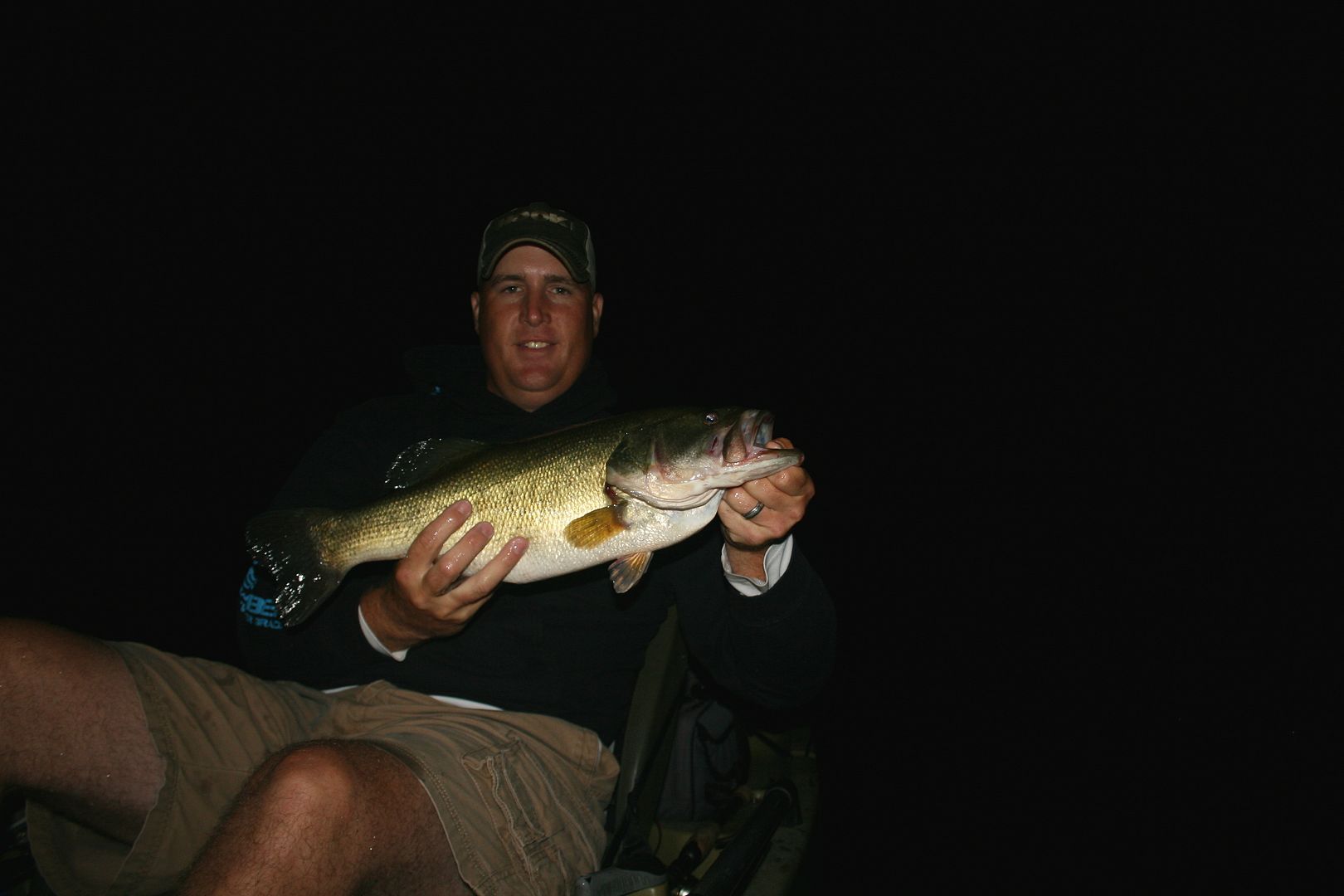 I finally made my way off the water on Thursday morning at 8:30am and headed for the State Park to register for a campsite and get some sleep. I would be meeting a friend, Yia Yang, later that afternoon for some bassin and definitely needed some rest if I was to make it through another night.
Sleep was hard to come by in the heat of the day in Lake County. Temps were in the high 90's and being inside a tent just made it that much worse. I'm sure I dosed off a few times but by noon I decided I couldn't take it any longer and would just hit the water again. I fished for most of the day with little to no action. I tried every lure and technique I could think of with the exception of live bait (just b/c I can't stand fishing live bait!) and rarely could I even draw a half hearted strike. Just before Yia showed up at 7:00pm I came across a fish that was busting on some small minnows in a pocket of a rock bank. I flipped a D&M Custom Piranha swim jig to the fish and it inhaled it as it broke the waters surface. Nothing big, but a relief to have something stretch my line after seven hours of nothing!! This one proved to be the smallest fish of my weekend but was still a nice little chunk!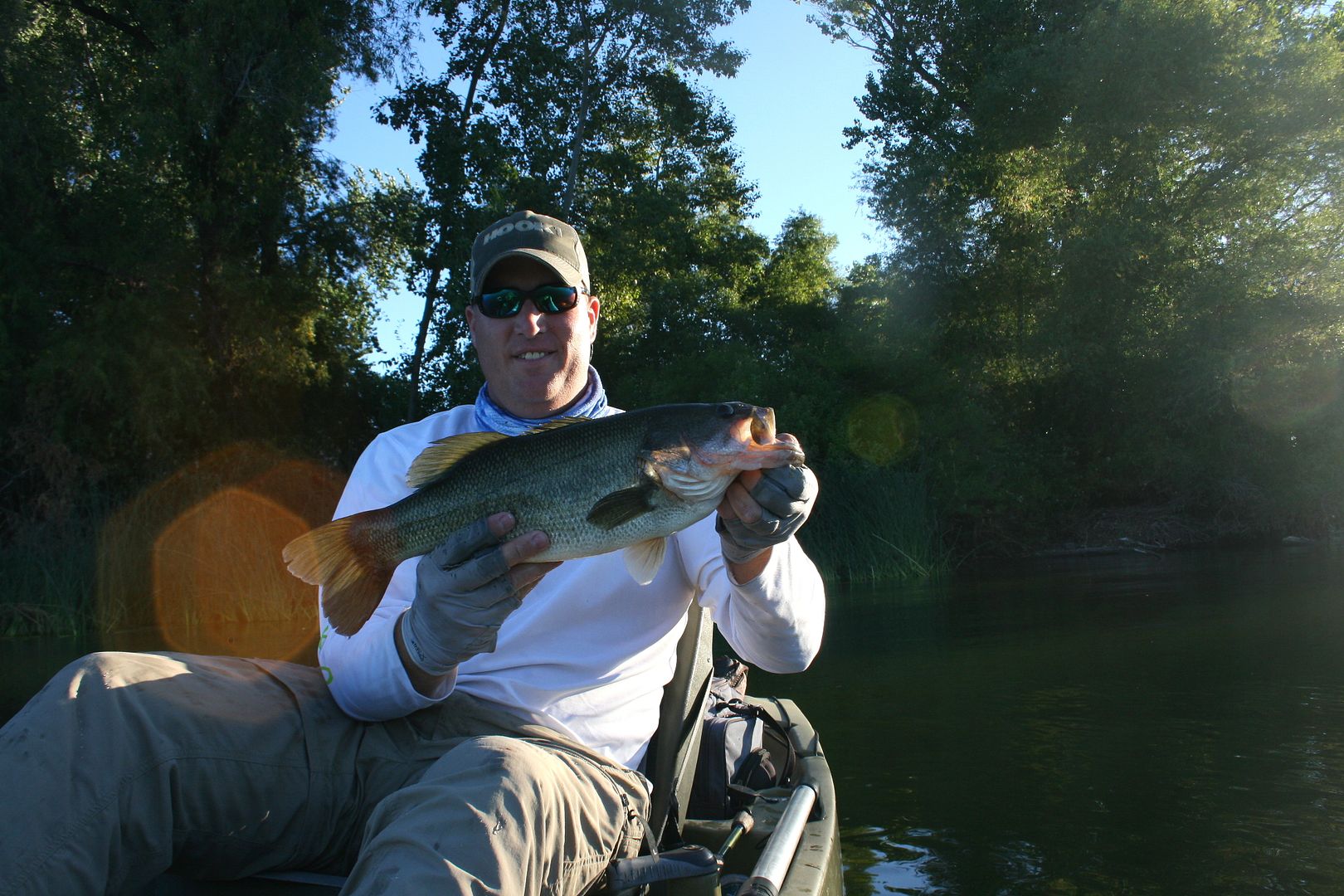 Yia called me on the cell phone and said that he was at the launch and would be out to meet me on the lake in approximately 30min. I headed for the launch and fished just outside of the launch area. This spot is kind of a community hole and is hit by every Tom, Dick, and Harry on tournament days. Even though it gets all that pressure it has always given up fish to me as I come and go from the ramp. Sure enough after probing the area for a few minutes I get slammed in about 13 feet of water where the marina channel exits the shallow launch bay. Again, it didn't take long for me to figure out it wasn't a bass. My "fluke" catfish from the night before apparently wasn't such a fluke! LOL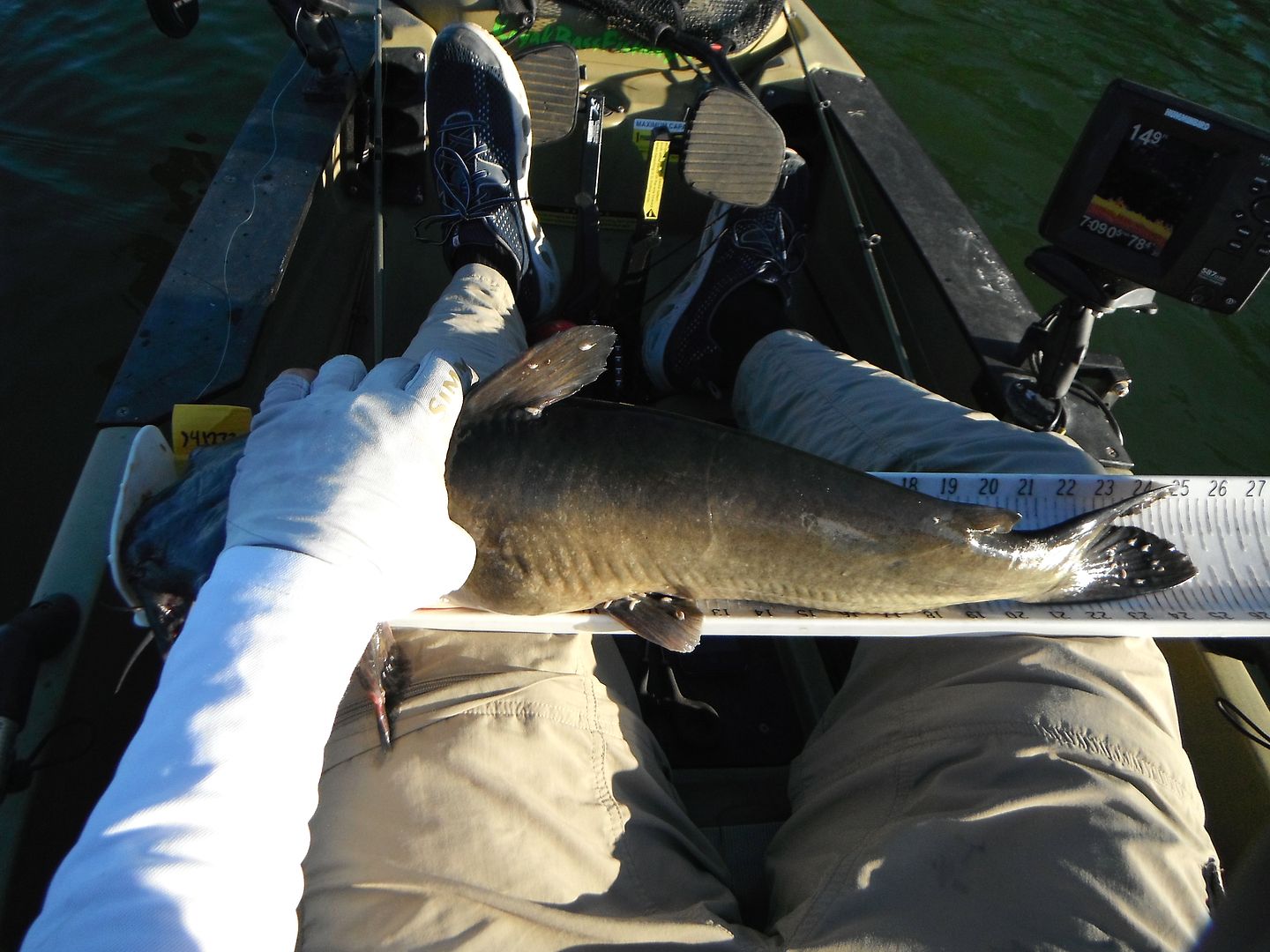 Once again it was well after dark before the bite picked up. Yia and I worked everything from shallow grassy areas out to deep water rock piles. It seemed that the deep water bite was where the action was but the wind was making it tough to get our drift right. Yia's Eddyline Carribean 14 is a sleek paddle craft that sits low and doesn't catch much wind, but when trying to fish deep water structure a set of pedals would have really come in handy for him! We moved off the open water structure to work some areas on the back side of a point that had trees to block the wind. The bite was slow but steady until after Yia had to head for home. He left around midnight because he had to work the next morning and I stayed out until 4am before calling it a night to get some sleep. A few more good fish were caught though so it was worth it!