So this is what my buddy Bryan [RedRanger275] and I, kokanee and trout rookies, wound up doing and buying at the Sacramento ISE on Friday, plus what I bought there and at Fisherman's Friend in Lodi on the way home on Saturday. This is pretty long so you may just want to skip to the photos.
On Friday we were lucky to get a whirlwind tour by Gary Coe of kokanee booths. He obviously did not have time to take us everywhere, show us everything, or introduce us to everyone that he could have or wanted to.
Da booth Friday, Don Brown [onemore_pass] left; Gary Coe right.: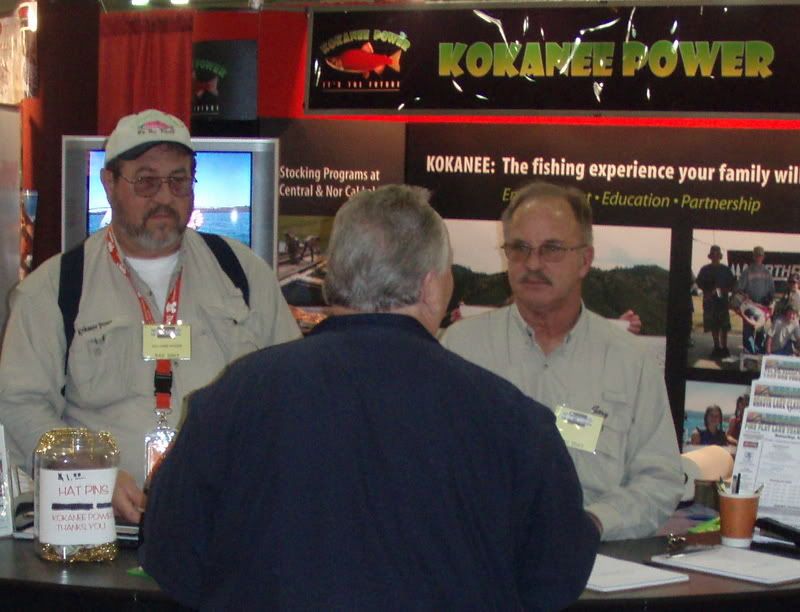 We also quickly got overwhelmed with all the new stuff, people, and places. And I am not going to report on anything Mr. Coe said in particular. So I am going to keep this pretty generic and please do not read anything into what or who is included, or not included, in this report and lay it at Mr. Coe's doorstep.
Bryan and I tried to remember and take a few notes as Mr. Coe showed us around. Both our memories and our few scribbled notes were a bit confused: it was so much, and as the evening wore on we bought what we liked and got too pooped to continue. So we just bailed and went home without finishing the mission.
Saturday morning, after reviewing Friday's loot against our notes, it was clear we missed a couple entire categories of things. I already knew we did not get back to several of the booths. I also realized that Friday kept me so busy I never really saw the show!
Friday's take:
So I made an executive decision [my partner Bryan aka RedRanger275 had to work the weekend]. I went back to the ISE on Saturday to fill in the blanks, see the show – and use that free parking pass plus a discount entry coupon.
Saturday at the welcome gate.
As bass guys, we strongly believe in scent and the show prices plus no sales tax made this the time and place to load up for kokanee and trout. We got scent oils for marinating shoepeg corn, white and pink cure to toughen the corn, and gels to spark up lures and use with in-line scent dispensers. Good for kokanee and trout, (and maybe Chinook salmon -last year's rookie season).
Scent galore: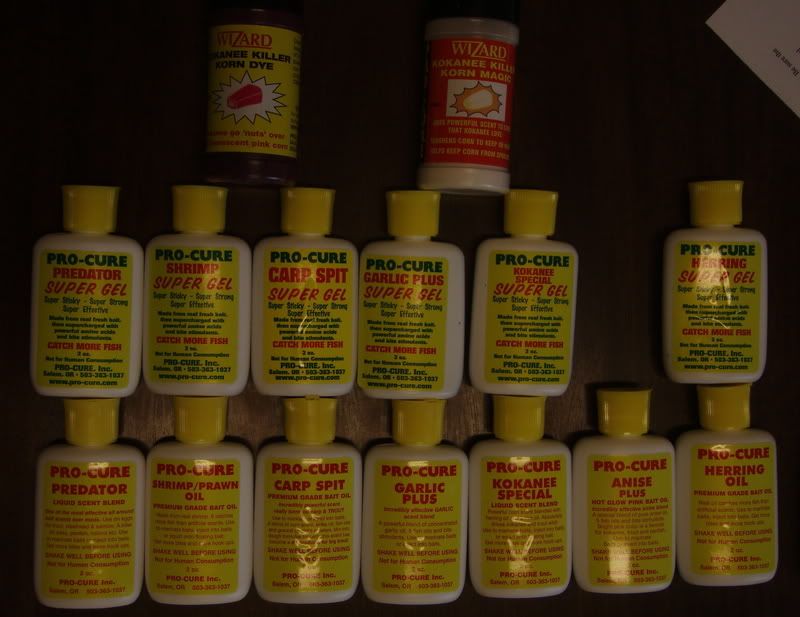 We like lures (and are easily distracted by bright, shiny things). No apex lures at the show so stopped at Fisherman's Friend in Lodi on the way home Saturday and Rick fixed me up (thanks). The rest were from the ISE. We added these to an ancient collection of Needlefish purchased on a whim from the north Stockton Knowles store when it closed and stored for years. All of these have built-in action and offer cross-over potential to catch trout (our rookie year for them, too):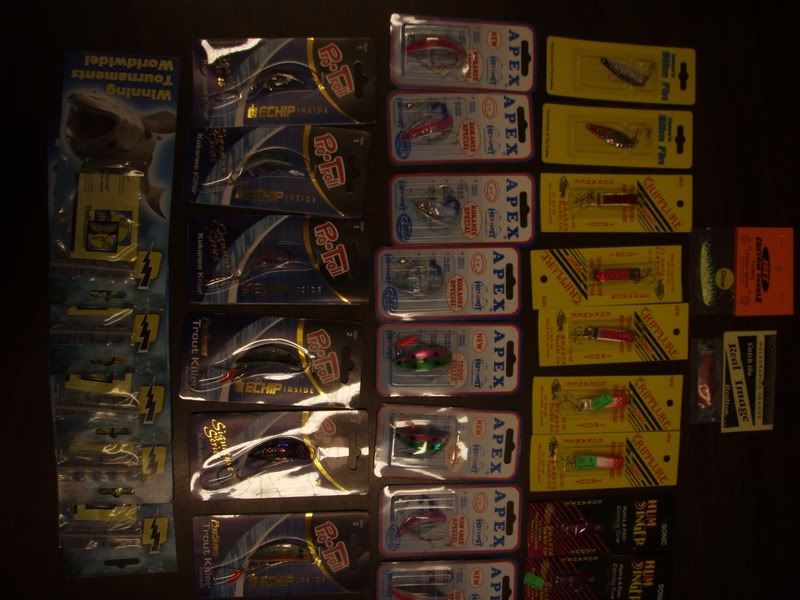 Dodgers. Lures with little or no action of their own, like hoochies or spinners, need dodgers. We understand early in the year and day, smaller silver / gold / red-pink single dodgers used closer to the surface make sense; while later in the year and day bigger, or double, dodgers with high contrast / fluorescent / ultraviolet work better. We chose smaller single blades and some medium-sized blades for now; no magnum or double dodgers.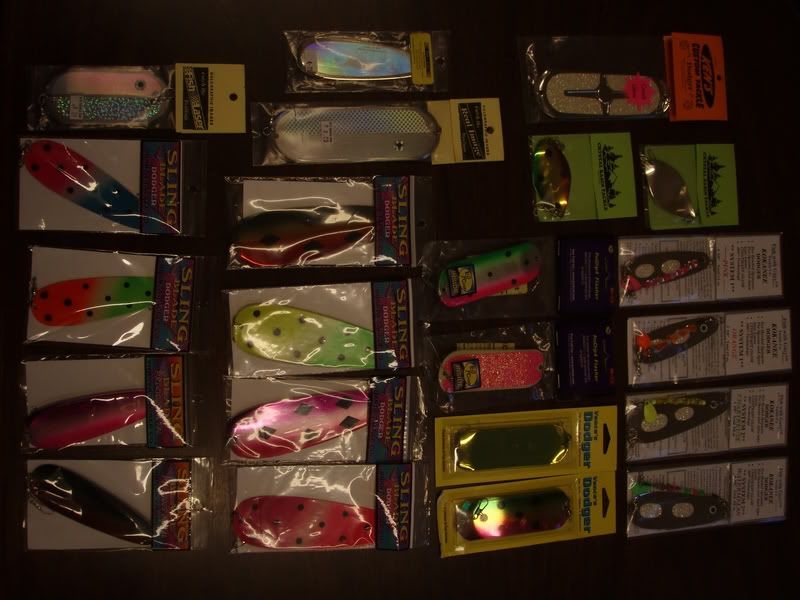 Spinners. Look at all the pretty colors! The Fishing With Gary system stuff is intriguing. Everybody seemed to have some great stuff. It's all real eye candy – hope the fish think so, too! Some neat stuff on order from Rocky Mountain (thanks to Jared Johnson).
Hoochies. Sexy little swimmers. Bought a few, ordered more from rocky Mountain.
Other stuff: Meet a beer-toting ric1ric and ?Roger?Roland? between-the-bears near the main Cal Expo exit at the end of Friday to buy Sniffer star decals: 2 sets of large and 2 sets of small. Two-year subscription to the FishSniffer (we owe the Sniffer board for a lot of great information and fun). Sep's side planers for trout from Fisherman's Friend in Lodi.
Stuff not purchased: Okay, we bought some of just about everything, we're seeking treatment. Nonetheless. We checked out Scotty and Canon lower end electric downriggers. Gary Coe showed me the scariest fishing rod in the world, a yellow fiberglass kokanee rod from Lamiglass (thanks Roy Graye). It bends through and including the reel seat and butt - ewww, that's just not right! [Okay … breathe … breathe, now repeat after me: the rod is your snubber, the rod is your snubber…]
So the budget is blown for the next six months but we don't regret a single minute or dollar. Buying stuff – several hundred dollars. New toys for a couple new fish species – priceless!