The weather projections for our first Forgotten Coast Kayak Angler (FCKA) club tournament early this morning did not sound too promising (low of 26 degrees!). But we still had an excellent turnout of 11 kayak fishermen at the TnT Hideaway Tournament HQ at the junction of Highway 98 and the Lower Bridge over the Wakulla River, just south of Tallahassee, FL. Fortunately, the air temperature warmed up nicely, so the first fishermen on the water were quickly shedding layers as the morning wore on. Here are a few pics of the festivities.
Here is the first group of fishermen returning up the Wakulla River from the direction of the coast. The River has its headwaters in the great Wakulla Springs, one of the largest FW springs in the world.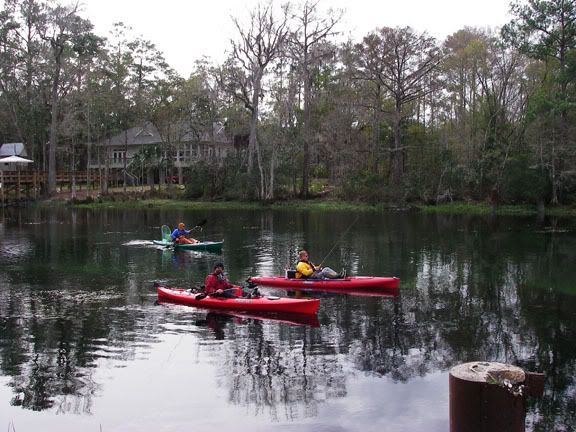 A few of the contest participants and their yaks, caught returning to the TnT Hideaway, a well-known kayak and canoe rental and sale emporium right on the river. This pic is of Rob with his new Heritage Fisherman, the manager of TnT, one of three kayak dealers who participated in the tournament.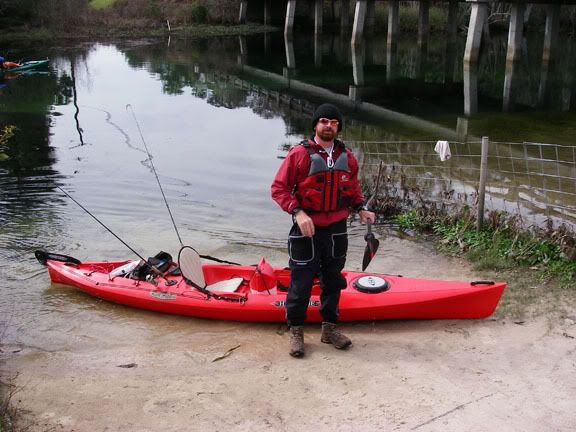 Next, we have Rick, one of the co-owners of the Wilderness Way, a major Hobie dealer in Tallahassee and North Florida, with his new Hobie Mirage Revolution.
Here also is Brad, owner of Sunjammers, a major Hobie kayak dealer in the Panama City area of N. Florida with his newly rigged Hobie Mirage Revolution.
Lots of new fishing adaptations for kayaks being developed at present. This, for example, shows the new hatch arrangement with the built-in (but removable) tackle tray on Brad's Hobie Mirage Revolution.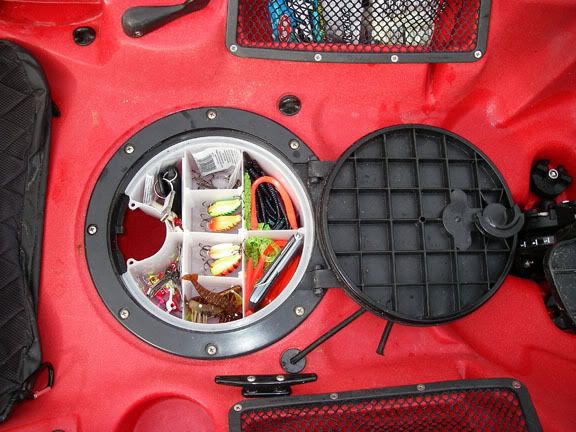 There has been a good deal of discussion on different online forums recently in which folks have been asking about the "bestâ€