I am gonna copy and paste this here from another site that I posted this on Yesterday...
I purchased an Outback in April or May of O5.. I forget what month exactly.. I had a back surgery in June of that year and since then only used it twice.. The last time I used it was in the Keys in April of 2006. Every few hours I would have to come back out and drain the hull. I just figured that the water was getting in at some obvious area..At one trip on a return to shore the Yak became so unstable because of all the water sitting in it and the seas were in the 2 to 3 foot range. I took a spill about one hundred yards from the shore. Luckily I had the insight to place a loose weighted marker in the yak to mark the area of a spill if one should occur. I got all my gear. I was able to retrieve all but one pair of sun glasses from the bottom. I did not and have not taken it out since..Being that this was my first experience kayak fishing in the open water, I just chalked bailing water as a chore that went along with the sport.. This spring I have gotten the itch to go and chase some red fish in the creeks. I just started checking out some forums and hear about this crack thing... Would this be the reason my yak kept filling with water? If so what do I need to do?
Okay.. My wife just reminded me.. She says that I initaly thaught that the reason it took on water was becase I weighed too much.. I weigh in at 260lbs. This pic was taken the last time I use the kayak..I do believe that every time I draged it up to shore to empty there would probably be close to several gallons of water in the bottom of that thing. Notice how low it is sitting in the rear end.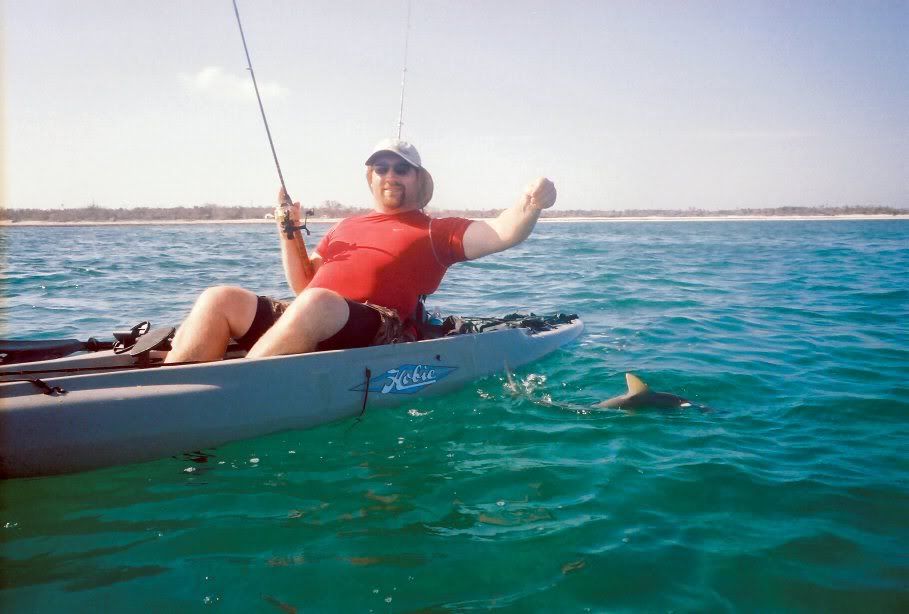 This pic was taken one morning when I was going out for some yellow tails on that trip.. Notice how high the rear end is sitting compared to the pic above catching the small shark where I had been on the water a few hours.
Big difference.