Hey yakman,
Glad you were able to make it down for our tournament. As you found out, the water can get very shallow over and around the oyster bars on a falling tide. Normally, I don't pull my Mirage Drive except when launching or returning, and it is always leashed when I'm on the water anyway. When you pull one pedal back and hook it with the installed bungee cord, the drive only extends down about 2 inches below the hull so I just leave it in place when on the water.
However, my best invention for use around the oyster bars is my PVC poling/measuring stick that I carry in my port side bungee. I use this for everything, including short distance paddling when launching or returning, pushing off oyster and other shallow bars and pushing my way over or thru a shallow mud flat, sand flat, or grass bed. Here you can see my Sport pulled up on one of our oyster bars with the Mirage Drive installed. Note my poling stick on the port gunwale.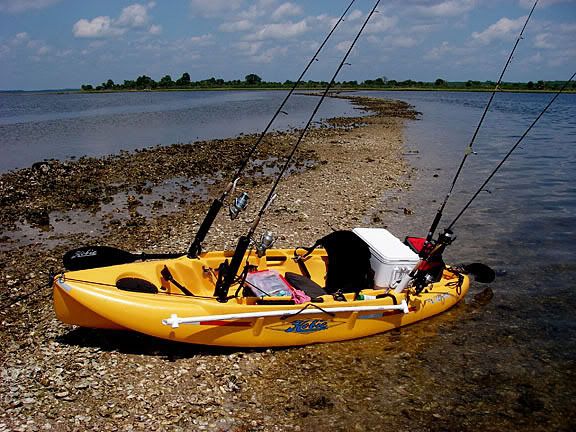 Here is the Mirage Drive installed--note the leash attaching the drive to an eyestrap inside the port-side bulkhead.
Usually. it is easiest to remove the drive when on the water where the water is deep enough to pull it up and out. I then place the drive on the bow (with leash attached!) as you can see here. Hope this helps.