Cool review. I LOVE mine. Just don't forget to pull the black stopper off of the pump
It would be cool to see the rod holders on the back spread out so that they are in the 1,3 & 5 positions instead of the current 2,3 & 4 positions. In fact, I'm gonna switch mine up today. I'll post pics later.
Roadrunner - I didn't notice any difference in kayak handling..but I've been using a livewell of some sort forever.
_________________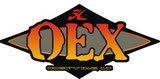 OEX Oceanside - Authorized Hobie Dealer
Kayak Fishing Specialists
www.oexoceanside.com