The long days of summer have arrived and it's been mostly sunny and, unfortunately for kayak fishermen, very windy here in the Columbia River Gorge. When the wind dies down you have to get out there and do some fishing. We decided to run away from the Gorge winds and head east to the Deschutes River. The Deschutes rivermouth is a great fishing spot. You can catch smallmouth bass and walleye in the summer and salmon in the fall and spring.
We got an early start because we only had a couple days of relatively calm wind and wanted to get as much fishing time as we could. Getting an early start also beats the summertime weekend crowds.
We paddled around Miller Island, a large island in the Columbia River, where the smallmouth bass and salmon fishing is good. A long paddle with tricky river currents and eddies.
We tried drift fishing for walleye, but the current was pretty strong and there was a lot of weeds and junk in the water that made this kind of fishing pretty tough. We weren't having any luck with the walleyes so we went after smallmouth bass and did a little better.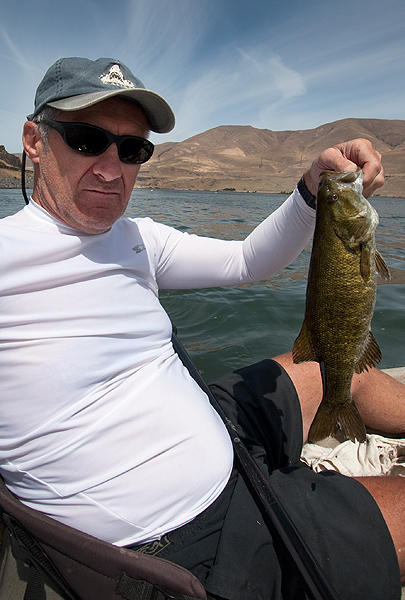 I also hooked up a small sturgeon that put up quite a fight on the light tackle I was using. There are a lot of regulations with sturgeon retention, I usually release them because I don't target them and I'm not familiar with the rules. For where I was fishing, I think sturgeon need to be 43" long to keep them, I didn't have a ruler, but I think this one would have been a little short.
Hoping for more calm days because the nice summer weather doesn't last very long around here...