So today was my first day in the ocean here on the Pacific. I took the my Hobie Pro Angler 14 and headed out to the Sonoma Coast in search of a beach launch that was somewhat sheltered (didn't want to turtle on my first attempt! LOL). Found a great spot, on the recommendation of some members from NorCal Kayak Anglers, and the launch was buttery smooth. I followed out a gentleman in a Hobie Revo just before daylight into a deep dark fog like can only happen here on the West Coast. I told him I would stay on his tail until the fog lifted or at least until I had an idea of where I was at!!
Started the morning jigging a Big Hammer swimbait on a 3oz darthead with a 7/0 black nickel hook. I had heard rumors that the water in the area was brown from a bloom of some sort so I tipped my jig with a little piece of frozen squid to increase my chances of catching something. I had done plenty of research on how and where to catch rockfish and lingcod, but this was my very first attempt and after losing site of the Revo I was following I was doing it all on my own! Kind of unsure of what kind of jigging was effective I just experimented for a while using different actions and fishing outside the kelp line in 45-65ft of water. At about 7:30 I had my first fish in the boat. It was a small black rockfish. Very good eating, and even legal (minimum is 12"), but I let him go in hopes that the fish gods would grant me some good karma and deliver something a little more worthy of being turned into fish tacos!
Only a few drops later I get slammed by a fish before my jig even touched bottom. I struck back and boy was I in for a fight!! After a few strong runs pulling drag off of my almost locked down Shimano Calcutta 300D I see color coming up from the depths! It was............BLUE!!!! Out here the lingcod take on a crazy blue green color that earned them the nickname of smurflings. I had gotten my first one and it measured out at 27" and 6.8lbs. Into the box with that one!!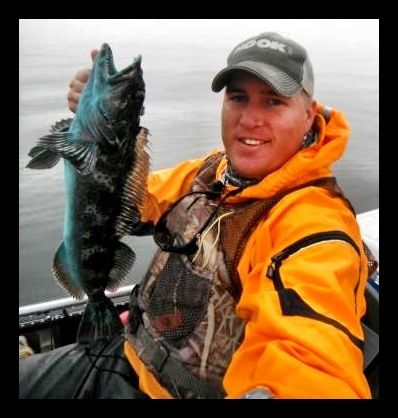 But not before extracting the two baby octopus from it's throat!! These make the best bait!!
From then on it was pretty much fish after fish all morning. I would just cruise along the kelp working offshore and back to the line looking for any rocks, pinnacles, or shelfs on my depthfinder. Every time the bottom went from smooth to some type of transition the FF lit up like Xmas with fish symbols from the bottom up to about 25ft.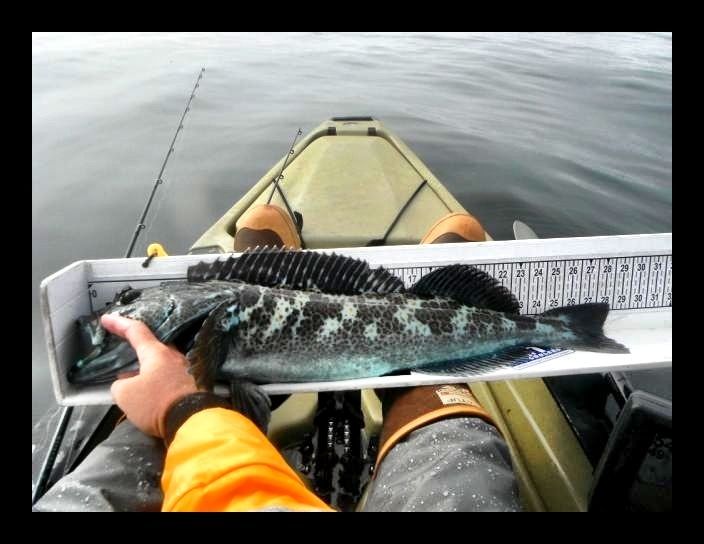 My goal for the trip was to try and land my first ever Vermillion rockfish. It's just one of those fishes that are really cool to look at and I kept my fingers crossed that one would grace me with a bite. While fishing a rock out in almost 80ft of water I got slammed on a glow in the dark twin tail scampi tipped with squid. When I set the hook it went absolutely nuts thrashing it's head and pulling like a freight train. I thought I had found another good lingcod but when the color started to show it was definitely not blue!!!
I had caught my first Vermillion rockfish and it was a chunk!! It measured 21" and weighed 6.6lbs!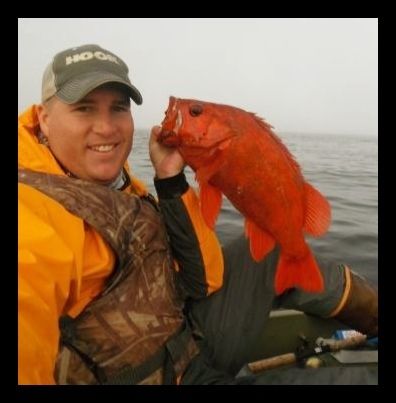 When it was all said and done I had caught 7 lingcod (27" & 28" made up my limit), 4 Vermillion rockfish (21" & 19" came home), and 9 black rockfish (biggest was 16").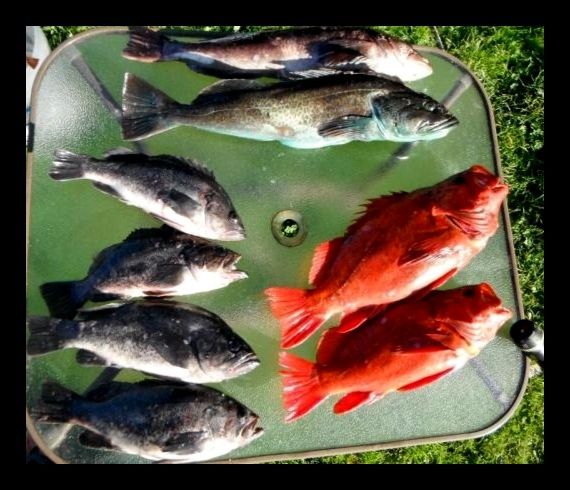 I've got one heck of a pile of fillets and will be doing a fish taco night for some of my co-workers this week!!
Here's a shot of the smurfling fillets. They take on the same color blue as the skin for some reason. Evan thought it was cool and snapped a pick while I was doing the cleaning duty! LOL