Hey Rose,
Here are some pointers on rigging the Hobie sail kit, using my Outback as an example. I made a few modifications to the basic Hobie rig, but you don't really need these mods to sail—just follow the basic Hobie directions. But once you get some sailing experience, here are some things you might want to try.
Here is the Outback cockpit looking aft (towards the rear).
The mainsheet (line to the sail) loops up the port (left) side to the stern behind the seat, and then down the starboard (right) side. To make the mainsheet more responsive (i.e., to cut down friction in the system), I attached a Harken 16 mm block (pulley) to a SS carabiner that I had previously added to the stern handle eye strap (next pic).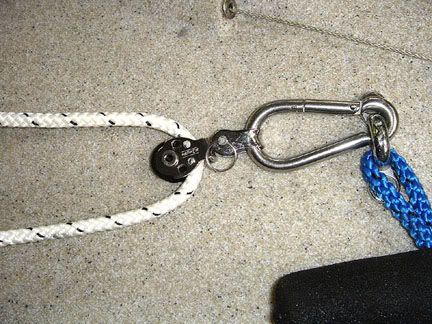 The next thing I did was to add a West Marine cleat (red arrow) to the upper starboard side just ahead of the mid-ships handle (seen at upper right in the below pic). I then attached a SS shackle to this new cleat. The red arrow (above) shows the position of the new cleat (from West Marine). I then attached to this shackle a second Harken 16 mm block thru which I ran the mainsheet. You need to put a simple overhand knot in the end of the mainsheet so that it doesn't come free of the block, in case it gets away from you (which it will!).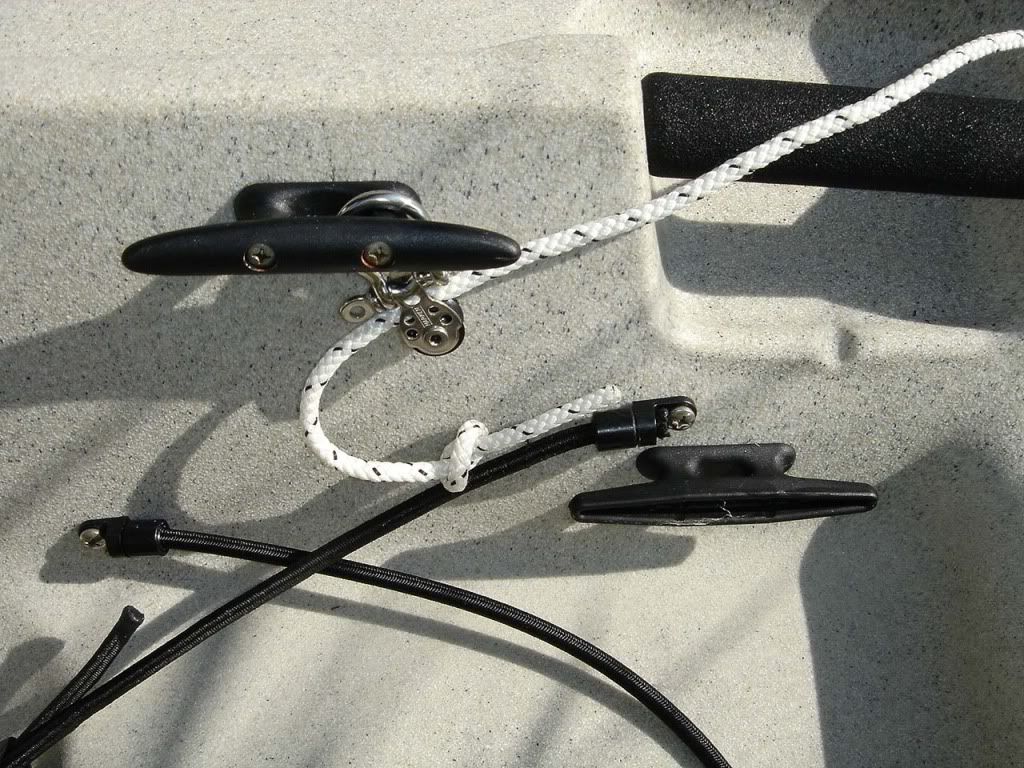 The Harken blocks tended to cut down the overall friction in the system markedly, and made the main sheet and sail more responsive so I could sail close-hauled and (hopefully) cut down the possibility of a quick gust putting the yak and me on our beam ends. This was one of the main motivations for building my outriggers for the Outback (below). You can rig the mainsheet either up or down thru the block--whichever way works best for you.
Overall, sailing the Outback (and our Sport) has been a blast. I have to say that a yak under sail certainly provokes a lot of stares from the CPBs (my name: "crazed power boaters") in the area, as well as the Hobie Cat sailors in the vicinity.
BTW, here is a link to how to construct your own outriggers. Hobie had not yet invented the Sidekicks when I began sailing and yaking, so some of us built our own.
viewtopic.php?f=26&t=1548
Best,
Dick