OK, for all you human-powered boat racing fans out there (you are out there, aren't you?), here are some of the results and pics from one of last year's events. Last year's WISIL race was held at Pierce Lake, in Rock Cut State Park, Rockford, IL, the same location as the 2003 event. The WISIL (originally a recumbent bike racing organization: Wisconsin Illinois Human Powered Vehicle) now includes a string of events for HPV boats as well.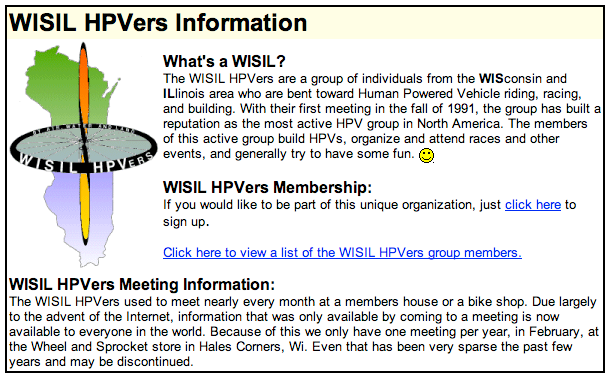 If you missed last year's events, not to worry—there are at least 10 events scheduled for 2008 (including one with a 2007 date!).
There are also a lot more sponsors of these races than I recall from past years, and a number of them now occur annually, rather than in alternate years. Now maybe, just maybe, Hobie can work on developing an advanced (add-on?) hydrofoil and/or Mirage Drive design that can use (at least, partially) the existing drive well on all the thousands of extant Hobies out there.
Now, we also need to take into consideration the comments of my good buddy, Punchinello re weight, so here is also a good opportunity for Hobie to try out some of their new ideas re a Kevlar or carbon fiber hull material. Now I don't really KNOW that Hobie is working on such a craft, but I would be greatly surprised if Hobie, as the foremost kayak designer out there, had not been at least thinking about such a concept.
Not to mention the Canadian guy who is planning a trans-Atlantic crossing in a pedal-powered boat in December, 2008!
http://cnews.canoe.ca/CNEWS/WeirdNews/2 ... 08-cp.html
Here are the 2007 race results for the WISIL.
Then there is also the International Human Powered Vehicle Association:
http://www.ihpva.org/
And the Decavitator from MIT that set the world speed record for HP boats back in 1991-2 at 21.3 mph!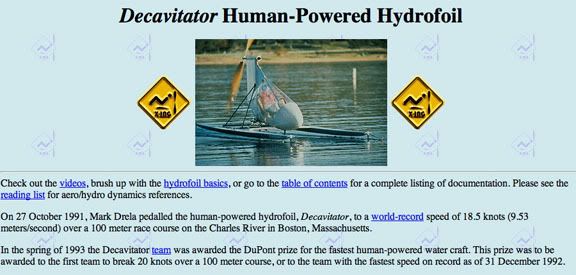 And don't forget the now-extinct Hobie TriFoiler that set the world sailing speed record of 50.1 mph that several of us discussed some years back.
http://kfs.infopop.cc/eve/forums/a/tpc/ ... 2071011161
And the list goes on and on and on… Actually, it is pretty amazing how this HPB thing has taken off world-wide in just the past couple of years!
Here are some pics from the HPB 2007 races.