stobbo :
Very interesting question, there are upsides to everything and also downsides. For example on a kayak when you add more sail area you run into the problem of the boat wanting to tip over, since there is no weighted keel like in a monohull, or AMA's, or any ability to hike out like you would on a laser or class A, your going to go over unless you are really fast to depower the sail (I'm usually not fast enough and get wet a lot).
Adding a jib does increase your sail area and speed but unfortunately it also increase the lateral force (heeling moment). With just about any standard sail about half the power generated produces lateral force (heeling moment), this is physics and is pretty difficult to work around, especially if you don't want to add any AMA's.
I have messed around quite a bit with kayak sailing and have figured out quite a few things that you might want to think about.
First off if you don't want AMA's there is a way to add a weighted keel to the boat which makes it almost impossible to tip over. I had a 25 lb weight suspended about 1 foot under my Oasis, and that made the boat nearly impossible to tip over, something like this is actually pretty easy to make and doesn't create a lot of drag. I used a PVC tube filled with 25 lbs of lead shot (scuba weight belts), I just put a cap on each end and suspended the weight on spectra string, from the back of the front mirage drive hole and the front of the rear mirage drive hole, the spectra string (rudder line) is very strong, and if you beach the boat the keel weight just pushes out of the way, since the weight is shaped like a torpedo, there is very little drag. The string doesn't interfere with the mirage drives at all.
Another thing that you should look into is possible adding a wing sail vs a conventional sail. One of the benefits of wing sails is there is almost no lateral force from wind with a wing sail, so it is much less likely to tip over, plus wing sails are much more efficient than standard sails.
By using a combination of a keel weight and a 30 sq ft wing sail (equal to a 50-60 sq ft conventional sail) you could really have a nice sailing rig.
Here is a pic of my Tandem Island kayak with a 33sq ft furling wing sail and a 50 lb swinging keel weight (the weight is adjustable side to side to control trim). It actually works pretty well except next time I won't make the sail 19 ft tall (a shorter square top sail ( like the Hobie Kayak sail) would be a little less top heavy and tipsy).
Just to show how much more stability the weighted keel gives you, here is a pic of me sitting on the edge of my kayak, the 50 lb keel weight prevents the boat from tipping over. The deeper the weight is, the more stability you get, I think mine is about 18" deep in this pic. Of course the TI is a huge boat (with huge sails) so it needs much more weight, I had 25 lbs on my Oasis and it would do the same as shown here with the TI ( I sold the Oasis) otherwise I'd jump in the pool and take a pic of me on the rail of the Oasis.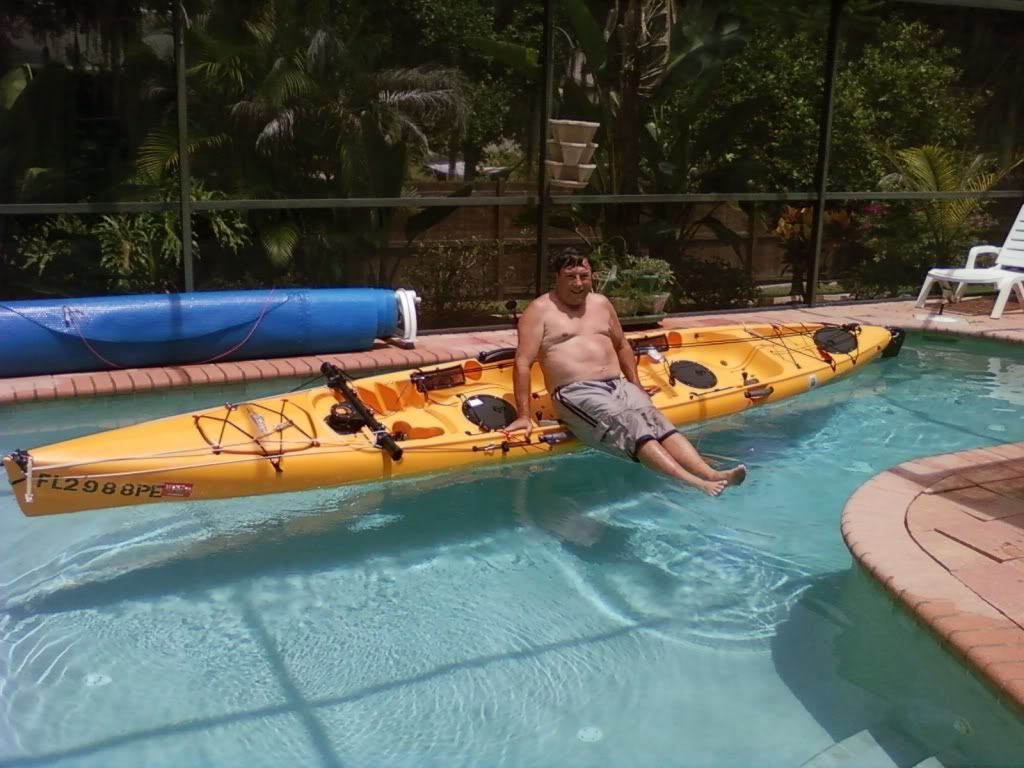 Hope this helps you, your options are otherwise fairly limited beyond slipping a fiberglass rod into the lower hem of your Hobie kayak sail ( Like a mini-boom --- several have done that and it works pretty well), of course you would need to remove it in order to furl the sail. I had a 40 sq ft spinnaker on my Oasis for a while, but I went swimming a lot with it (even with the weighted keel), since you can't hike on a kayak it makes sailing a bit more challenging.
Bob