Jcanracer :
Don't get rid of your revo, it is one of Hobies most versatile boats, and is very fast. Yes it is a little more tippy compared to the Outback, but once you get the hang of things you will become proficient at not going over. I've been kayak sailing for a long time and still go over once in a while especially in windier conditions, that's just the nature of kayak sailing. It's like riding a horse, you just get right back up again and continue on. It's always way more fun when it's windy, but your odds of going over if you don't have sidekicks is much higher. I used to have a sunfish and I would go over just as often with that as I do kayak sailing, and most of the H16's go over or pitchpole periodically, just the nature of the beasts. That's why all of us lash everything down and put everything in waterproof bags ( I've lost a lot of stuff)
If you don't want to put sidekicks on, one thing we did to make it easier to sail in higher winds was to add a removable weighted keel.
Here is a pic of me on one of our TI's with the weighted keel installed, when in place the boat is nearly impossible to tip over. I'm all wet because this was my second attempt (I was trying to stand upright on the rail the first time, the boat could have done it but I couldn't ( LOL, balance is not my thing))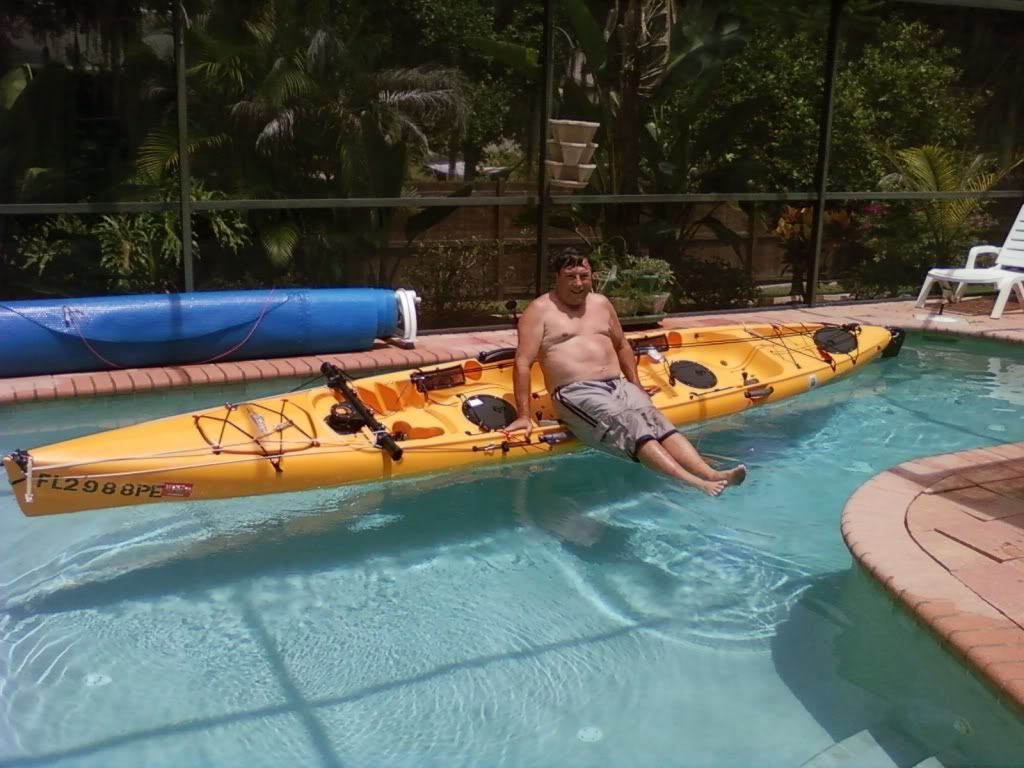 The weighted keels are actually pretty simple, they just lower the center of gravity enough so if a gust in high winds comes up it give you more time to react, as I'm sure you have found out the hard way, tipping over typically happens in an instant and you have no time to react, with the keel weight the boat is more forgiving, and it would take quite a bit more to upset you, actually with me it's usually powerboat wakes that get me more so than wind unless the gusts are very high (then its either/or both).
Here is a pic of one of our Revo's with a jib/spinnaker attached, we had a detachable weighted keel that we would put on when the winds were expected to be high, actually if they weren't too extreme we would just lay it in the center in the front hatch between a couple dry bags or something to keep it from rolling around inside the hull and go out for the day. If the winds picked up and we really needed it we would string it under the hull (you can do it out on the water (but don't drop it ( LOL)).
Basically the keel weight was just a piece of 2" PVC tubing (2 feet long is 30 lbs when filled with lead beads)
Basically I just stole some weights from my wifes scuba weight belt (shhh I didn't tell her). They come in little bags filled with lead beads (can be purchased at any scuba shop), each bag is marked how much weight, just buy enough to total about 25-30 lbs ( I'm not sure what a revo 11 would need, I'm guessing between 20 and 25 lbs)). You then just take a 3 ft piece of 2" PVC tubing glue a cap on one end, then pour the beads into one end, Once you get to your desired weight, you just cut off the excess pipe and glue a cap onto the other end. That's all that is needed, since the tube is already the most efficient hydrodynamic shape (a torpedo shape) your good to go.
To attached to the boat I just used spectra rudder line (available from Hobie for around $.30 per foot) using cinch knots I wrapped 3 lines around the tube (like a noose knot, the end caps prevent the string from falling off the ends) then hung the weight so it was around 10 inches below the boat. The front line went up thru the back of the mirage hole and looped onto the cleat near the mirage drive (I just had a cinch knot forming a loop and hung it on the cleat. The back two lines we also just loops that hung on the cleats near the back of the boat (the ones that hold the gear bungy cord over the deck). Same thing they were just cinch loops that you just pull over the post and let the whole torpedo just dangle under the boat. If you beach the boat you don't need to worry about the keel weight, it simply just pushes out of the way (your not going to be able to hurt it).
Actually you can have a couple cinch loops on the front line so you can have the weight either shallower or deeper if needed is you want to get fancy.
Don't worry about the mirage drive touching the front string, the string will get out of the way and shouldn't interfere with the mirage drive at all.
We only used ours when we really needed it, and just left it at home or stored it in the hull when not being used because there is a little drag from the torpedo but it's not as much as sidekicks in the water would be.
I've made one of these for just about all my sailing kayaks over the years, and makes coming in the surf, or working around a lot of powerboat wakes, and gusty wind conditions a lot safer.
To test everything out we just jumped in our pool and tested out different combinations of weights and depths, and also practiced re-boarding the boat until we had that down pat as well (the weighted keel makes it much easier to re-board the kayak from the water.
Actually the keel weight because it is dangling on string, makes it much easier to right the boat when it is capsized, because the weight dangles down one side and make it much easier to right the boat in rough water, also it prevents the boat from going over a second time (like you did) giving you time to get your sail and gear organized before taking off again.
Of course if the conditions are light, we just leave the darn thing at home, or stored inside the hull (it still works inside the hull some).
Here is a pic of one of my TI's (in kayak mode with no AMA's) I have a 50 lb keel weight on this boat (because the boat is much larger). That sail is 33 sq ft and is around 17-18 ft tall above the water, I can sail with no major issues in light to moderate conditions with that sail, but it gets a little hairy in winds over 10 mph (basically you can count on going over once in a while because the sail is too tall). The sail serves double duty, and I also use it as a jib on my TI with in sailing mode.
Hope this helps
Bob