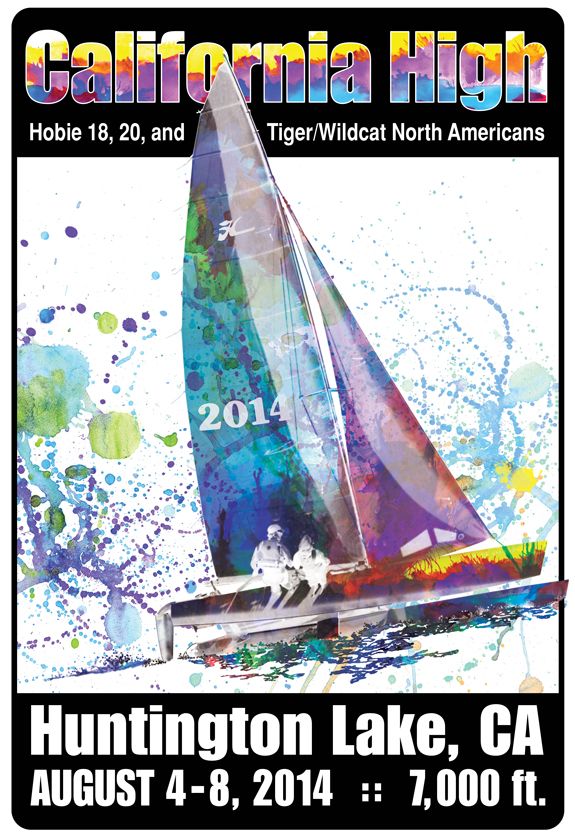 Hi All,
I am proud to announce the 2014 Hobie H18, H20 and Tiger/Wild Cat Championships. We a We are so pumped to put this event on in Ca and we are excited about this venue in the Sierra Mountain Range. Huntington Lake!!
Everyone needs to think long and hard why they wouldn't want to drive to this week long event. We are hoping to have 30+ Hobie 18s on the start line and a big Hobie 20 start as well. Old boats, rebuilt boats, old sailors and young ones. Not to mention a very competitive fleet. We already have multiple entries coming from Australia and Canada.
VERY IMPORTANT!! If you think you might come please book a camp site early Feb. if you plan to camp. This is a high mountain area of CA and it is very popular because of the views and excellent sailing. The good sites book up early. If for some reason you can't come after you book, the site can be canceled or sell it to the latecomers. All condo/cabin and camping info is on the NOR attached. If you call about cabins, ask for Gabby. She if offering a 10% discount to our group.
Check out the NOR and Entry attached. This would be a vacation I promise you would never forget at one of the most famous sailing lakes in Ca!
Please let me know if you have any questions. The entry also went live on the Division 3 site. From there you will be able to fill out the entry and pay by Paypal........or.....just fill in the entry form and mail it and a check. I look forward to meeting many of those I have only related to on the forums and our Google group site.
NOR
http://www.hobiefleet259.com/images/NAC_NOR.pdf
Entry (On-line)
http://www.hobiefleet259.com/NAC2014.aspx
Entry (Mail in )
http://www.hobiefleet259.com/images/NAC_entry.pdf
Let's go sailing.
Scott Erwin ----------------_/)_----------------H18 H20
Hobie Fleet 259 Commodore
Central Coast California