timo wrote:
Sterling,

The parts list specifies a 14 in length of pvc pipe into which the mast receiver is to be epoxied, but it looks like 14 inches is too long by maybe 3 inches to fit in the space defined from the uderside of the forward hatch cover to the bottom of the forward hatch area. I don't have my mast receiver at hand but I think it runs about 11 to 12 inches in length, though perhaps a little could be cut off. Did you cut yours down? I wonder what's responsible for these length discrepancies, if we have hulls that are different design or mast receivers that are different lengths. Any thoughts here?

Thanks!
yea about that...
i remeasured that pvc section...
it was only 11 inches long....
i have no idea where 14 inches came from...
sorry about that! lol
hope this measurement works better for you!
_________________
Sterling
2008 Papaya Adventure Island with Roller Furler Jib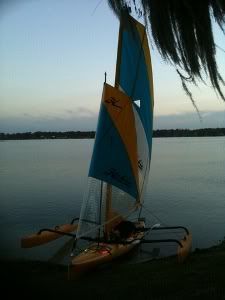 Post about my jib
viewtopic.php?f=69&t=20991