Well I have the twin Honda engines mounted and ready for trials tomorrow morning.
Here is a pic of the twin motors mounted
Here is a front view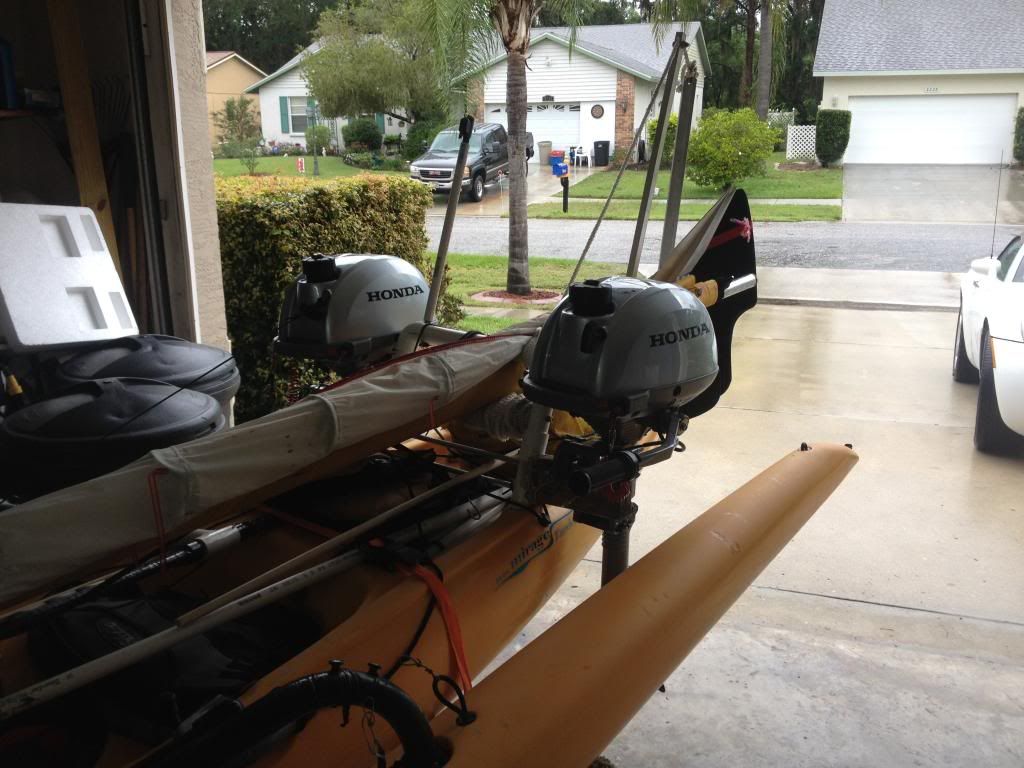 Here is a pic of the hand made 10 inch pitch special props
Here is a close up of the prop, I still have quite a bit of work to do in the props, as the final version will have winglets like a 737 has.
None of this has been tried out or tested, instead of the usual test and explore first, I just went ahead and built the whole thing, there is a huge risk that it will not work at all, or just be plain stupid. But hey how do you know something until you try it.
Project progress to date:
Phase one completed, wing jib has been in operation a little over a year now and works beyond expectations, Power sailing with the single Honda engine, pedal power, and sails also works beyond expectations, In very low winds (0-6mph) I am able to average 7-10 mph at pretty much any point of sail, yet cost of fuel with the hybrid setup is still very low (around 75 to 100 mpg), basically I can sail around for about 2-3 hrs on 1 tank of gas (fuel tank is 1/3 gallon). Basically I can go out all day for a buck in fuel....
During phase one I noted that with the engine running just above idle (just high enough to engage the centrifugal clutch) with no sails at all the boat goes around 4 mph with a 7 inch pitch prop. At wide open throttle (which I never use) with no sails up the boat goes 9 mph in fairly calm water (with the 7 inch pitch props (8 mph with 6" pitch props wide open).
Phase II (trials begin tomorrow), first I have to break in the new motor so no high speed runs will be attempted. The plan is to run the both motors just above idle (just high enough throttle to engage the clutches) and see how fast the boat goes, I'm hoping for 7-8 mph with no sails at all but have no idea what it will be (because of the drag from the second motor, and also the new propellers are not optimized or tweaked yet, fingers crossed (planning to do high speed underwater video tomorrow of the props in action). Once all dialed in I fully expect to run around 10 mph with no sails at 1/4 throttle. The plan is with all the speeds doubling the fuel consumption should remain about the same (around 100 mpg). With all the sails engaged and power sailing with the wing jib I expect my cruising speed to go from the current 7-10 mph in low winds to 13-15 mph in low winds. Of course much faster if I open up the throttles, but that would defeat the whole purpose of the hybrid setup.
Just in case the ten inch pitch props don't work out ( I have my doubts) I have matched sets of 6 inch pitch and 7 inch pitch propellers all setup as well, I will likely switch them out depending on conditions. (actually the 10 inch pitch props are really intended just for phase III, but who knows they might be great...)
One thing that will affect phase II results is I have not modified the hull yet (converting it to a semi-planing hull), so all the real testing may be delayed, until that is done (about 3-4 weeks to complete, if I ever decide to do it)
Phase III:
Still a pipe dream and probably realistically a year or more out (if I ever decide to do it at all). The plan is to replace Hobie mainsail with a 100sq ft plus rigid wing sail (kind of sort of like an AC 72 wing (but soft and furlable)). Once completed I will re-introduce my existing hydrofoils that I made 3 yrs ago, and see if I can get over 40 mph (at 50-75 miles per gallon (MPG) of fuel) in winds under 10 mph, which is the whole purpose of the whole adventure. Of course the hull mods have to be completed before any of phase III begins.
We are planning to go to our Key West House for a couple weeks in May, I will be doing offshore sea trials down there ( always wanted to say that LOL). Actually we just plan to go offshore scuba diving quite a bit while there, that's what the boat was hardened and setup for in the first place.
Wish me luck ( I doubt any of it will work ( LOL)).
Bob
Actually everyone I have discussed this with doesn't feel any of it is going to work at all. On the boat design forums they are telling me I must have twin 20 hp plus engines in order to get to 30-40 mph
The cool part about the whole system is it still cost less than an evolve (with one extra battery) and give me a range of about 150 miles and I'm hoping to be able sail at average 15 mph, and get over 75 mpg, basically I'm hoping my fuel cost will remain about $50 bucks a year going out every weekend. Well that's the plan anyway.