I have great news, my wing jib is a flying success (get it it's a wing LOL), and works way beyond even what imagined.
Here is a screen dump from my Iphone showing what the wind was like at around 1:00 in Sarasota: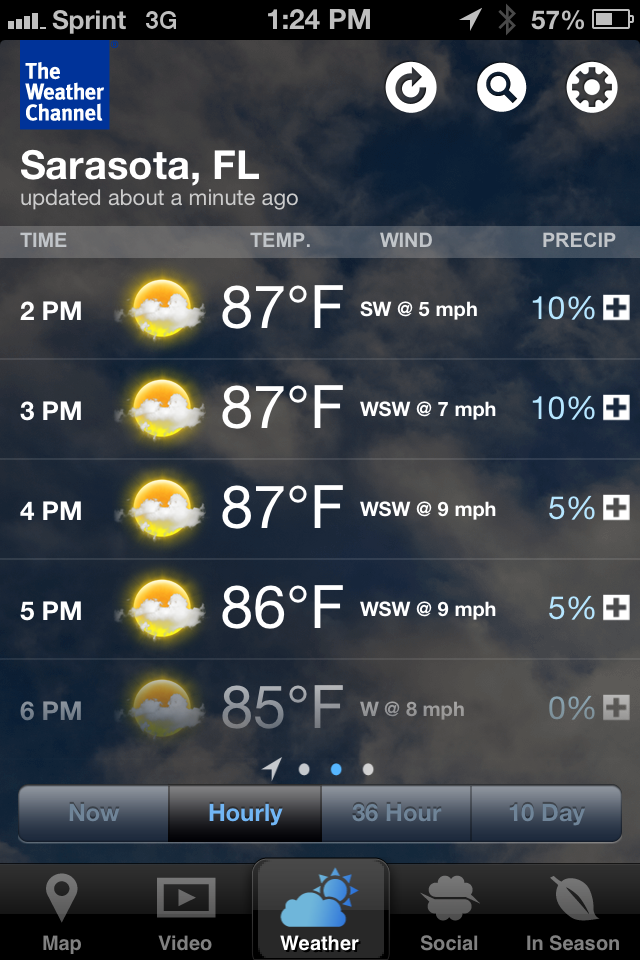 I said in the video they were forecast for 9 mph, I don't think it ever got that high while I was out.
Just to show that the jib is an actual wing here is a pic of the jib laying on the garage floor, it's about 4 inches thick at the wide points (typically about 15% from the leading edge. (note to self, get rid of that stupid foam I glued on the inside to try to keep the sail surface more uniform, it didn't work)
Here is the jib all furled up on the floor: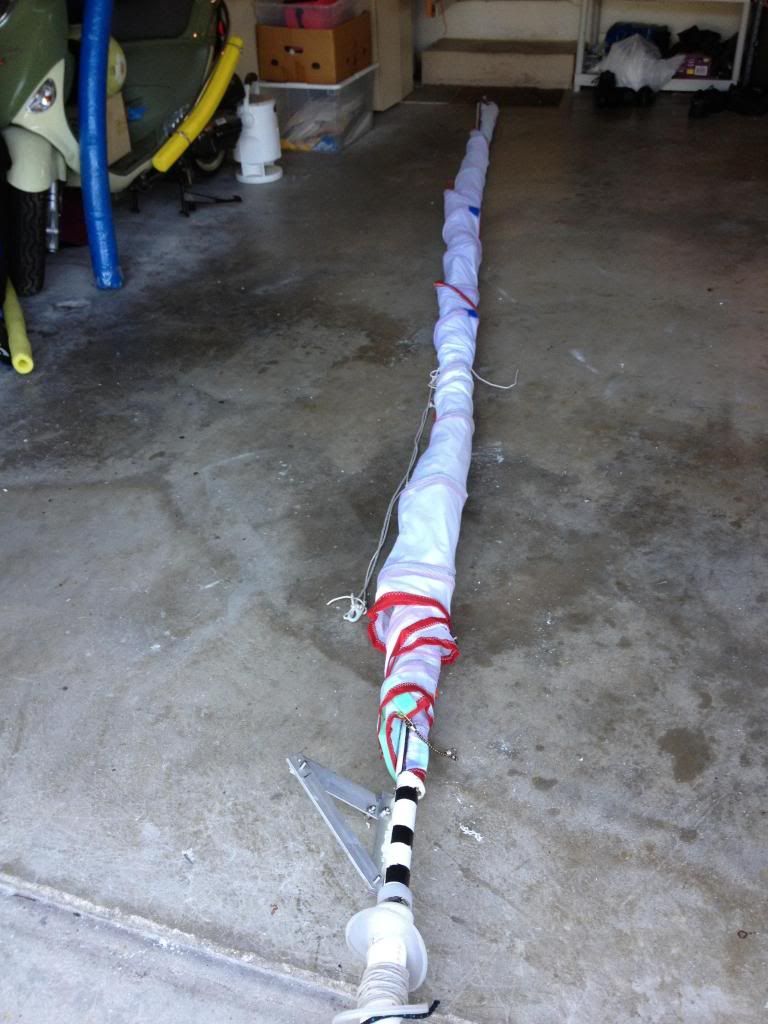 Here is a video sailing with just the jib, the wind according to Weather.com was only around 7 mph at the time, the fastest I got was around 5mph with just the jib:
[youtube]http://www.youtube.com/watch?v=ETwxZZMtyxg&feature=youtu.be[/youtube]
Now here is the jib working with the mainsail (it's intended purpose), notice the depth of the leeward AMA, the jib doesn't apply any additional heeling moment to the hull, and by all appearances doesn't appear to add any additional stress to the mast or hull either from everything I can see (way contrary to my old non wing jib (the same size), that really stressed the mast and hull of the boat.
I had to quit the video quickly because I was about to run into a bridge.
[youtube]http://www.youtube.com/watch?v=A13bnkQ_saY&feature=youtu.be[/youtube]
Here is another one where I got up over 7 mph, best all day was over 8mph a few times.
[youtube]http://www.youtube.com/watch?v=8hgdFu9xuQI&feature=youtu.be[/youtube]
The most amazing performance was upwind where I was pointing around 20 degrees from the wind and got up to around 7 mph upwind (in 7-8 mph winds)
, this is better than anything I have achieved before with all my sail designs on my TI's. Upwind performance has always been lacking for me with all my previous designs, this beats everything else I've tried hands down, plus it put's no additional stress on the boat itself, which is a bonus that I didn't realize until I actually used it. Also when in the neutral position it doesn't appear to add much wind resistance if any, it just free wheels and the wind goes around smoothly.
Now the downside, when I furled the sail when coming into harbor, it ended up a little looser and bigger than planned, it's probably much less wind resistance to just leave it deployed and in neutral (lesson learned). But it only took a few seconds to furl it and drop the halyard at the end of the sailing day. That's what I do is I leave the jib and the spinnaker attached to the bow with all the control lines hooked up. When I launch or go home both the sails just lay on top of the boat on the trailer and in the garage (I never remove them). Of course I still have to step the main mast and strap it down to the hull, but that's pretty easy and fast.
Here is a quick video of the jib furled on the water, nothing fancy, just pulled on the furling line and wound it up with the furler (took maybe 5 seconds)
[youtube]http://www.youtube.com/watch?v=buWkPhcRuOQ&feature=youtu.be[/youtube]
Now here is a video of my screacher prototype (converting sail from a G2 spinnaker to a wing screacher (still in design), which hopefully will amplify the wind (currently the G2 spinnaker cannot amplify wind, it basically goes 1=1 downwind only)
[youtube]http://www.youtube.com/watch?v=XRQdfhZXCVk&feature=youtu.be[/youtube]
This has been a really fun project, took way too long (over a year to design, and over a month to construct, but I think I will have years of service from these sails ( I try to design and build them to last about 3 yrs of heavy use typically). That spinnaker in the last video is over 3 yrs old with 2500 sailing miles (of course not in the air all that time, but it's always on the boat ready to use.), and it's pretty worn, so I am probably looking at a totally new sail and design for the new wing screacher (hope it doesn't take me another year to design).
The wing jib is officially completed, I'm just planning to just use it for the next few years, we are going down to Key West for the month, and I'll be sure to take it along.
Project done finally
Bob