John_h:
I used that same program originally when I started trying to design and make my own sails, I looked and I didn't keep or save any of the info. Anymore when I start designing a new sail I usually grab an old version and update ( I design everything in Solidworks or Pro-engineer in full 3D) and am not good at saving my old stuff, (it was 3 1/2 yrs and many computers ago LOL ), I have a photographic memory (but not that far back (too much crap stuffed in there LOL)).
Here is a pic of my original jib from I'm thinking summer 2010, this was version 2 (around 30 sq ft) version 1 was square topped (like the main) and was 40 sq ft, and way too much sail for the TI. With the old twist and stow rudder system I was getting severe weather helm, and the boat wanted to tip over even it 10-12 mph winds on a reach so I cut it back to about 30 sq ft.
I started out with an old worn out Hobie kayak sail that I had laying around, then just added to it. Notice the vertical battens coming up at an angle, those battens with fiberglass rod in them were adjusted a few times to get the sail to work correctly (trial and error). Because of the super flexible mast on the TI most programs for designing jibs and conventional jibs (like from an H16 or a Laser) don't work all that hot ( a lot of trial and error).
If I remember correctly I believe I had a 1/8 dia fiberglass slipped into the rear vertical edge (leech) of the jib (the full height). The jib still furled without any difficulty. I had an aluminum mast (made from a telescoping painters pole). The kayak sail already had that sharp angle on the bottom and the clear mylar so there wasn't much I could do to change that part of the sail (my Pfaff sewing machine couldn't sew thru the mylar so I pretty much had to work around it).
Basically making a jib for an AI (which is different from the TI) is going to be a trial and error thing, basically you have to start somewhere, just measure up and cut, then try it and adjust accordingly. Most on the forum only need to see a video of the sail working to make suggestions on how to fix problems (add a batten here, or nip and tuck there, etc). Having experienced sailers take it out and watch it work then comment is very valuable. It always takes me several adjustments to get the sails to perform the way I want.
Actually single layer sails and jibs are pretty straight forward, and easy to make. I usually start out with inexpensive rip stop nylon, get everything the way I like (trial and error), then make the final Dacron sail using the expensive material once the design is proven out.
My best friend (from Sweden (typical Viking, it's in all their blood LOL) who is an uber experienced sailer and has captained some giant tall ships would go out with me and tell me what adjustments to make ( ie.. nip here, tuck there, you need battons here, here's how you fix this problem etc).Just go find a Viking to help you ( LOL).
I'm now into wing sails, unfortunately they are 1000 times more complex and way more difficult to design and build, plus you have to throw out most existing sailing knowledge (that works on different principles), so there is no help out there. I wish I had known that going in ( LOL)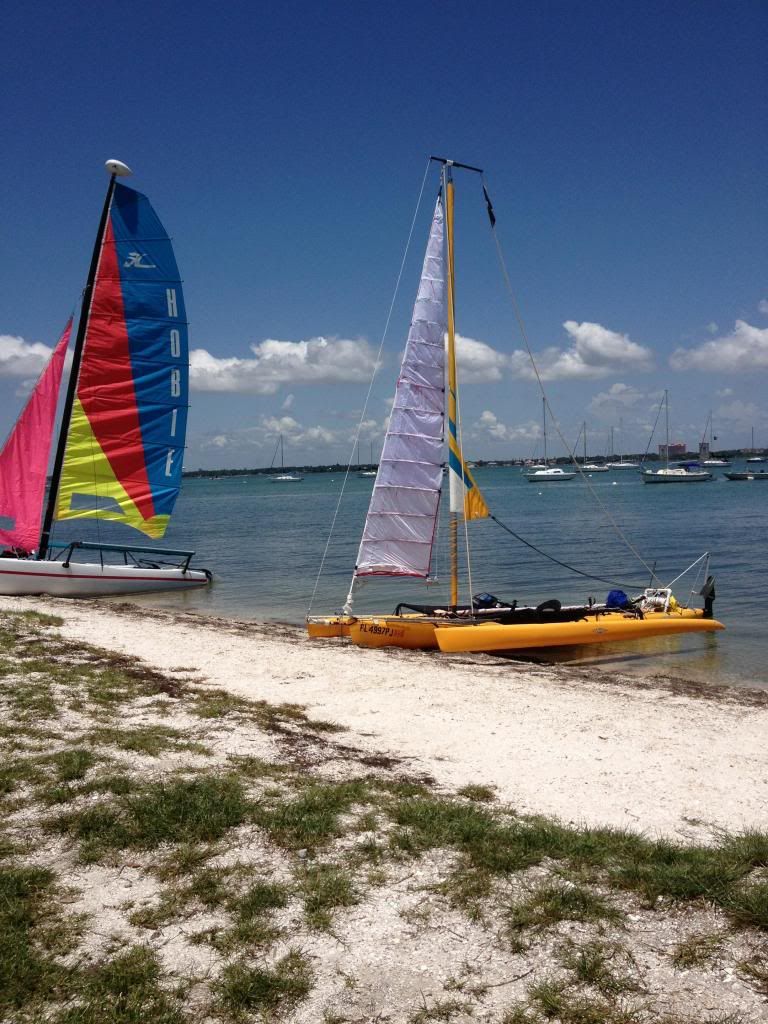 Bob
Edit:
After looking at the registration number on the hull on the pics I posted above, the top picture was my second TI (not the first as I thought) so must have been taken mid 2011. The last picture is of my 3rd TI (which was bought in July 2012) so that photo was likely taken last spring (2013). Too many boats, too many sails LOL.