The Batboat has been playing second fiddle to the TI3 and other great Hobie hotrods lately, but she remains a truly stable, fast and user-friendly AI project boat.
Kayaking Bob (from Maui) and I took a typical spin around the windward side recently, and he had the honor of piloting the Batboat through all kinds of conditions.
This is the awesome "Batboat" in stripped down racing mode.
And my humble ride: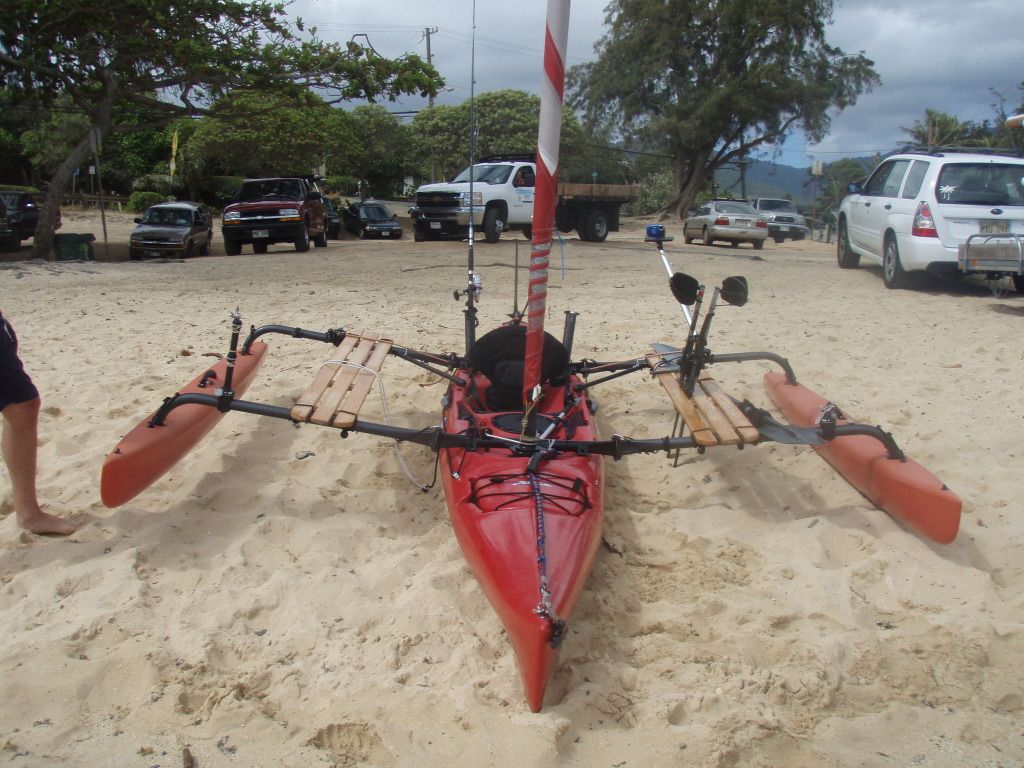 We headed straight for the juicy stuff, sailing close-hauled and hard (and pedaling at times) to cross 3 reefs with surf zones into the deeper water.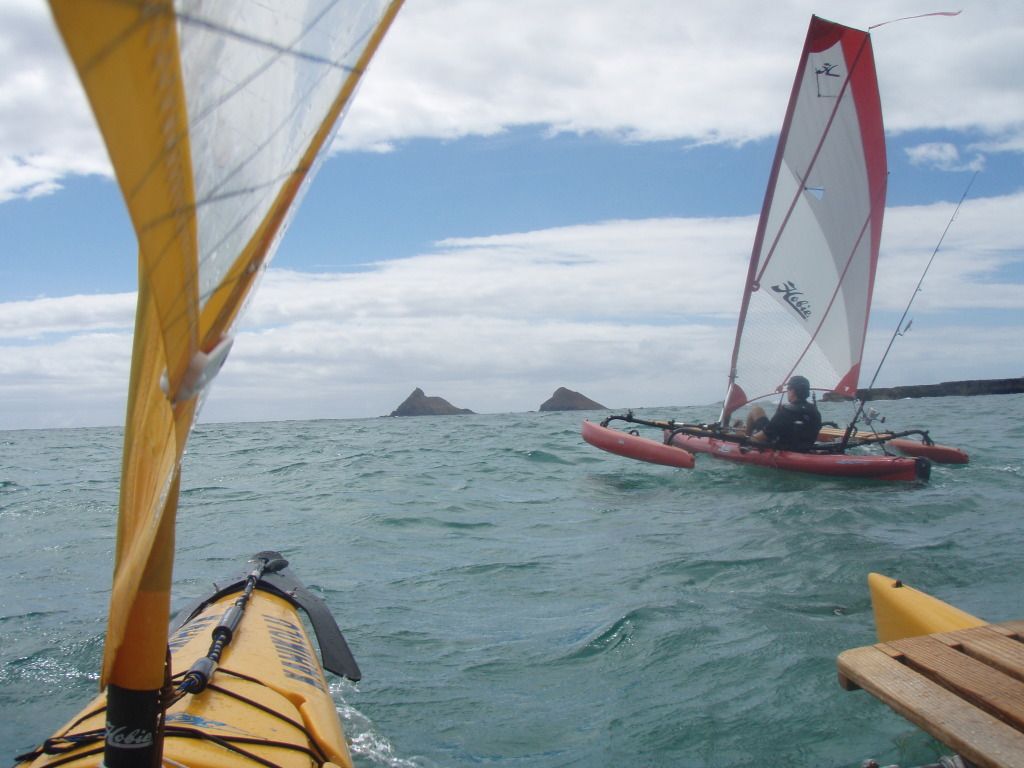 Outside the swells were 3-5' and arriving in constant tight patterns. Very windy at times. Not the place to let your guard down. KBob can fill us in on how she handled out there that day with the extra floatation, wave deflector and wing/Hakas. (At times, I wished I was on the Batboat).
Occasionally, we had to point into cresting waves. But we stayed out on the Hakas/wing much of the time. This minimizes the rocking and helps you better see the swell patterns.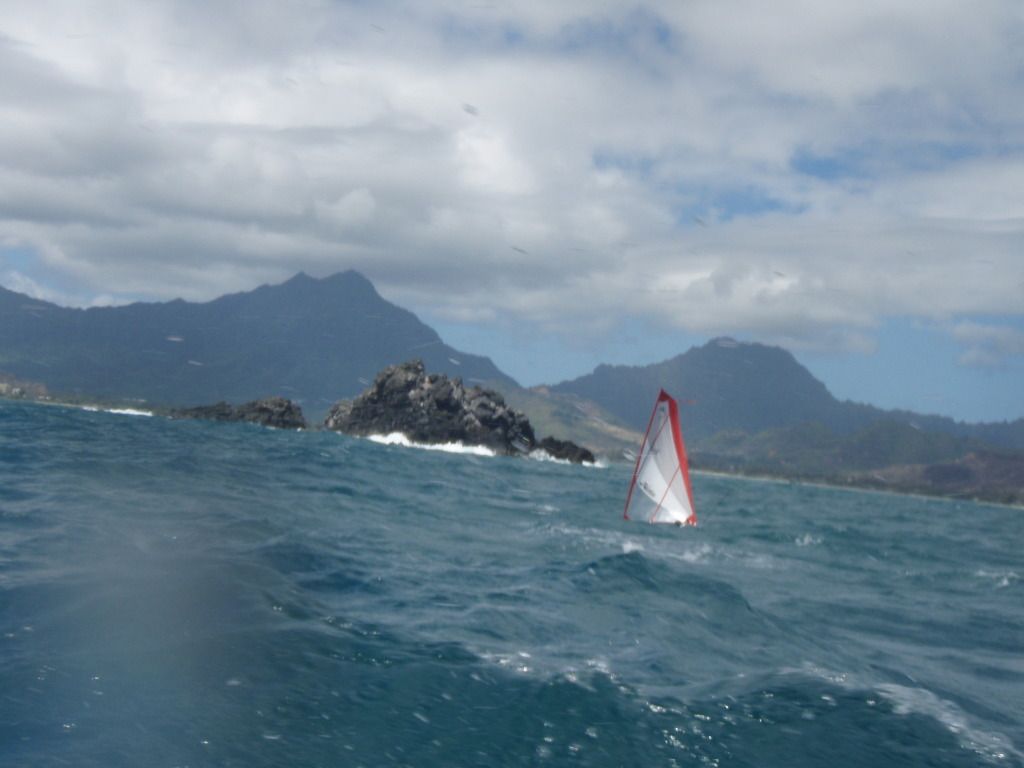 We sailed the length of the bay and back, then surfed carefully chosen waves back across the outer reefs and headed back into the more protected waters. I have some good HD footage of our little surf session to share later.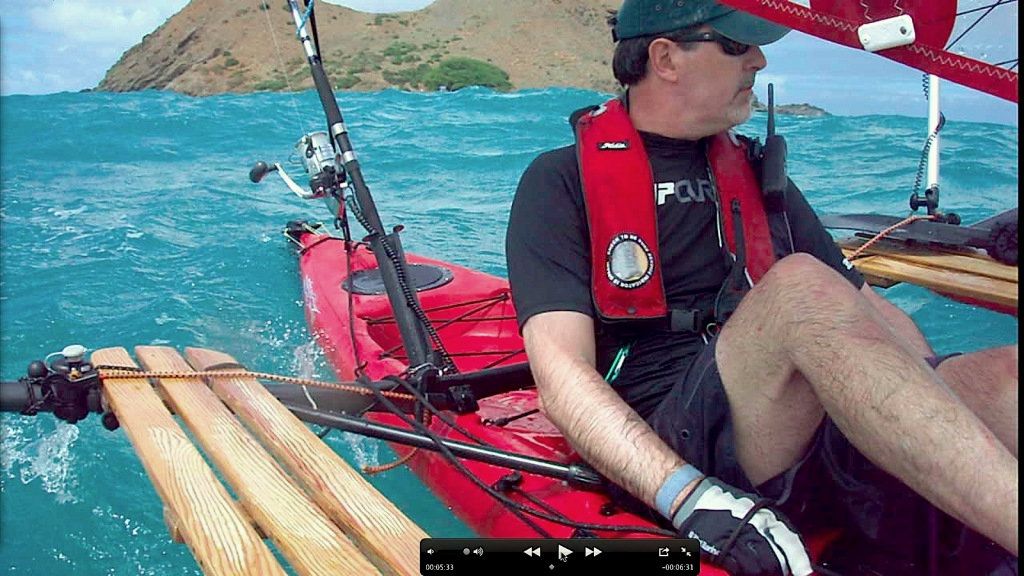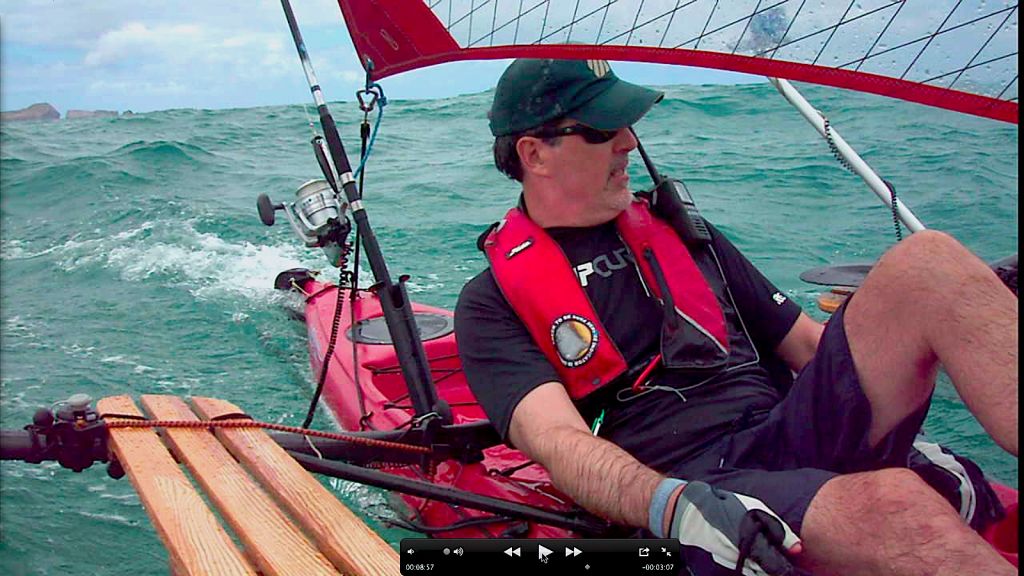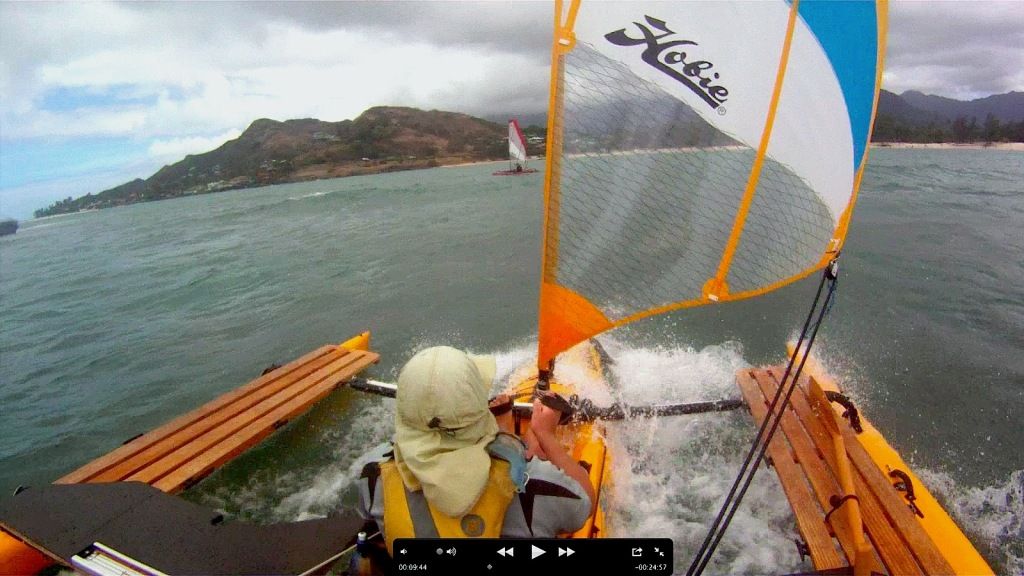 Kailua Bay is almost always full of swimmers, turtles, kiteboards, canoes and a gazillion tourists on yaks, but it's fun to pass them all under sail.
Here Bob seems to be wondering why I'm having such a hard time keeping up with the Batboat.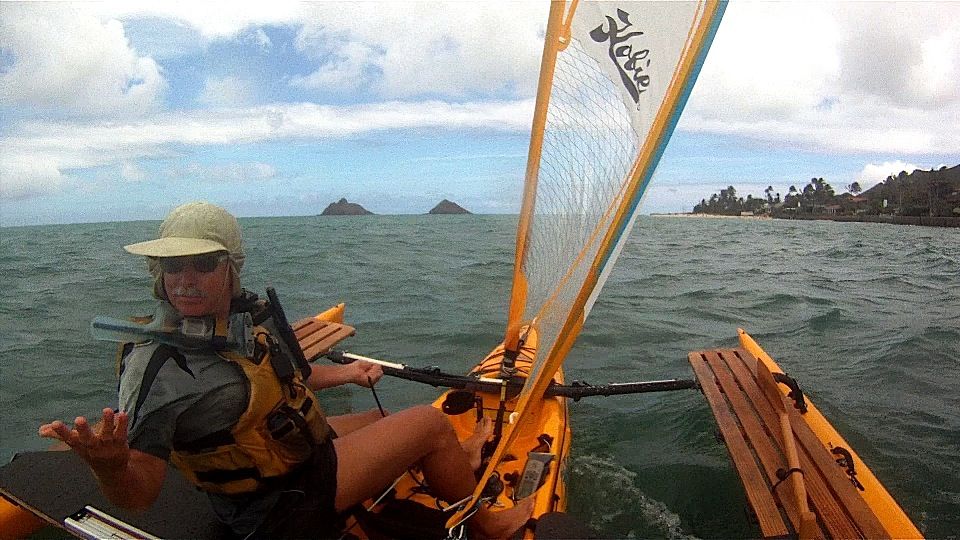 (I'll confess that he's a better sailor on a better boat, but really I wanted him to be first across the maze of shallow pop-up reefs in front of him)
It wasn't too crowded on the offshore islands, so we swung by and landed our boats. This is Moku Nui, one of several native bird sanctuaries, and one of the few that allow visitors.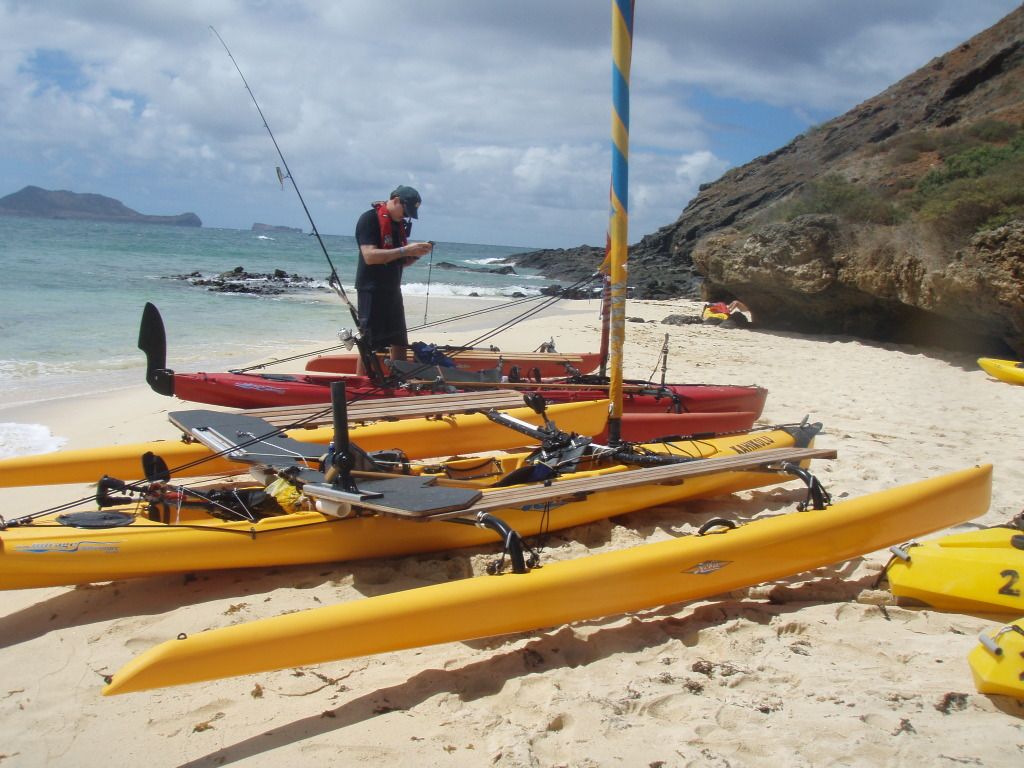 You can right click on these Panoramas for a closer look:


My favorite time of day was sailing southward past the islands, through beautiful green waters on a reach. We flew across shallow reefs where few boats go and headed into the building waves, until it was wiser to surf them homeward.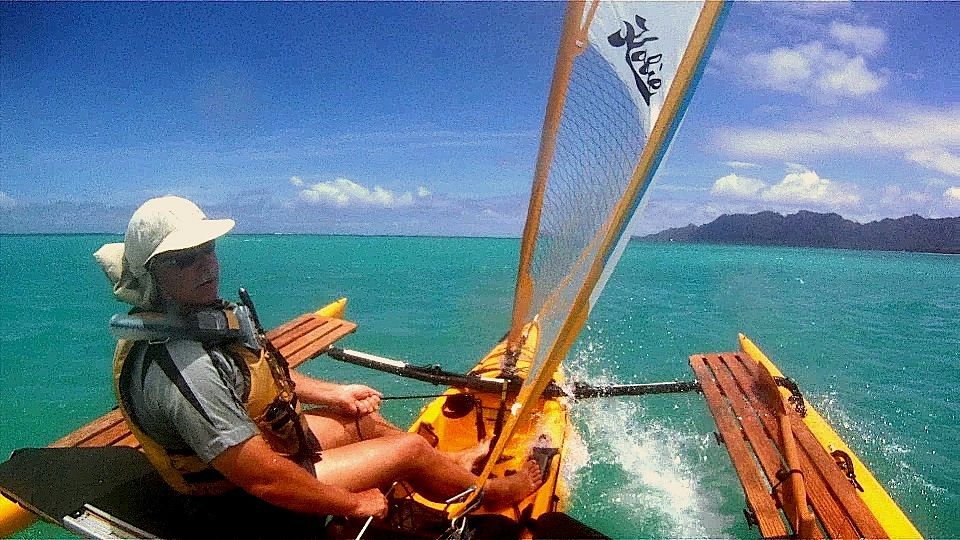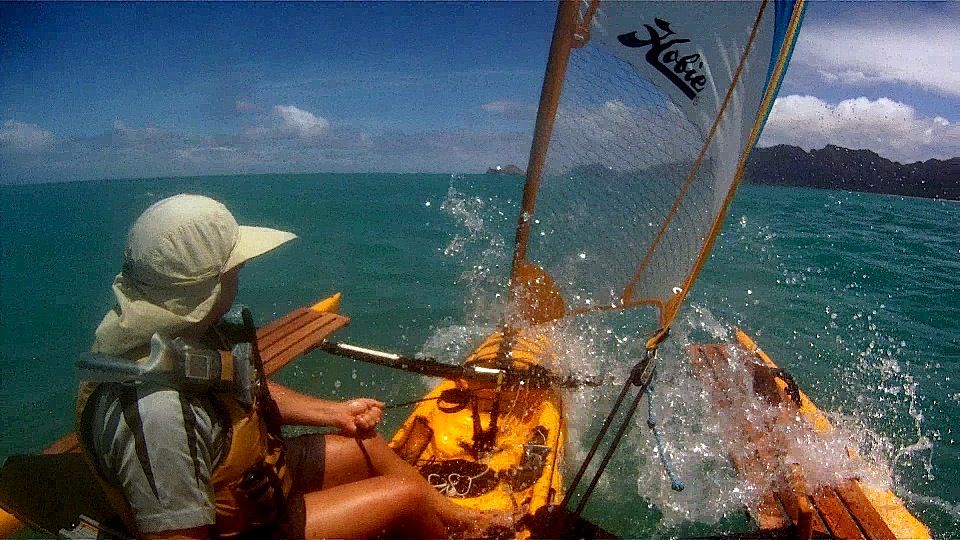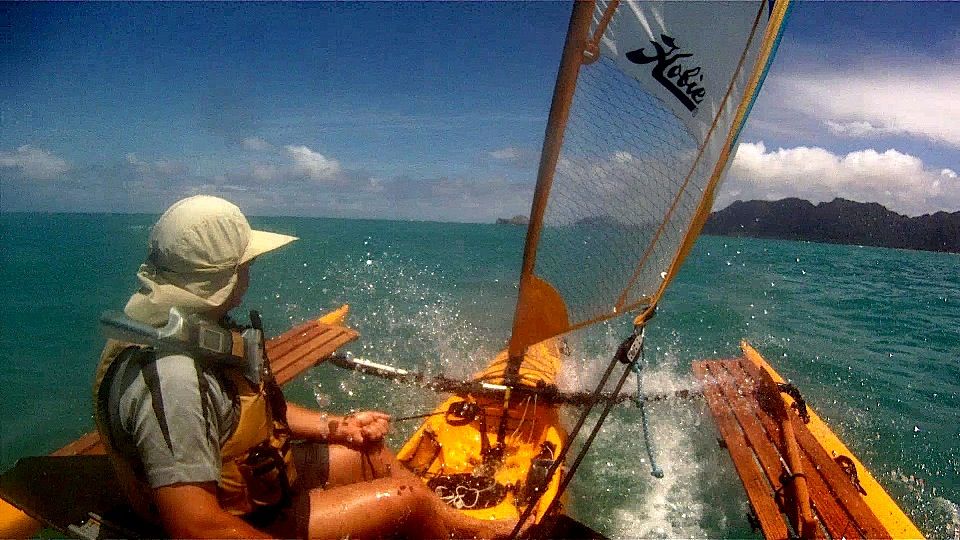 Here's another area where the stability of the Batboat's TI Amas comes in handy. Despite the spray, Bob was gliding over the sets at speed.
On my stock AI, I was bow-sticking the waves and taking more of a pounding - though the Hakas helped with the constant bucking. Still, it was a fun tack.
As usual, it was a great day to sail Kailua. After landing, Batman and Kayaking Bob just couldn't get enough of the
RED
NOHUHU.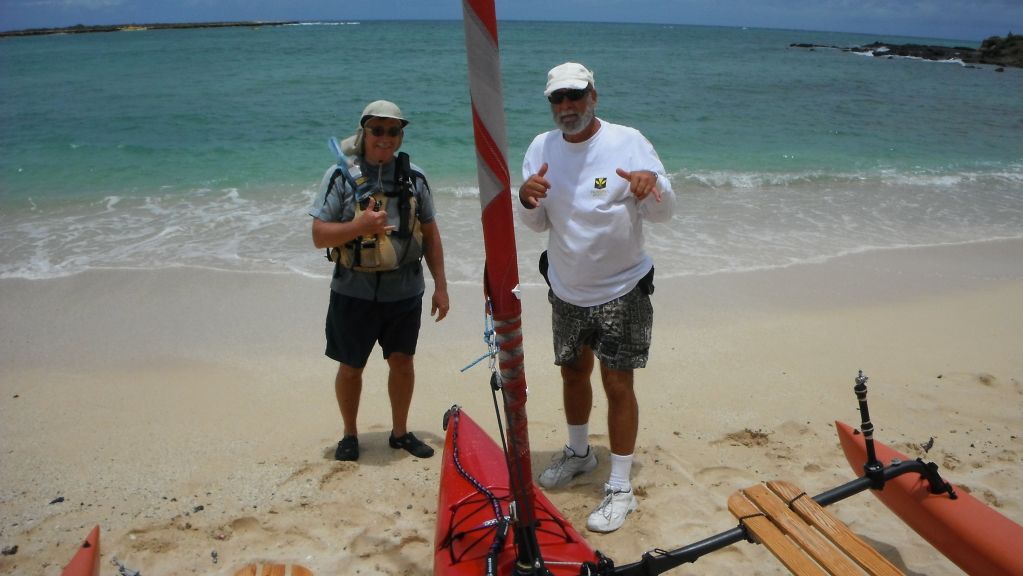 And I think we can now put Bob down as a big fan of the Batboat: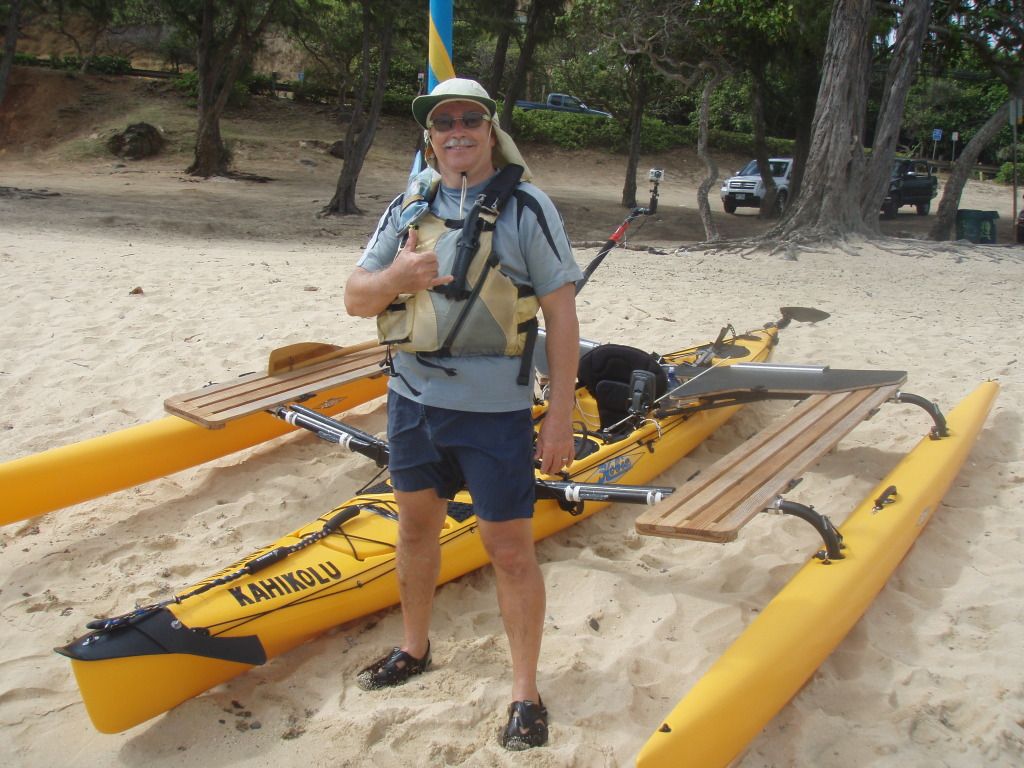 Back at the beach we shared lunch, stories and bevs in the shade of the Bat Trailer, while enduring yet another supermodel photo shoot.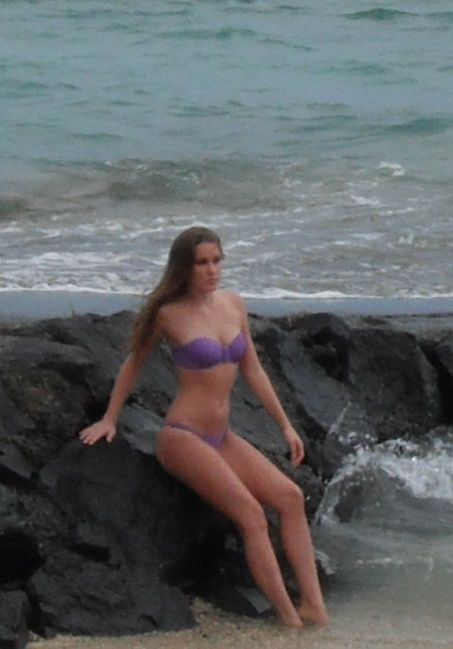 That's it from Kailua,.. Laura, Savannah and Jill bid you a fond "Aloha". And so do the shady characters from the Batcave!