As most Hobie AI/TI owners seem to love to do, is modify their boats. I have added a few mods to make my use of the TI a little more enjoyable. (Click on the photo for a larger version)
Aluminium Haka Bench seat.
Rudder cover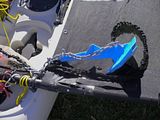 Cooper Nylon anchor
Jackstay
... and more ideas/photos are located here..
http://s1261.photobucket.com/albums/ii5 ... fications/