Yet another seating alternative!
First job with my new TI was to redesign my seating, as there just wasn't enough legroom for the Miragedrive, even setting the pedals as far forward as possible. So I bit the bullet and went the whole hog, and my skipper seat is about 6 inches higher and 4 inches further back.
Due to my heft, I have been careful to ensure that my weight is spread carefully. While ostensibly the plate rests on the side rails, a triangulated frame evenly carries any weight from deformation of the plate to the sloping area behind the forward hatch. As I have no plans to use the TI without amas, and will be adding hakas, I am not concerned about potentially reduced stability due to sitting higher. (Nylon zip-ties will secure the seat to the Ti)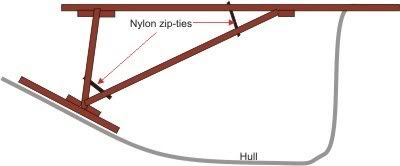 So here is my new "throne"