I liked this idea for ama safety lines using cleats
viewtopic.php?f=69&t=54733
and maybe should have posted in that thread but this is a little too much off topic. I would probably have used the cleat idea (plus also maybe the bungee idea also suggested in that thread) but I always sit in the rear on the TI and you just end up with a lot of line to make something like that work.. so I tried something a little different.
Do you even need anything like this.. don't know and that is a personal question but the wife and I are planning a trip to the Puget Sound in the fall and this boat will also get used a fair amount in Colorado at 8600 ft elevation so we deal with some cold water.. Anyhow, I wanted something that was very easy to set up and allowed me to collapse either side ama - mostly because I have to use guest docks at several lakes I sail at and this makes loading way easier. Fast setup and being able to quickly collapse and ama are two things I really like about the TI an wanted to preserve these.
The idea here was to add a line between the aka brace and the hull that was captive to the two ends of the brace so that if there was a failure at either the knob on the hull or the nylon sheer pin, the brace would still "mostly" work to keep the ama from collapsing.
This is what I ended up with and how well it at least works in the driveway (it has not been tested on the water).
For the failure conditions (either the knob connection failing or the nylon sheer bolt breaking), the ama will still fold back some and I measured how far..
Original ama position 100% out, 57 inches from hull center to center of ama
Ama folded all the way in (no leash) 33.9% out, 19 inches c to c
Knob failure 96% out, 55 inch c to c
Nylon bolt failure plus knob failure 86% out, 49 inches c to c
ama rotated forward, both nylon bolt plus knob failure 92% out, 53 inch c to c
Is this a good idea.. I don't know.. I think "maybe sort of". But.. a little different so I posted it.
picture below - to "deploy" this, I simply clip the quick connect to the eye strap (which has a large aluminum backing plate inside the hull). If I need to collapse an ama, I just unclip the quick link. The line with the quick clip stays on the brace all the time.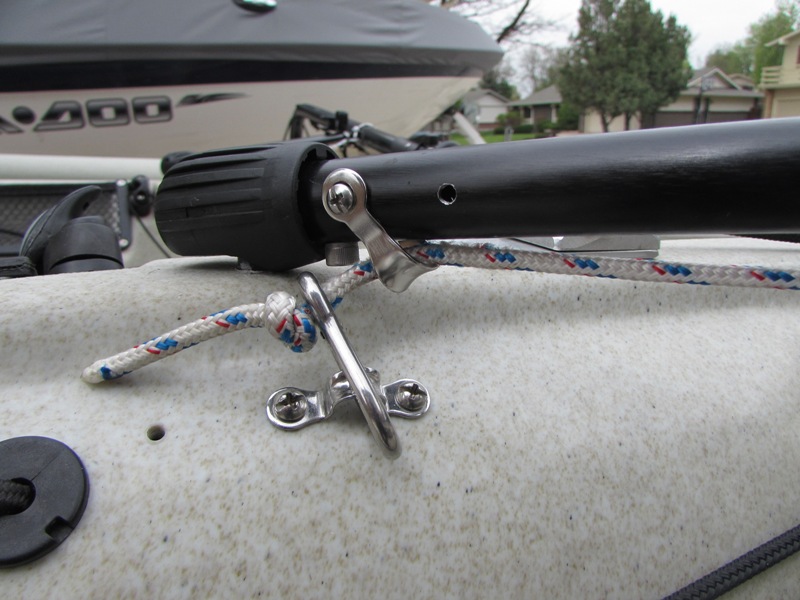 picture below - at the other end of the brace where it connects to the aka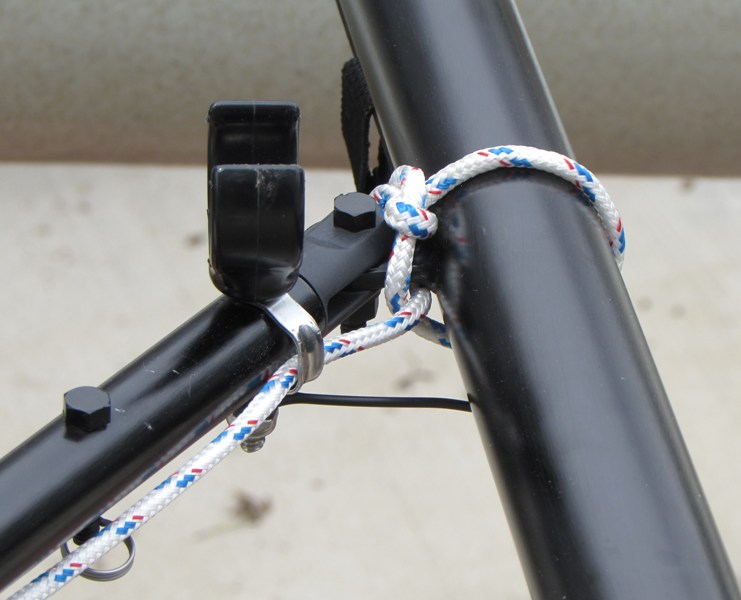 next two pictures below - what happens if there is a knob attachment failure
next four pictures below - what happens if there is a nylon sheer bolt failure plus a knob failure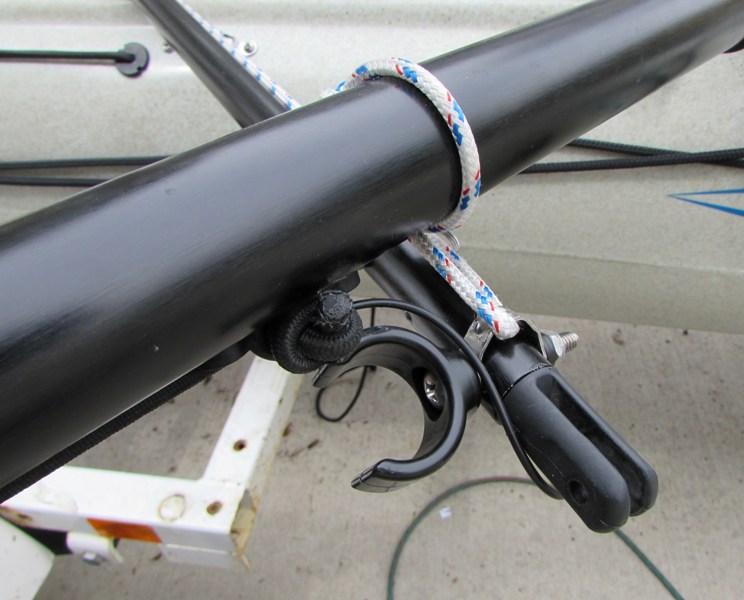 picture below - this setup will also keep the ama from collapsing forward for both of the failure modes