OK folks, so as I mentioned, Kayaking Bob accepted our invitation to come to Oahu recently to see what the
TI3
buzz was all about. Bob is Hawaii's Hobie Guru. We've looked forward to sailing with him and having someone of his calibre evaluate our little
TI3
experiment and other secret projects.
(It also was a crafty way to have a few pairs of sprayskirts delivered and installed free )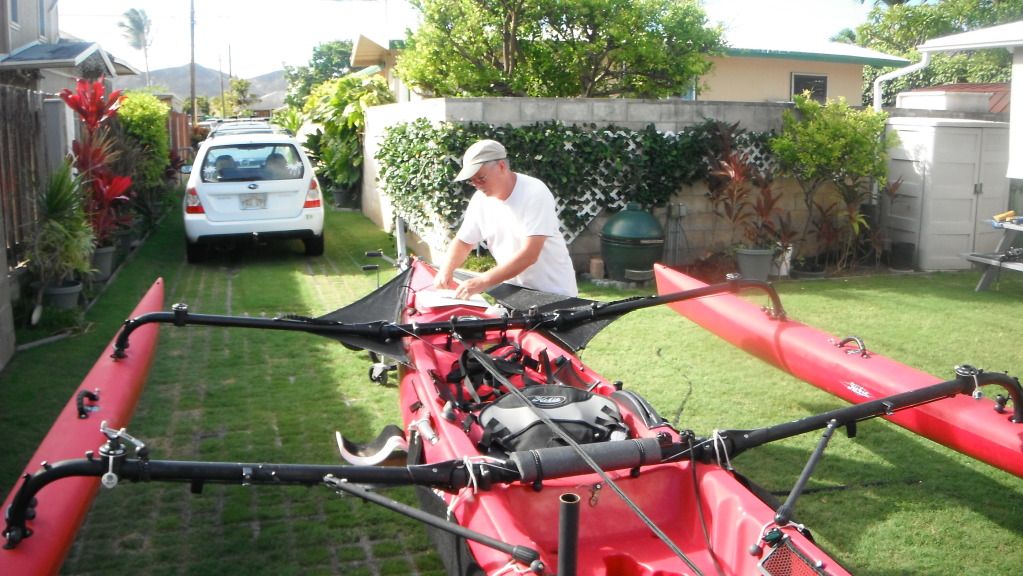 We started off reviewing the
TI3
structural mods and some of the recent tweaks we did to the front crossbar, sheet and furling systems. (The boys all wore our best puka-puka shirts for this work).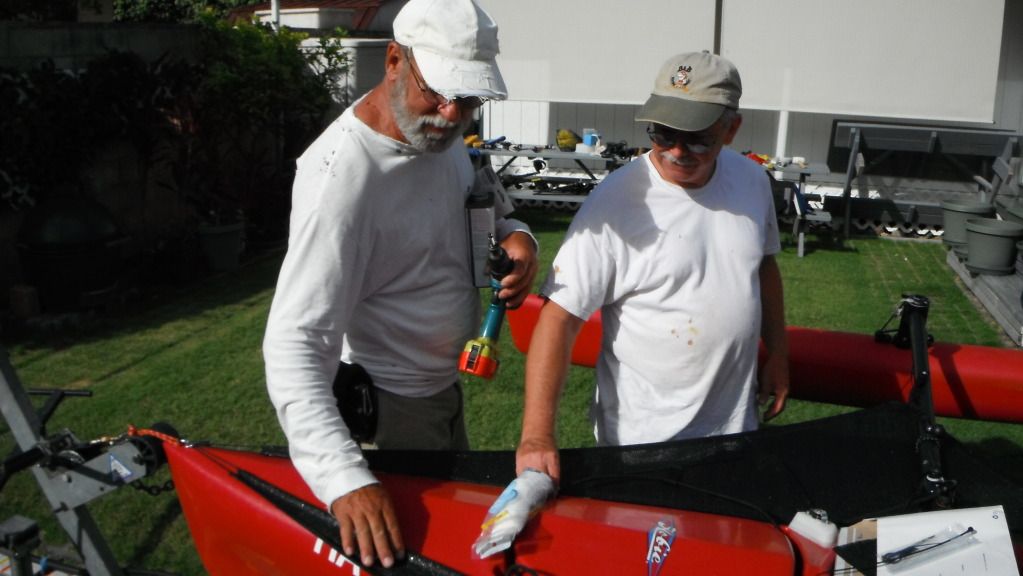 Recent work included replacing the crossbar and resolving this mast contact issue (V-brace adjustment)
Installing extreme angle fairleads (to improve sheeting from the Hakas)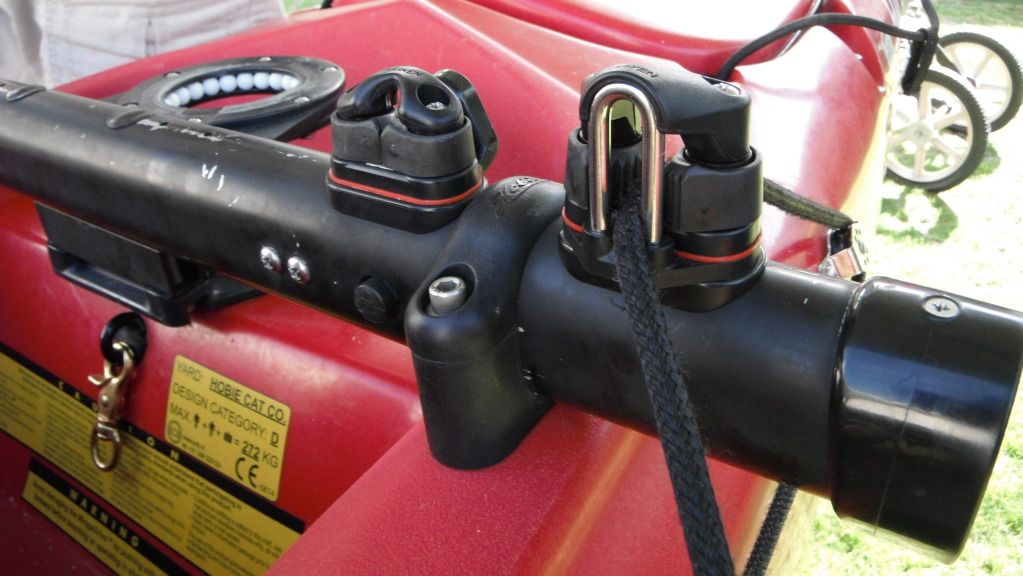 and experimenting with a raised cheekblock in front of the furling line. Cool huh?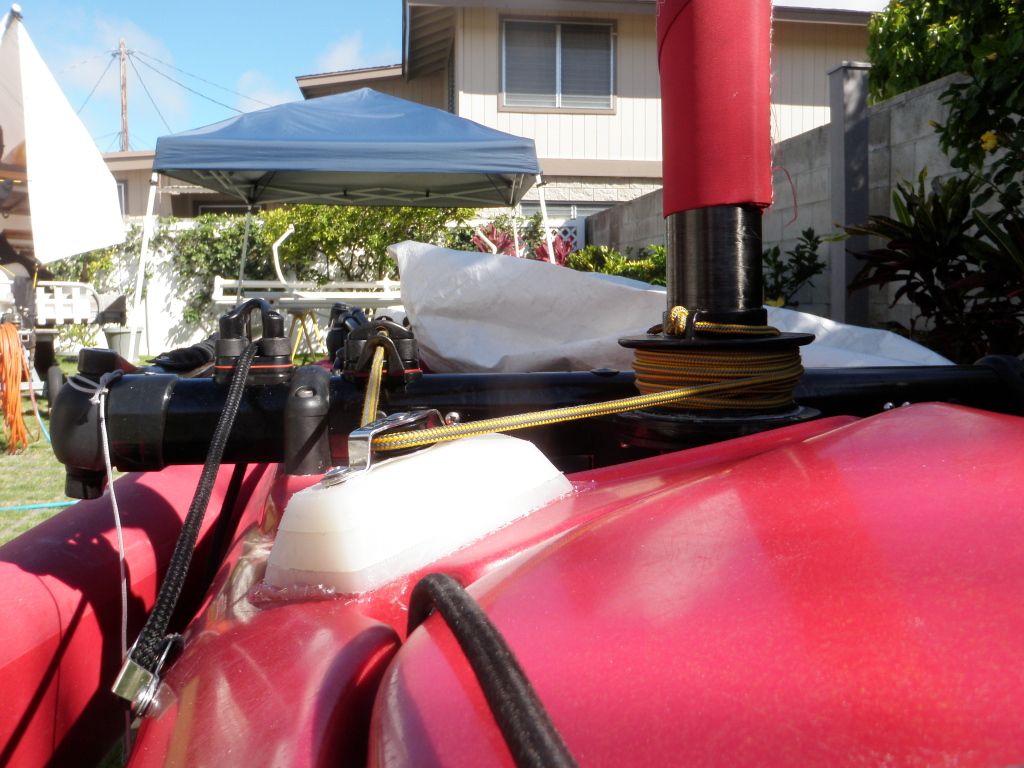 Yes -it's a "one of a kind" solution that only a mother could love, but it has been completely successful in easing those nasty furling issues most people experience with the TI. I recall Bob complaining about this too...
The plan was to replace this prototype with a starport-mounted block, but I think we're going to just spray this pimple red and keep sailing.
We also "Railblazed" the
TI3
Akas to hold a variety of new toys (fishing rods, cameras, electronics, adult beverages).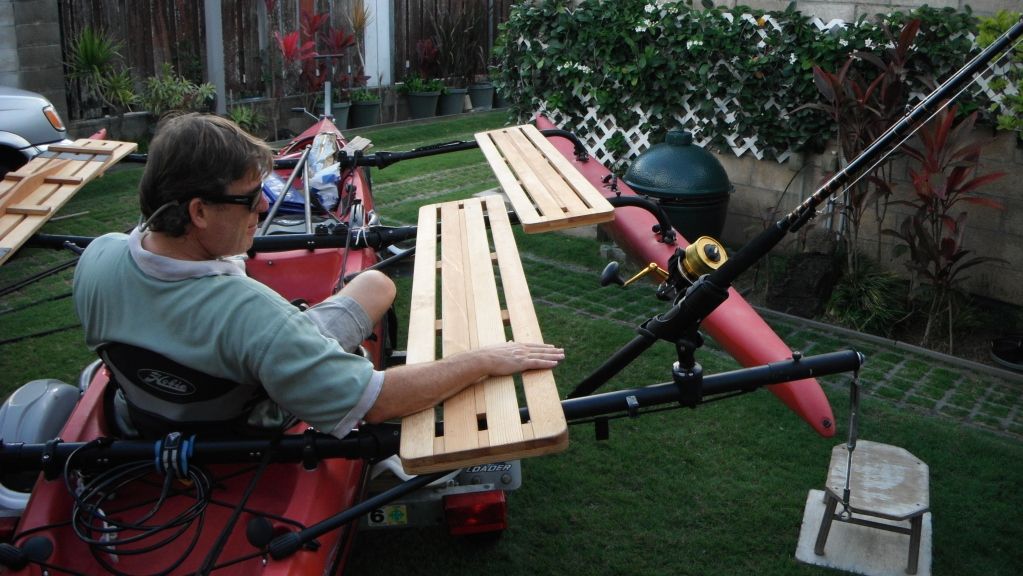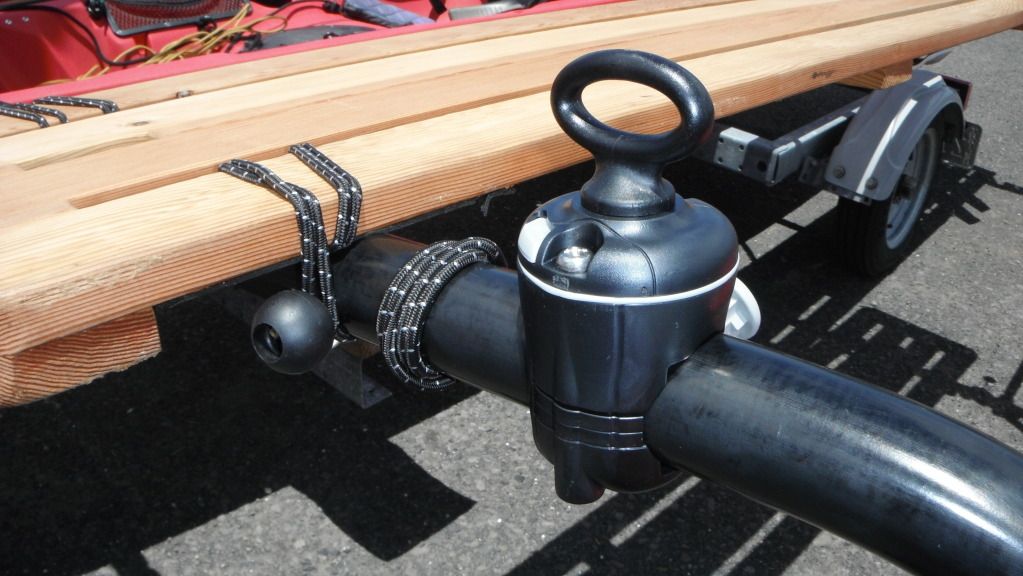 After all that hotrodding, the "finishing" touch was adding KBob sprayskirts, installed by the creator himself.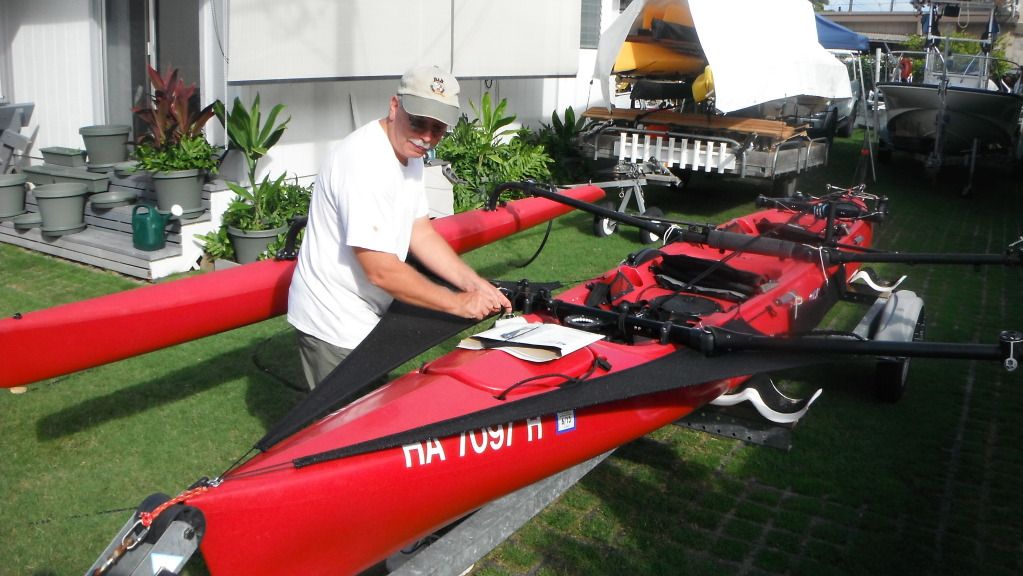 I gotta say, they look and fit much better than I imagined from their pictures. Real quality items.
After my last high-speed snorkel ride, I couldn't wait to try them out!
We sailed the
TI3
close to the Honolulu Airport Runway, and we got some real speed up as the day went on and winds started topping 20mph.
I believe they increased speed marginally by reducing drag. Another nice perk- they allowed us to operate in "Stealth" mode, confusing the local authorities.
The skirts kept me nice and dry in the front and on the Hakas too. (Well, "drier" would be more accurate
- wait for the picts).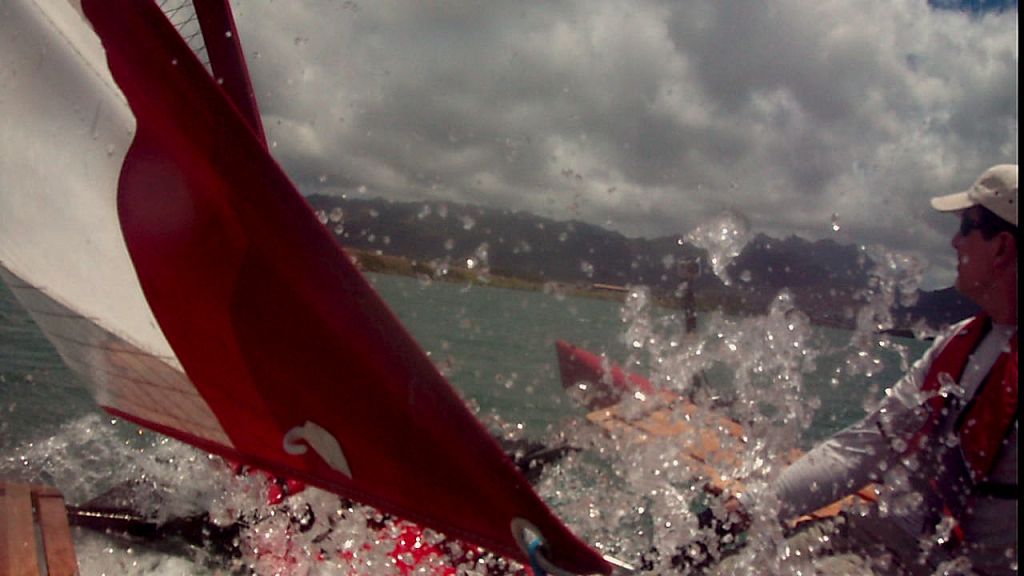 I'll have to grab some video frames to show Bob and I riding the windward Hakas and later I will post shots of us testing the rear-only Ama position, that we call "Sidekick mode". There seems to be quite a bit of interest in this.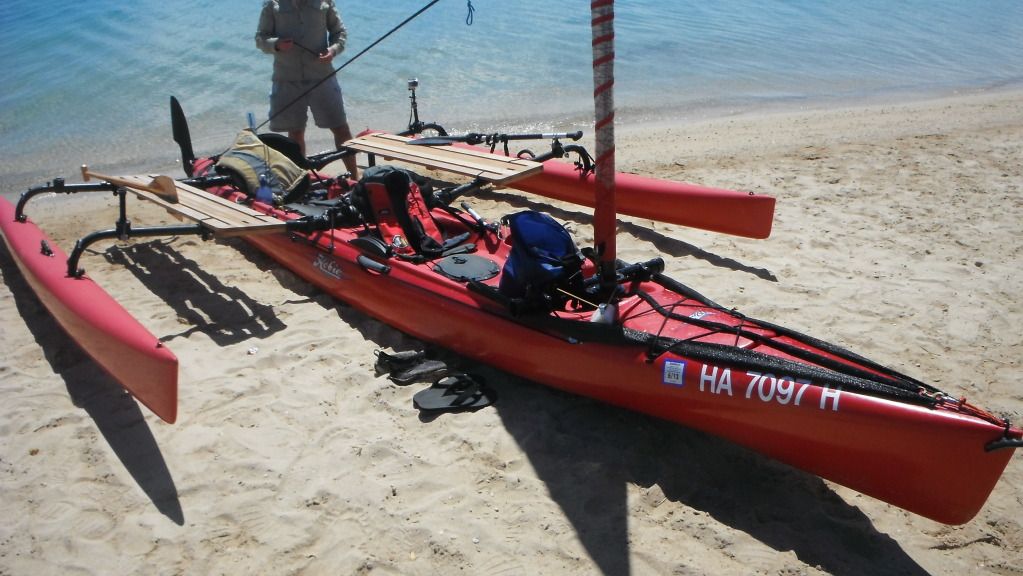 Over the week, we shared some great Oahu weather and great sail days on both the
TI3
and hybrid Batboat. Back at the Batcave, during happy hour, we rehydrated and reviewed the reams of HD footage we captured. Dee (Mrs. KBob) cooked for us - another great perk.
Bob can fill some of the blanks and give his impressions of the
TI3
when he has time. Meanwhile, I will gather some shots and clips of our supermodel sails.
Aloha - and Stay Tuned.