It's been pretty quiet at the site this week. Time to spice things up.
Let me introduce my favorite Island ride so far -
THE HOBIE

TI3

IN DUAL HAKA MODE
In this episode we have fully supported Haka benches for both crew members (and anyone else anxious to get on board).
As we weaned ourselves off the tramps, we began to appreciate the high, dry, solid sailing positions that the benches provide.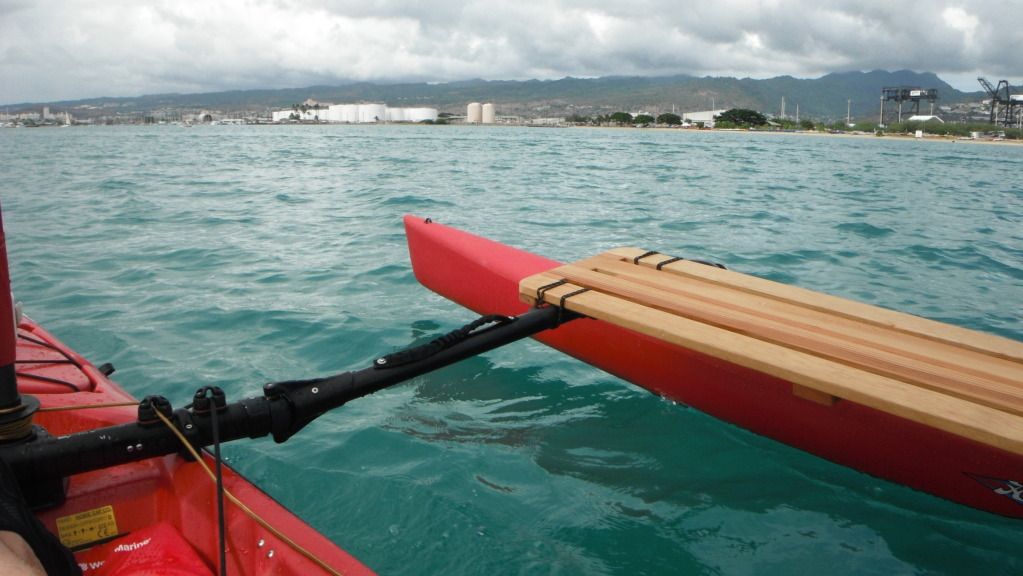 Weight distribution and transfer seem ideal with the dual benches. They effectively tie together all 3 sets of Akas, providing more stability and added leverage for the rear passenger/pilot. For the solo sailor, it's now far easier to counterbalance the sail and lift the bow.
As the passenger/sheetman, I spent almost no time in the front cockpit during this run, except while tacking or furling the sail. The spot where the benches overlap ended up being my favorite.
The double wide seating there made it easier to hop back and forth. When I wanted, I could "hang ten" near the nose, or slide all the way back beside the rear cockpit. But hanging far out to windward (beyond the Amas) is the most exciting way to travel.
(In a stroke of genius, I determined that the bungee balls should be positioned
under
the benches, rather than on top
)
The winds were light to moderate this day so we took turns hiking out, and we both jumped on the deck to rebalance the hull when there were sufficient gusts.
In the T3 Dual Haka Mode, we retained a clear view of the bottom at all times and could paddle, load and unload very easily. This made landing/docking very easy - even for the solo sailer. You can actually walk upright from end to end, which is a very cool experience on a boat this size.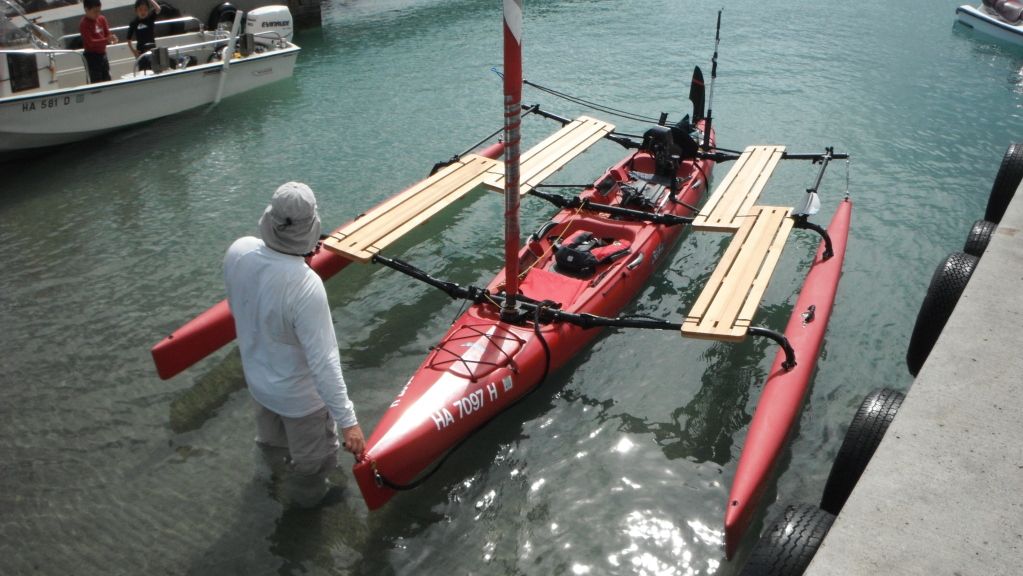 You really get the impression that you are sailing a larger, tighter, better balanced boat. So far, this crazy mod has given us great feedback, and it feels like a fun way to maximize the sailing, seating and storage potential of the TI.
I certainly am enjoying the change in "perspective", and we will be taking other AI/TI owners on future runs to get their opinions.
We would love to hear your impressions too.
_________________
The Wind is Your Friend...