In my home state, NSW, Australia, sailboats under 6 metres need to carry at least an all-round white light at least 2.5 metres above water at night.
While I have no intentions of night sailing just yet (but like the idea in summer!) it is possible during shorter winter days to get caught out after sunset, so I thought out how to solve the problem.
Firstly, I needed the short piece of PVC pipe (a connector joint actually) which was a slip fit over the top of my TI mast, held with a couple of self-tappers. I put this in to mount my wind indicator.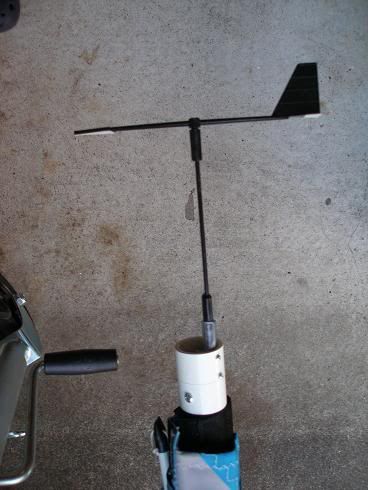 I modified this by simply cutting a 3mm wide vertical groove lining up with the luff of the sail.
Parts required:-
LED portable Masthead light & 3 C cells
Ronstan mini kite blocks x 2 (Ronstan part #RF13101)
thin shock cord x 1M (2-3 mm)
Cord x 10M (3mm)
I shortened the 650mm pvc pole that came with the light, and cut two keyhole slots in it, with the wide parts facing towards each other
I then tied some figure eight knots in the long line, so that when the knots were pushed in through the keyholes, tension kept the lines locked in.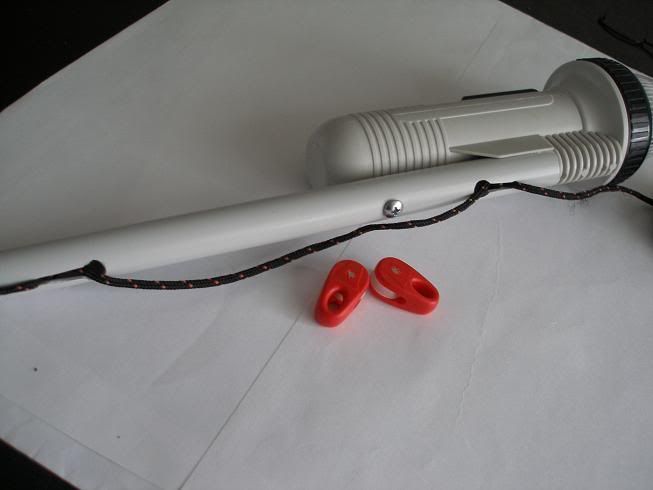 The second block is located about 500mm above the furling drum. Two small holes in the flange of the drum locate the shock cord, which tensions the loop of line running to the masthead.
To use it, I simply turn on the light, temporarily release the sail sheet, drop the knots in the keyholes, and wind the light up the the masthead, where the knot joining the line is stopped by the top block when the light is in position. The collateral benefit is that stray light (the masthead light only shines out horizontally) illuminates the reflective tape on the bottom of the wind indicator, a great help for night sailing. Due to the shape of the light fitting, I cannot see the light directly from below, so night vision isn't compromised either. Win win
If the sail is furled, there will be a lump around the light, but the top of the sail to the first vertical batten basically does nothing anyway (in fact it points directly at the wind as I discovered watching my wind indicator).
_________________
Tony Stott
2012 Tandem Island "SIC EM"